The importance of customer service
The growing importance of customer service and how it is evolving as consumers become increasingly savvy and markets become increasingly complex.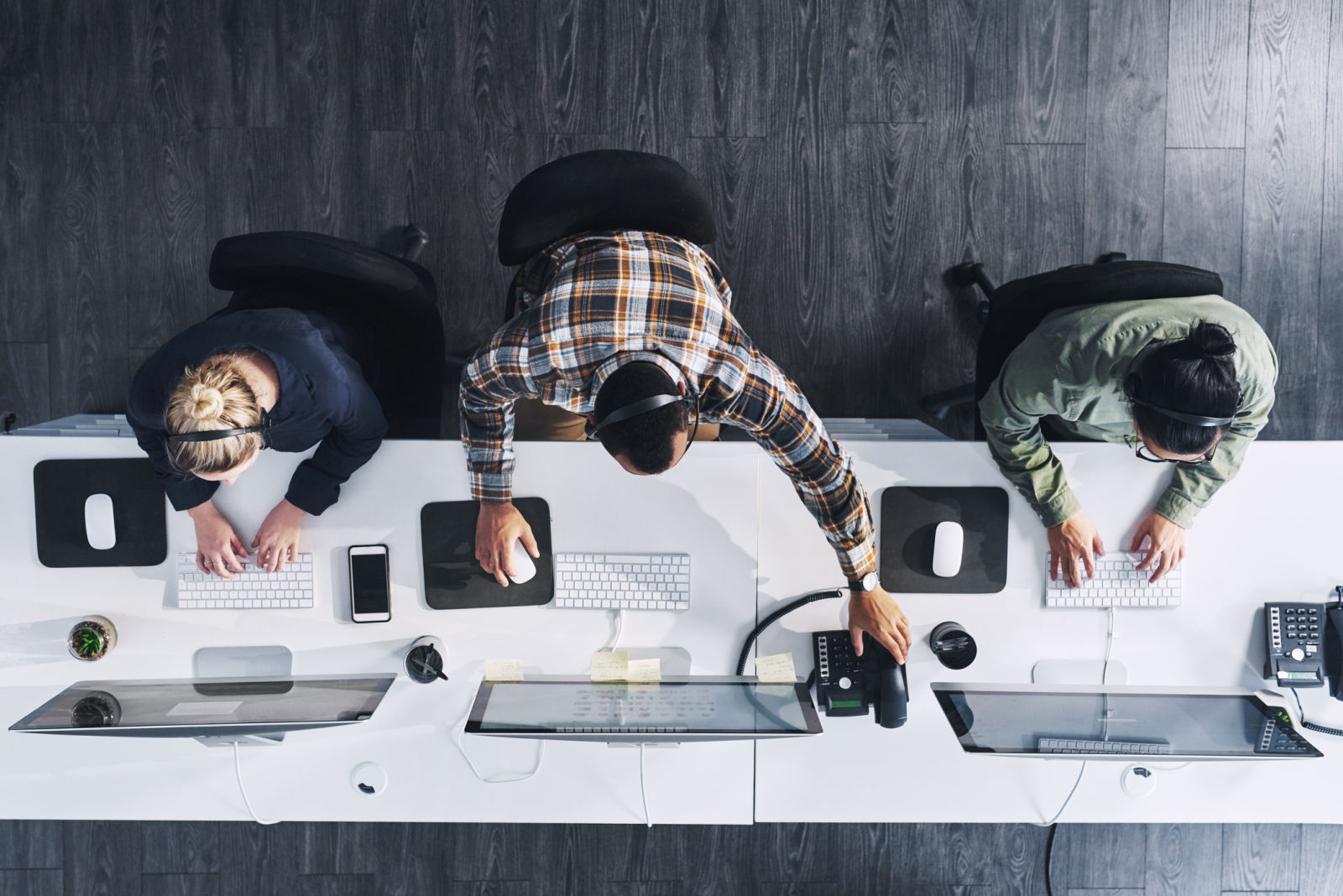 The Insight250 spotlights and celebrates 250 of the world's premier leaders and innovators in market research, consumer insights and data-driven marketing. The inaugural list was revealed this April and created renewed excitement across the industry whilst strengthening the connectivity of the market research community. 
With so many exceptional professionals named to the Insight250, it seems fitting to tap into their expertise and unique perspectives across an array of topics. This weekly series does just that, inquiring about the expert perspectives of many of these individuals in a series of short topical features.  
This edition features Jo Causon, Chief Executive Officer of the Institute of Customer Service. Aside from being an expert on service delivery to customers, Jo is at the forefront of the ever-evolving customer service industry in terms of its innovation, best practices, and impact on the overall customer experience. I sat down with Jo to understand the growing importance of customer service and how it is evolving in terms of technology, innovation, and leadership as consumers become increasingly savvy and markets become increasingly complex. 
Jo, for the international readership, can you explain a little about the role of the Institute of Customer Service?
"In a nutshell, we exist to improve business performance through a better customer experience. We uphold the standards for our industry and drive end-to-end progress. We want to see a world where excellent customer service is demanded, delivered, and seen in the boardroom as a business imperative. Over the years, we have been able to prove the link between customer experience, employee engagement and ROI. 

"Through our Service with Respect campaign, we have also been tackling the abuse of customer-facing workers, resulting in the introduction of new legislation in the UK. We have highlighted the scale of the abuse, which includes death threats, spitting and physical attacks, and affects staff across every sector – from retail to public services; financial institutions to public transport."

Jo Causon
The Institute has long championed the use of insight and runs the flagship UK Customer Satisfaction Index - can you tell me more about how that is used?
"The UK Customer Satisfaction Index (UKCSI) is our national barometer of service, based on 45,000 customer experiences and published twice a year. It is used by organisations, regulators, Government, academics and the media to provide an understanding of how organisations are performing, customer behaviours, expectations and satisfaction levels. 

"As well as the main report, we offer deep dives into 13 different industry sectors and provide a detailed breakdown of performance across our five Customer Experience Dimensions: Experience, Complaints, Customer Ethos, Emotional Connection and Ethics. This helps businesses understand their areas of strength and helps them decide where to invest for the greatest customer satisfaction gains and long-term performance."

Jo Causon
Who are the real superstars for Customer Service, and what can we all learn from them?
"When we look at the organisations that have performed consistently well over the years (the likes of First Direct, John Lewis, LV, Amazon, M&S), it is clear that there are some fundamentals they get right. That is not to say they all take the same approach, but common themes are getting things right the first time, showing genuine empathy for their customers and making it easy to contact them and in these challenging times seeking to understand, deliver and reassure. 

"As consumers, we are increasingly looking to buy from brands that we trust, who understand us, and are ethical. Think about how you can convey this to customers and deliver on that promise consistently." 

Jo Causon
How do you feel customer service can help to drive innovation and leadership? 
"Organisations that listen to their customers learn from them and are better at anticipating their future needs. Given the volatile external environment, this has never been more important. Those closest to the frontline are often best placed to suggest and implement changes. 

"Leaders can use this to their advantage, harnessing technology to empower customer-facing staff to focus on the higher value, high-touch interactions that require human empathy." 

Jo Causon
As the world becomes more digital, is customer service improving or declining? What innovations do you see in this area to facilitate customer-centricity?
"Our latest UKCSI results suggest that overall satisfaction rose as we came out of lockdown, but this may not be the whole picture, as complaints and issues were at the highest ever level since the beginning of the UKCSI in 2009. This concerns me and is an issue organisations must address. Digital adoption, both by consumers and businesses, rose throughout the pandemic through necessity, and some of this has brought lasting improvements to the customer experience and greater choice. 

"Technology and AI offer further improvements, but it is not a silver bullet and getting the human/tech blend right is a critical challenge. Many organisations who have nailed the technical and logistical side of the customer experience through technology have found it harder to cultivate that valuable emotional bond with customers, which is crucial for long-term loyalty and share of wallet." 

Jo Causon
What advice would you give to those wanting to improve customer service, and what role does insight play on that journey? 
"Get a clear picture of both your own customers and the trends impacting the wider landscape as well as what your own employees are seeing. We provide internal and external perspectives on service experience and strategy, and – via our breakthrough research pieces –  where we will look at topics as diverse as - the future of work, the green agenda, trust, productivity and the impact of technology. 

"The business case for investment in improving service is clear – our research shows that organisations who outperform their sector in terms of customer satisfaction over the longer term achieve better levels of financial performance, reputation, loyalty and productivity in the long term." 

Jo Causon
Are there any pitfalls that they should watch out for? 
"Short-term initiatives, gimmicks, or efficiency drives presented as service improvements are generally counter-productive. Using technology to guide customers to the right answers works in many cases, but making it too hard to find the right person on more complex or sensitive issues is a common cause of more problematic complaints. 

"Also, whilst it is vital to measure and report on customer satisfaction, we would always advise against having one simplistic measure. This can be too easily 'gamed' and can drive the wrong behaviours. Instead, a basket of key measures visible to your internal and external stakeholders is a more reliable approach." 

Jo Causon
HOT TOPIC
Remote/hybrid working: How is customer service impacted by remote/hybrid working - what do you see as the benefits and the potential pitfalls? 
"Remote and hybrid are now established ways of working, and we help leaders explore how they can best manage teams, so they feel connected and engaged to ensure they drive customer satisfaction, loyalty, and trust. The world is now so volatile that we need to adapt quickly and be comfortable managing change. 

"Effective communication is essential, and this is where many businesses fall down. It is also tempting to measure the things that are easy to measure rather than what actually drives performance. Ultimately the right culture goes a long way to maintaining the social glue that ensures teams operate effectively whatever their method and location of working, and this needs to be carefully nurtured.  

"We explore this in detail in our Work with a Purpose breakthrough research, which included insight from over 250 senior managers and 1,000 employees across various sectors." 

Jo Causon
TOP TIP 
"I often talk about the importance of purpose, relevance and impact. As a business, ask yourself who you are here to serve, why you are relevant and who would miss you if we weren't here. Measure impact, not activity and think about the legacy you want to leave."

Jo Causon
Thank you, Jo, for a hugely insightful interview that we can all learn from – I was particularly struck by your comment, "Organisations that listen to their customers learn from them and are better at anticipating their future needs" – so obvious, so true, yet so often forgotten! I wish you and the Institute continued success with important initiatives like the UKCSI. Thank you.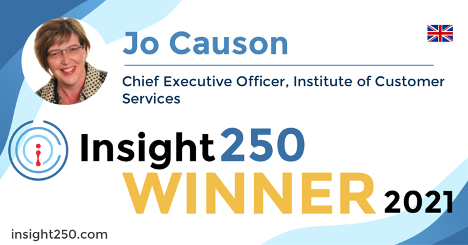 Jo Causon has been the CEO of the Institute of Customer Service since 2009 and is responsible for its strategic development and operational management. She also established the UK Customer Satisfaction Index. She focuses on the link between employee engagement, customer service strategies and organisational performance across public, private and philanthropic sectors.
Senior Strategic Advisor at mTab, CEO at Insight250, Group President at Behaviorally
Crispin Beale is a marketing, data and customer experience expert. Crispin spent over a decade on the Executive Management Board of Chime Communications as Group CEO of leading brands such as Opinion Leader, Brand Democracy, Facts International and Watermelon. Prior to this Crispin held senior marketing and insight roles at BT, Royal Mail Group and Dixons. Crispin originally qualified as a chartered accountant and moved into management consultancy with Coopers & Lybrand (PwC). Crispin has been a Board Director (and Chairman) of the MRS for c15 years and UK ESOMAR Representative for c10 years. As well as being CEO of Insight250, Crispin is currently Group President of Behaviorally with responsibility for the client and commercial teams globally and the Senior Strategic Advisor at mTab.