No fear, no regrets!
Read the series of articles written by incredible women for International Women's Week!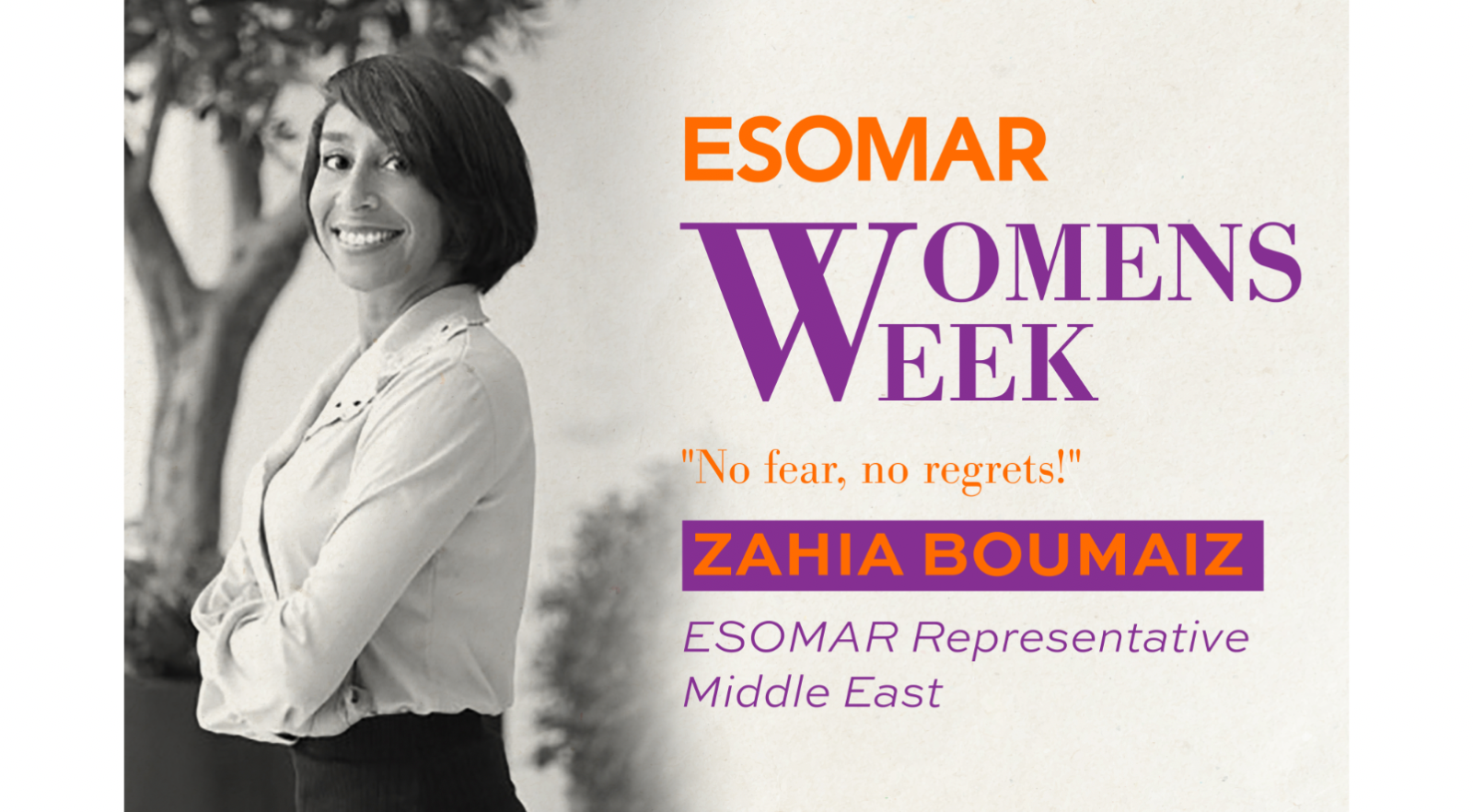 As a French with Moroccan roots, I spent more than 14 years in the insights industry, working for companies like Ipsos. I had the honour to help leading brands in the luxury and cosmetic market, like L'OREAL, KERING, and LVMH groups, to name a few. What I love the most about my job is how data can be like a crystal ball for sustainably bringing growth. Data is power. Without data, we struggle to grow or make a relevant social impact. But with that power comes responsibility too. When attending the latest ESOMAR Congress in Canada, we had the opportunity to realise that we can choose to bring positive business impact. "What if we can create a better world?". That's why I am honoured to represent ESOMAR in the Middle East today.   
Being independent
In 2022, after a burnout and because I am fascinated and enthusiastic about what is happening in the Middle East, I decided to listen to my inner voice and be independent. I want to help brands seize growth opportunities in markets like UAE and Saudi Arabia. Because I believe in collective intelligence as a way to be a game changer and because I am passionate about people, I decided to partner with experts with proven expertise. They are from France and the Middle East and believe that growth has to be responsible to be sustainable. Surrounding myself with the best is my biggest pride.    
Surrounding myself with the best outside the market intelligence community has also allowed me to meet strong and successful women who have empowered me:  
Indeed, I realise a dream, but it is a challenging journey, going through fear and doubt. That's why I decided to surround myself with a woman, former professional gymnast Vera Santos, who is teaching me how to develop an athlete's mental toughness training like self-belief, resiliency, motivation, focus and the ability to perform under pressure, as well as to manage emotional pain.  
 

I joined the community Queen Mode founded by Ghyslan Guenez (Founder of the platform The Modist) and Hajar Ouhsine, where I could meet powerful, like-minded women living in the Middle East.   
 

Through this community, I met Brandie Janow, a design industry expert with several years of experience in Saudi Arabia. She founded Riyadh Coffee Club or Kingdom Creatives, a startup encouraging, promoting, and supporting the Saudi Creatives industry. I could go and meet people in Riyadh, thanks to her.   
I thought I would start alone, but I am never alone by belonging to several communities, including ESOMAR.   
Within a context where regions like Europe face challenges, the Middle East is proving that it remains resilient. Besides, some countries have started to take steps towards fostering a culture of social responsibility, with the UAE and KSA leading the way. I decided to conquer this market because my inner voice showed me the way.   
Listen to your inner voice and say YES to your dream!