Inclusive insights: Diversity, inclusion, and the rise of the STTAR researcher
Part II: The Inclusion Opportunity is upon us… and it is a key source of future growth for brands.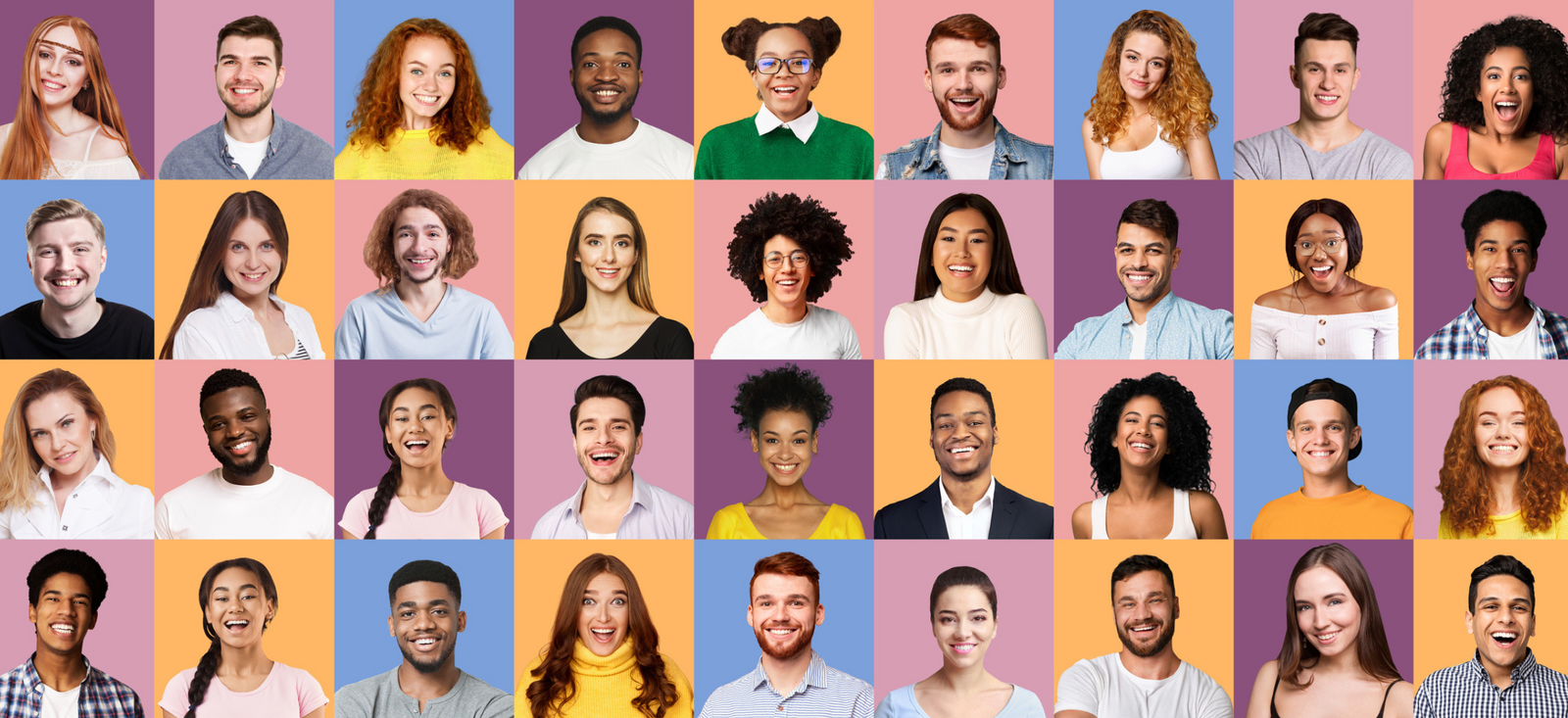 Article series
Inclusive insights: Diversity, inclusion, and the rise of the STTAR researcher
The Inclusion Opportunity continues to grow
The topic of diversity, equity, and inclusion in research continues to gain the attention of brand and insights professionals. In our previous look at inclusive insights, we explored what we mean by inclusive insights and why they are critically important for insights professionals who are seeking to understand the rise of the intrinsically Inclusive Consumer (typically Millennials and Gen Z+), who support brands that are aligned with their inclusive values and beliefs. They expect brands to act for inclusion, providing equitable, relevant, and accessible products and service experiences, speak up by authentically representing diverse life experiences in their content and communications, and stand up with a visible and positive stance on societal and social justice issues.
Alongside this, there is a trillion-dollar opportunity for brands that can generate the rich, authentic insights that help them build relevant, compelling products, services, experiences, and connections with diverse populations across the full spectrum of identities (i.e., gender, race and ethnicity, [dis]ability, mental health, sexual orientation, etc.).
The Inclusion Opportunity is upon us… and it is a key source of future growth for brands.
Missed voices = missed opportunities
Agencies and client teams that are themselves diverse and inclusive are best positioned to take advantage of the Inclusion Opportunity. Diverse teams don't just understand the diverse consumer's experience; they live it. Diverse representation brings a fresh perspective and nuanced understanding that significantly improves accuracy, authenticity, and effectiveness across the entire research and insight-generation process—and, in turn, in the brand work driven by these insights. There is no substitute for having diverse representation amongst our teams and the wisdom, context, and authenticity that these voices bring to the work.  
Agency and client teams that lack diversity can be positioned for missteps, from mediocre messaging to missed opportunities and, at times, to viral catastrophe. We've all seen the tone-deaf and offensive ads, shallow Juneteenth and Pride campaigns, and the like.
The challenge for the insights industry is that diverse talent is underrepresented at all levels. For example, as reported by the Insights Association, professionals of colour (in the US) are underrepresented across the board, but most especially in long-tenured, high-salaried positions with oversight and influence. The salary figures by race and ethnicity paint a stark picture of who is thriving in the industry. And while women are actually overrepresented here, compared to the general workforce, there is an observed cap on their career growth; women hold the overwhelming majority of hourly-paid roles, compared to men, while men hold the most senior positions, especially on Boards of Directors. One can infer where the ultimate decision-making, course-steering power lies in the current makeup of the industry.
Without even touching on diverse identities in sexual orientation, ability, religion, socioeconomic background, neurodiversity, and beyond, we can already observe that we, as an industry, face limitations across the entire globe.
It's time for the STTAR researcher to shine
It's clear that we need to increase diverse representation, from team level to industry level—and this diverse talent must have a real voice and a real power. However, while representation is a goal to work towards, for reasons we have covered, it must be understood that inclusive insights are the responsibility of all market researchers, not just an expectation to be placed upon diverse talent.
In our future world, all insights will be inclusive insights, which means that we must all:
Become adept at identifying and eliminating bias and inequity across the research and insights process and /or in the technologies that enable and empower our work.

Build our core competency of inclusive research & insight generation—that is, the ability to understand and express the lived experiences of minorities and marginalised groups in their life's context in a way that brings a more authentic, compassionate, positive, equitable view of these groups into focus. These insights translate into potent, culturally rich, contextual, and actionable stories that help brands unlock the Inclusion Opportunity.
Market researchers must play a central role in shaping and guiding the inclusive insights agenda and what this represents in terms of opportunity for current and future growth.
It is time for the rise of the STTAR researcher.
But what is a STTAR researcher?
A STTAR researcher operates in an orbit of inclusion. Inclusive insights are the North Star of all work. STARR researchers have an "inclusion antennae" and the full range of skills and competencies needed to generate the insights that will unlock the Inclusion Opportunity.
In practice, this means that the STARR researcher successfully combines a unique set of skills, mindsets, and behaviours.
The STTAR researcher:
S – Scientist
Knows how to source, gather, integrate, analyze, and interpret for inclusion throughout the research process. They disrupt and innovate to eliminate bias in the work.
T – Tuned In
Is fully attuned to cultural, environmental, social justice, political, socio-economic, and other contexts and trends and their impact on consumers' perspectives and experiences.
T – Technologist
Is tech-savvy; is constantly learning about new tools and the doors they can open to more accurate, empathetic, and equitable understanding, as well as their counterproductive drawbacks or idiosyncrasies. They understand the role, relevance, and pitfalls of technology and apply it to the work appropriately and for inclusion, impact, and advancement.
A – Architect
Is commercially savvy and a strategist. They champion the business, brand, and consumer case for inclusive insights. They know how to translate data into actionable and inclusive insights, and they guide strategies that unlock economic opportunity.
R – Raconteur
Translates data and insights into compelling, immersive stories that potently bring to life diverse audiences' reality and lived experiences with compassion, equity, and positive perspective—combatting invisibility, misrepresentation, and stereotyping.
STTAR researchers put inclusive insights at the centre of everything we do, consciously building the multi-dimensional skills and competencies needed to deliver them.
Getting STTARted now
All researchers can be STTAR researchers. Here's how to get started.
Consider STTAR as a set of muscles needing to be built and flexed in our quest to deliver inclusive insights. It uses a STTAR Map as a practical & visual tool for assessing and then planning personal development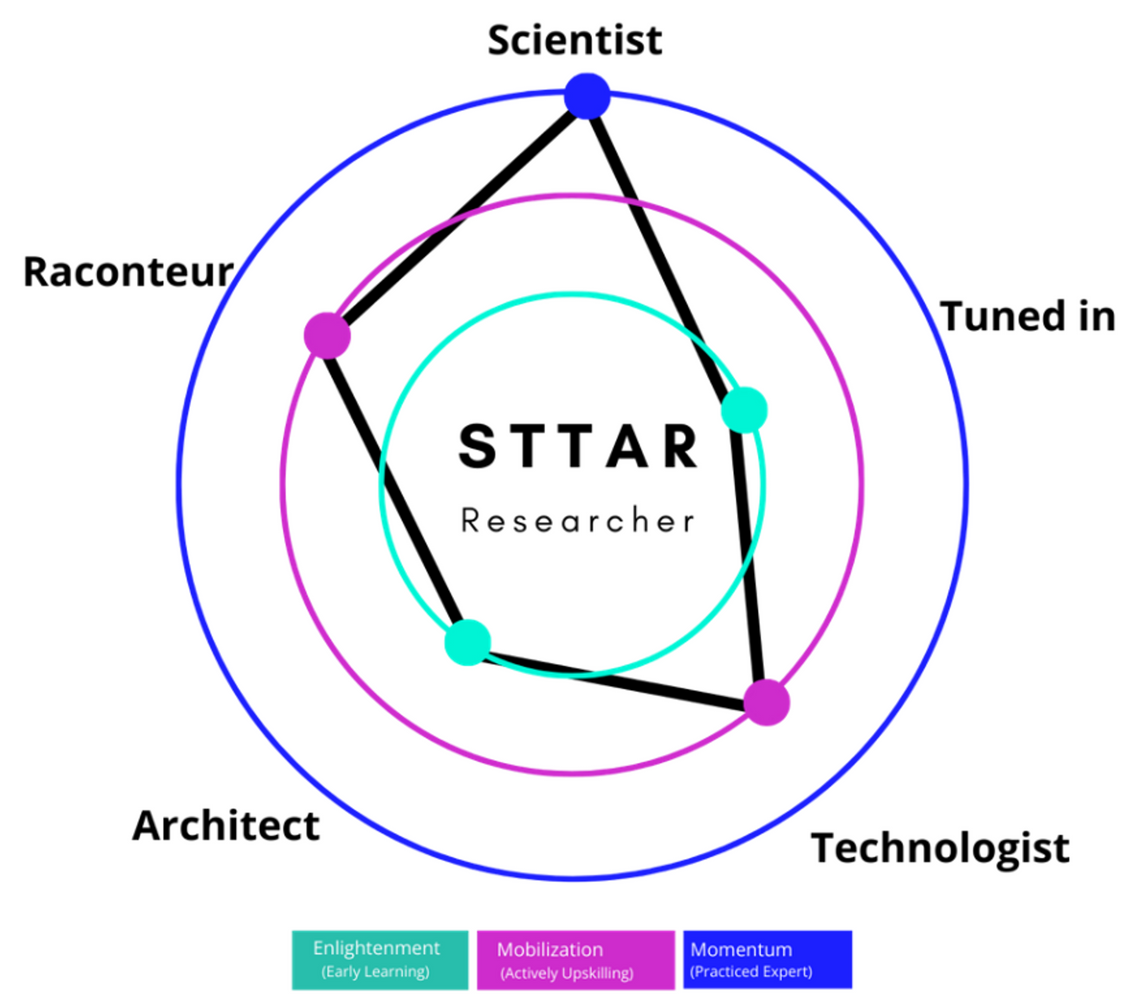 The map meets you where you are today, building on your present strengths and guiding you on the gaps to be filled.
It enables you to assess where you are based on 3 different skill levels: 
Level 1 - Enlightenment: Exploration and early learning of the skill area.
Level 2 - Mobilisation: Active, intentional, semi-structed learning & development of the skill area.
Level 3 - Momentum: Consistent, well-practised expertise, & continuous learning & improvement.
Researchers can immediately take charge of your personal STARR development, looking at your competencies with fresh eyes, curiosity, and optimism and leveraging the readily available support and resources.
Here is a suggested sequence of actions you can start taking
Today:
Explore and reflect on the 5 STTAR dimensions.

Consider which dimensions are more or less important for generating inclusive insights in the context of your present role or your desired future role.

Assess where you are today on each dimension.

Identify your personal strengths and gaps today and rate your current performance today using the maturity levels above. This may be very effective as a discussion with a colleague, coach, leader, or mentor.

Map out your destination.

Prioritize and make choices! Based on what's most relevant to your role and where your current strengths and gaps lie, where should you funnel your time and energy first?

Seek advice and resources.

Consider (and discuss with a leader, mentor, colleague, or friend) how you might self-educate and practice. What resources are available to support you? Note that there is a wealth of free content online, as well as books, courses, and educational events like webinars and conferences.

Start with one step.

Read one book or even a news editorial. Watch a documentary. Listen to a podcast episode. Visit an independent or speciality bookstore and have a conversation with the owner. Linger over a meal at a different culture's restaurant. Start with one learning action, and believe in the power of small, deliberate steps.
Inclusive insights need diverse teams to bring rich perspectives and authenticity, but they are not solely the responsibility of diverse talent. We must all upskill ourselves to take advantage of the rich Inclusion Opportunity in front of us.
We invite you to join us as a STTAR researcher.
Co-Founder & Equity Architect at Equitas Insight
Sandra is an equity explorer, architect, and advocate. She sees fairness and equitable access to opportunities not as an idealistic aspiration but as a goal to be achieved in practical, measurable, and impactful ways.
Over the last two decades, Sandra has acquired rich client-side insight and marketing experience through leadership roles at GSK, Walt Disney Co., Virgin Media, Vodafone, and American Express, building strategies and initiatives focused on growing people, customers and brands.
She spent the next ten years consulting for leading global brands such as Pfizer, PepsiCo, PayPal and Verizon as a Partner at the global consulting firm Brand Learning, Accenture. She now combines and connects her bench strength of research, insights and strategy with her passionate vision for equity as Co-founder of Equitas Insight, a boutique Diversity, Equity & Inclusion Insights Consultancy. She works with clients to help them generate rich, relevant & inclusive insights and to craft equitable experiences for measurable equity impact.
Alongside this, Sandra is a member of the Insights Association's IDEA Council and Membership Experience Chair of the Market Research Council. Sandra believes that doing good really does = doing well and that we must all do what we can to be part of the solution for equity.
Originally from the UK, Sandra has lived in the US for the last 10 years and now divides her time between South Florida and London.
Article series
Inclusive insights: Diversity, inclusion, and the rise of the STTAR researcher