The battle for meat-free
Brand 'moo-vers' and shakers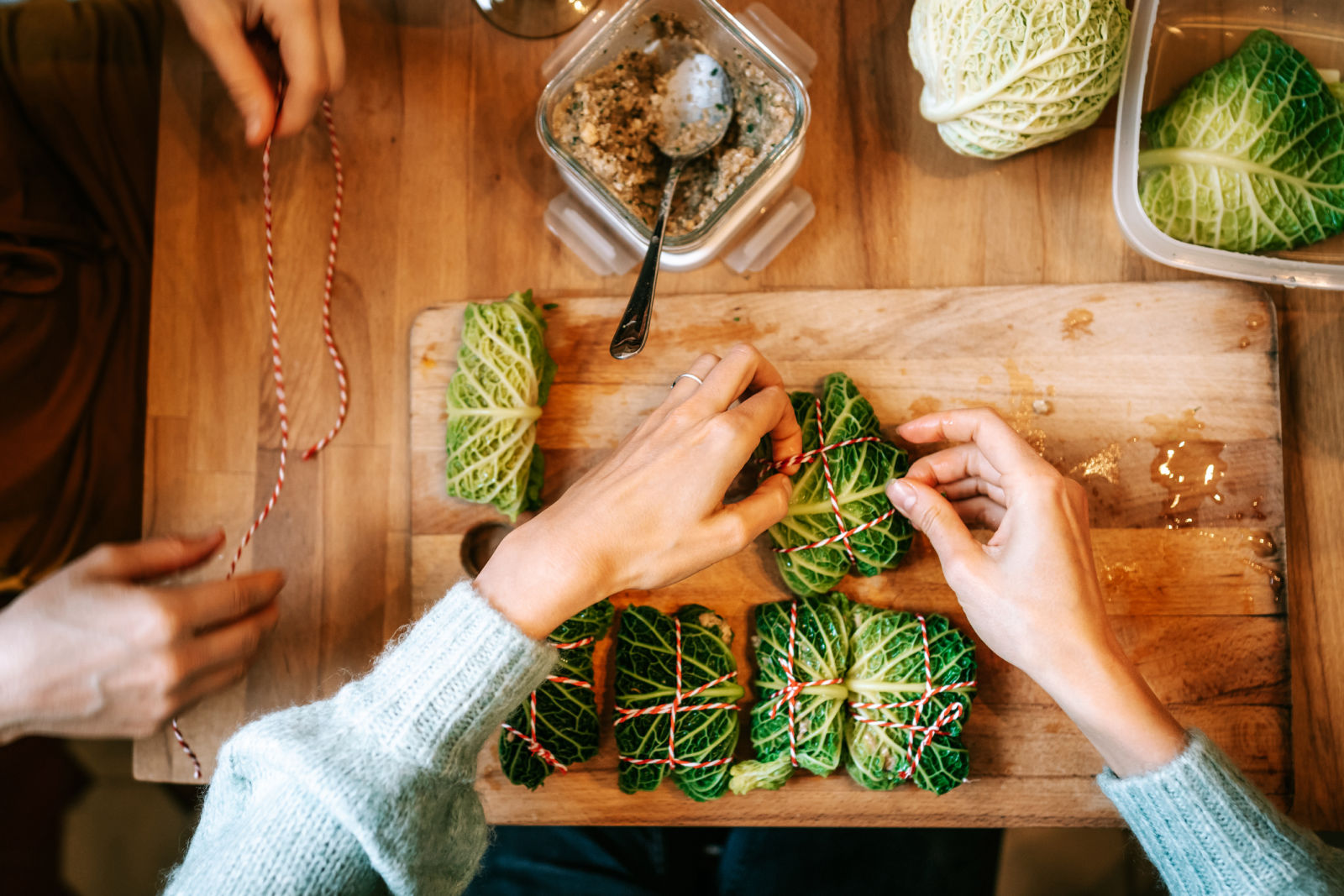 Even with Veganuary 2023 over, the rise of meat-free eating continues. But which meat-free brands are front of mind for consumers? Who are the category leaders and innovators? To find out we explored consumers' perceptions of four prominent meat-free brands. The research was conducted via a 15-minute online survey during Autumn 2022. The survey was completed by 600 UK consumers who had either main or joint responsibility for grocery shopping and who were non-rejectors of meat-free alternatives. 
The study utilises our unique brand tracking system - BrandVision. Using this brand evaluation platform, Vision One have researched and identified the core brand attributes of four well-known meat-free brands: The Vegetarian Butcher, Linda McCartney's, Beyond Meat and Quorn. 
To analyse brand health, we use a unique brand wheel with three overarching themes: Brand Saliency, Relationship and Utility. Each core theme has additional metrics to create nine key analysis points (Figure 1).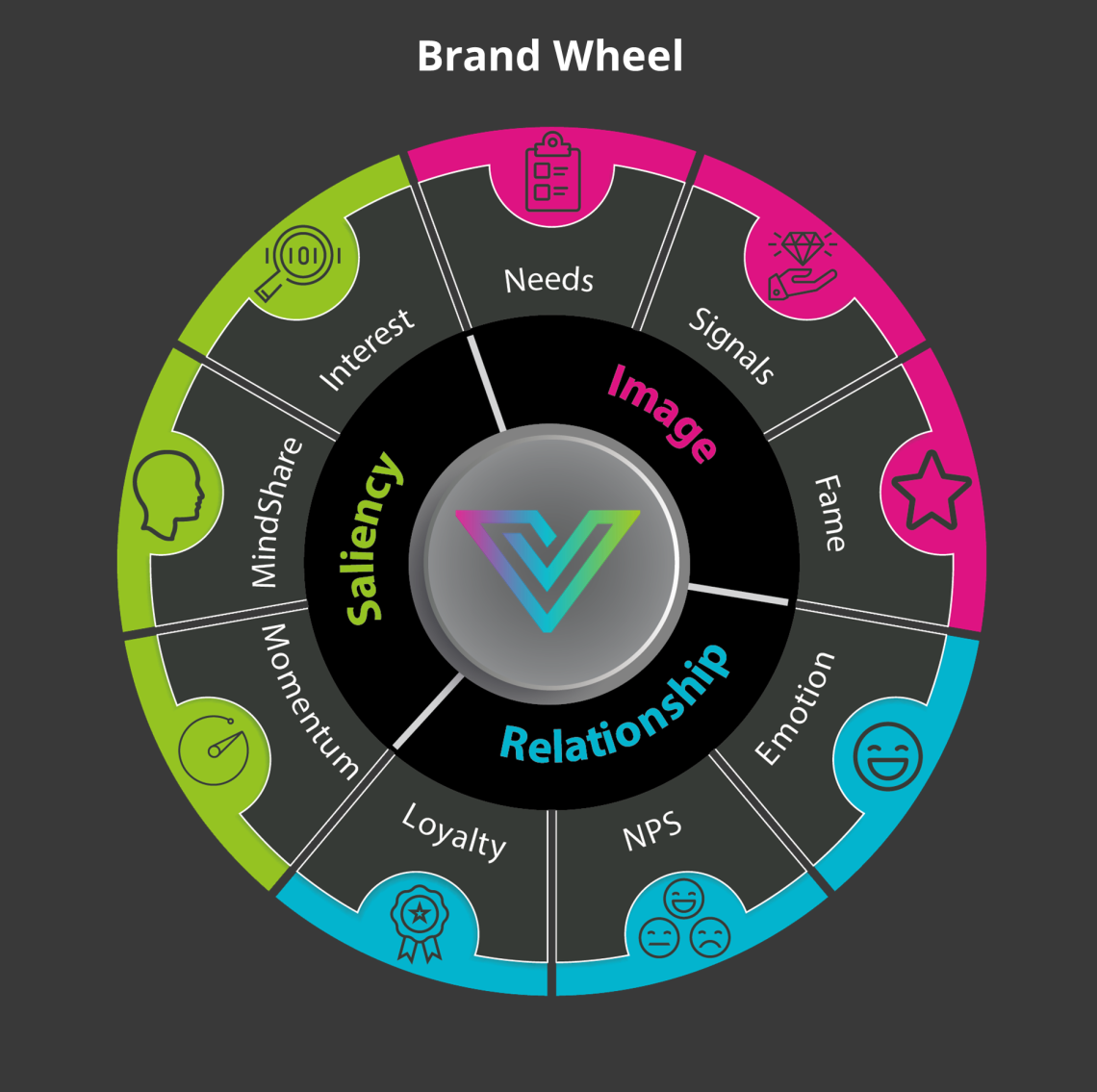 Winning the battle for our minds
Despite the recent focus on meat-free, it isn't a new market! Quorn launched its first product in 1985. So unsurprisingly, this brand ranks highest on Mindshare, our metric which looks at spontaneous and prompted awareness of a brand. Quorn scores significantly above the normative average (24%), with an impressive 52% spontaneous awareness and 19% promoted awareness as a meat-free alternative food brand (Figure 2). Overall, the study shows Quorn has the highest brand equity amongst the competitor set, and our whitepaper provides a detailed analysis of all aspects of the brands – a bit like an MOT or health check!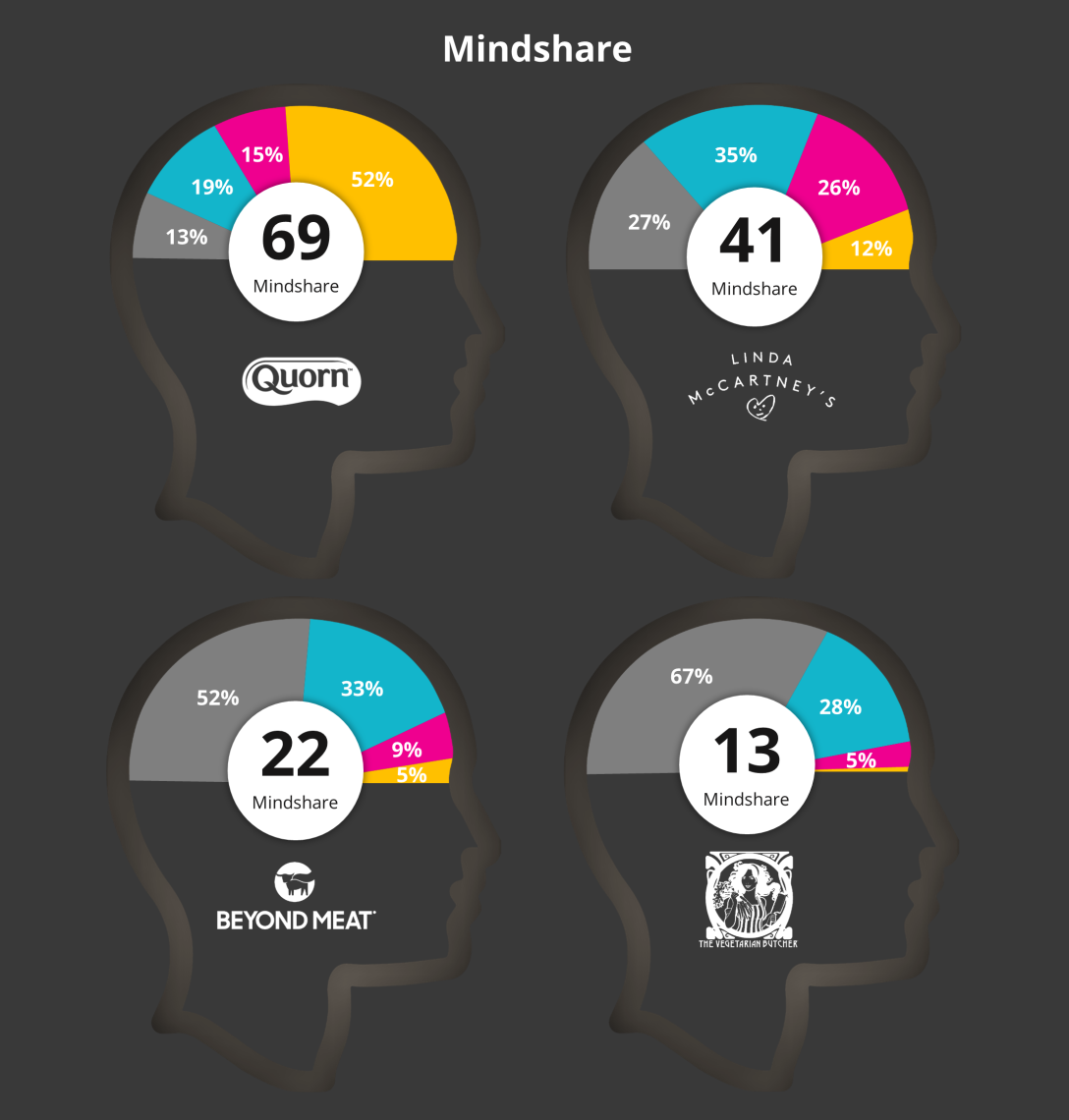 Consumers are all on a journey, discovering brands and becoming promoters, loyalists, or detractors. Our brand funnel enables us to measure this journey from awareness to interest, trial, satisfaction, and brand loyalty. From the four meat-free brands analysed, the more established brands, such as Quorn Linda McCartney, have a much higher degree of awareness and loyalty with 87% and 73% However, Beyond Meat is one to watch. Given its relatively low awareness (48%), it has high-interest levels (33%) and conversion to trial (21%), combined with high levels of satisfaction (18%) and loyalty (11%). This implies it is connecting well with its target market and aligning with their needs. 
Distinctiveness is key
A strong and distinctive visual brand identity (e.g. logo, colours), with a strong proposition and positioning, is the secret to creating successful brands. Quorn is the most widely recognised brand logo, and its score is potentially boosted by its extensive portfolio of products and its longevity in the market. Despite being a well-known brand, Linda McCartney's logo recognition is the lowest of the brands evaluated - suggesting the brand may lack visual impact and distinctiveness. Consumers can't easily visualise Linda McCartney's and may struggle to recognise it in store. 
When it comes to Brand Needs, all the brands here scored high on wellness – a core attribute in the meat-free sector relating to health and well-being. Interestingly, vegans were significantly more likely to see Linda McCartney's as 'good for you' (compared to other brands). However, those making a lifestyle choice to restrict meat and substitute for meat-free alternatives viewed Beyond Meat and the Vegetarian Butcher as innovators (Figure 3.) Variety was the third most important brand attribute, and it appears that if Beyond Meat can increase its portfolio of products, they are well placed to top the table.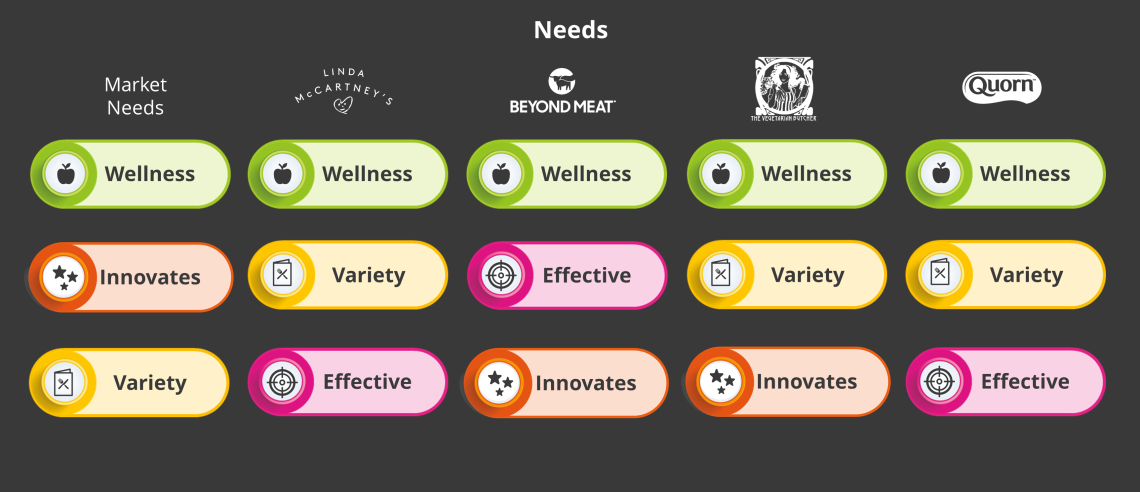 The power of emotion
Creating an emotional relationship with your customers is essential for brand health. The Wheel of Emotion is the work of US psychologist Dr Robert Plutchik. According to his theory, all 34,000-odd emotions can fall into one of eight main feelings (Joy, Trust, Fear, Surprise, Sadness, Disgust, Anger, and Anticipation). It may not come as a surprise to some, but statistical analysis shows that Emotion is the driver of Brand Loyalty and even NPS (Net Promoter Score). 
Interestingly, despite its familiarity, Quorn is the third weakest on our emotion score. To calculate the strength of emotion, we present consumers with a list of emotions, positive and negative, and ask them which they associate with each brand. The emotion score is the sum of all the positive emotions. Beyond Meat has the highest emotion score of 64 (sitting close to top brands from other sectors, like Weetabix and Kellogg's). It also has the lowest negative emotion score at just 3%. Mirroring their strong performance score, Beyond Meat has clearly developed a deep, positive emotional connection with consumers, likely nurturing trust and loyalty. 
Whilst the nine metrics on the Brand Wheel are all integral to strong brand health, arguably one of the most important aspects to BrandVision is its ability to understand the Proposition (e.g. what it means) and its Positioning (where it sits) in the mind or the customer. 
Our nine BrandVision metrics are summarised in the brand equity score. This is our overall brand score which indicates the strength of the brand based on the KPIs we have investigated. With the highest overall Brand Equity score (62), Quorn is the meat-free market leader. The highest recorded score in the UK is Cancer Research, with a score of 65. Despite its strong performance on most metrics, Quorn is only perceived as stable rather than growing, and its core association is making "meat-free easy". Beyond Meat is looking healthy, with a Brand Equity score of 57. They are viewed as innovative and satisfy most market needs, performing well across many metrics. Compromising less on looks and taste, this brand may tempt the growing flexitarian and lifestyle choice consumer (Figure 4).

In Summary
When analysing your brand equity, brands need to look beyond awareness – in truth, awareness without interest has little benefit to your bottom line. Ultimately, success in this category is being delivered by brands creating alternatives to mimic meat with little to no compromise on taste and texture. Sensory experience will be integral to sustaining growth in the meat-free category, and this is an area that newcomers like Beyond Meat and the Vegetarian Butcher are focusing on. Although meat-free is still a niche area (around 2% volume share of the meat, fish & poultry category)*, product diversity and price parity to meat equivalents should ensure continued growth.
Tony Lewis (FCIM MMRS) is the CEO of Vision One with a career of over 30 years in research and marketing. He specialises in brand & communications research and is the brains behind our highly successful BrandVision. This is a unique and powerful brand equity and tracking approach helping clients think about their brands and develop their strategies.
Client Success Manager at Vision One
Evie Bradbury is one of the latest experts to join Vision One's Brand Tracking team, bringing a wealth of experience in brands, neuroscience and eye tracking. Evie is also a member of the ARU and supports advanced research projects.