Reviewing how insight advancements are impacting FMCG
This edition takes a deeper dive into how advancements in market research and insight technology are impacting consumer understanding and customer experience, specifically in the fast-moving consumer goods (FMCG) space.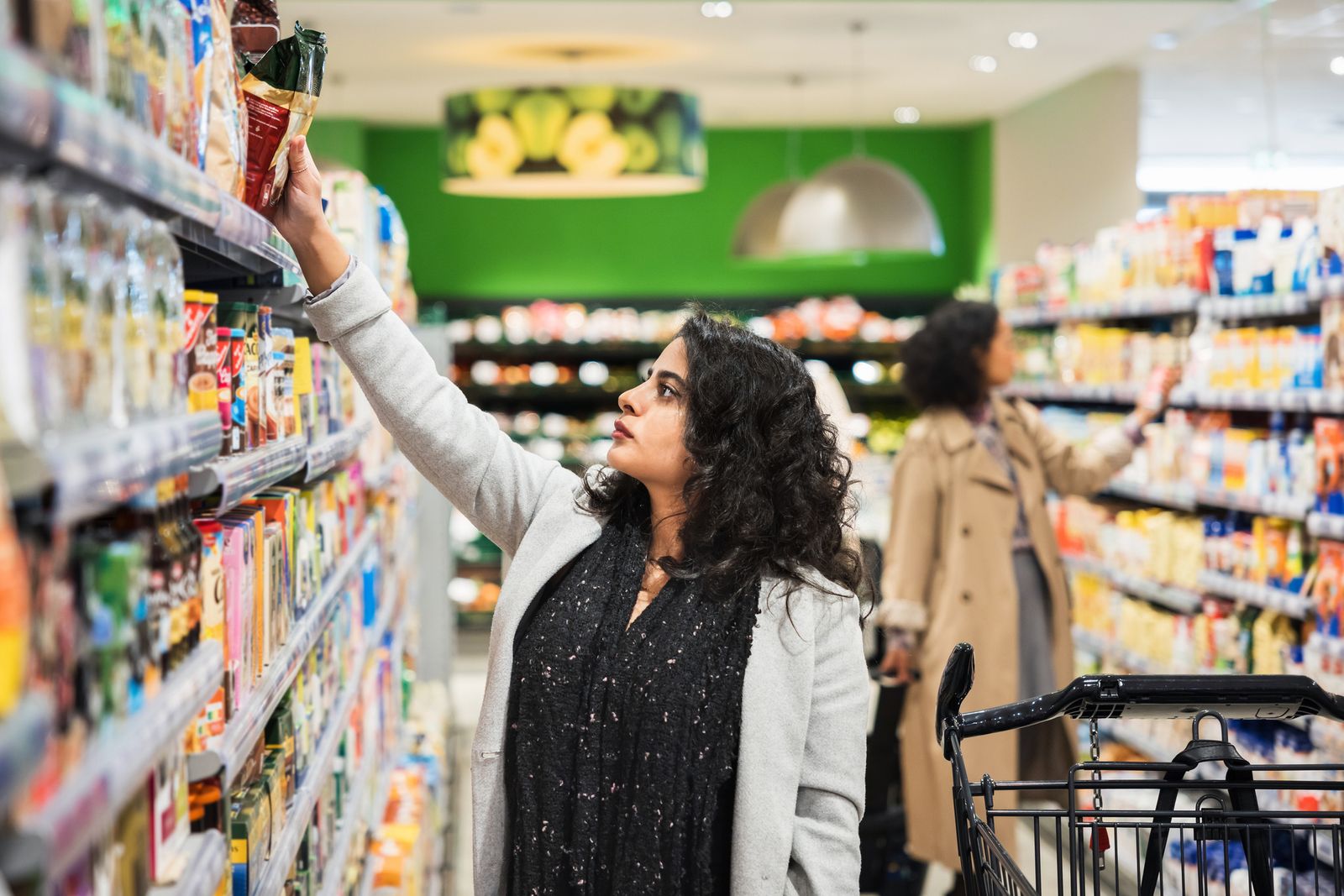 The Insight250 spotlights and celebrates 250 of the world's premier leaders and innovators in market research, consumer insights, and data-driven marketing. The inaugural list was revealed in April 2021, and the 2022 winners were announced in Toronto last September at ESOMAR's Annual Congress. The awards have created renewed excitement across the industry whilst strengthening the connectivity of the market research community. The 2023 Winners will be announced in the early summer.
With so many exceptional professionals named to the Insight250, it seems fitting to tap into their expertise and unique perspectives across various topics. This weekly series does just that; inquiring about the expert perspectives of many of these individuals in a series of short topical features. 
This edition takes a deeper dive into how advancements in market research and insight technology are impacting consumer understanding and customer experience, specifically in the fast-moving consumer goods (FMCG) space. Here I talk with Adam Conley, Regional Insights Director, North America, Mars Wrigley, about an array of topics around the evolutionary impact insights are having on the FMCG industry.
Adam stresses the importance of understanding the "passions of humans and what's inspiring them in their daily lives" and how insights get to the heart of this understanding. Assembling the plethora of datasets and studies is critical to this, which is largely why mTab Marketplace has assembled a spectrum of leading sources like JP Morgan, PWC, BCG, Barnes, Behaviorally, and a myriad of other providers all in one place; in order to help insights professionals access the foundation of this consumer understanding. 
Crispin: Is the role of insights in the FMCG industry changing, or has the role of the insights professional remained static? 
From my perspective, within the insights function, the role is becoming more critical than ever and is more closely partnering with multiple functions across the organisation. Brands in today's market are up against more competition in more channels and are being scrutinised by consumers in more ways. What consumers desire from brands isn't simply about being consumable anymore; it's about providing an experience and inspiring a moment. For many consumers, it is also becoming more important for a brand to carry itself with a responsibility that a person can be proud to choose and wear as a badge of honour.

"Then, from a business perspective, we have more availability of data than ever before that need to be collected, mined, and utilised to derive true insight that provides us a deep understanding of what matters to our consumers and what role we can play in an authentic way in their lives today and into the future."

Adam Conley
Do you find it easier or harder to get the voice of the consumer heard? 
I find it easier than ever to hear the consumer's voice because we know that being consumer-driven will provide a distinct advantage in the marketplace. The more challenging part is channelling all of the data availability and distilling it down into something clear and actionable. But that's the healthy challenge we all face and are upskilling on and dedicating additional resources."

Adam Conley
Where do your greatest insights come from?
Our greatest insights come from reframing business questions into consumer challenges, ensuring that we're approaching with genuine empathy and getting very deep into the passions of humans and what's inspiring them in their daily lives. If we can really walk in their shoes by way of starting from the perspective of one consumer at a time and then figure out how it relates to the broader population, both delighters and hardships, we can start to understand the role of our category and brands in amplifying those moments of happiness, or at the least distracting from the hardships."
Can you tell me about the importance of third-party data in the FMCG industry and your role specifically?
Third-party data continues to play a critical role in how we measure our in-market performance and unlock close-in category expansion and enhancement opportunities for our brands. That being said, in a world where first-party data is becoming more accessible and usable, it's a need/desire to be intentional about finding what role that data can play and evaluating how to get quality data built in that space. Second-party data also continues to play a role, particularly as we look deeper into white-space opportunities to fulfil consumer needs. It's about striking a balance, not over-relying on traditional or easier data collection in a world where newer ownable data sources are becoming more widely available and providing new ways to understand our consumers."
Are different sources used in terms of benchmarking, innovation, and strategy? Which sources do you find most useful?
There are different points that we benchmark to look to improve our chances of success and impact in the lives of our consumers - if you think of the continuum of a brand and product life cycle, we look to measure at each phase - conceptually we measure prior to launch and learn from what is working/not working comparative to what has led to in-market success over time, we also measure the relative aspects of how we'd go to market - packaging, product, etc. 

"Once launched, we measure the in-market performance and the supportive measures across the activation support plan.  Each of these benchmarks provides the ability to adjust to that particular brand or launch and also learn from how we'd modify for future ideas or launches."
Do you feel it is more important to understand consumers or competitors fully? Why?
"In our company, we have a 'Consumer Obsession' philosophy that we live into on a regular basis, which in part, suggests that our consumers lead us. So in cadence and priority, I'd put the consumer before all others. That being said, the competitive landscape will help determine what is influencing our consumers' choices and what our customers need. It will therefore shape our opportunities for success to have an ownable and distinctive portfolio of brands. So both have an integral role to play, and we won't reach our ambition if we're not knowledgeable and always considering both."
Given the growing complexity of competitors, what is the biggest challenge in understanding their strategies and decisions?
The biggest challenge in considering our consumers' attitudes and the complexity of our competitors is to make choices that are authentic to our brands. Our consumers will showcase a vast amount of needs and desires, and our competitors are working toward fulfilling many of them, which could lead us down the wrong paths for our brands if we choose to follow.

"There are far more needs in the world than what we can fulfil, both those that are being fulfilled by our category and those that are not, but they're not all choices that a brand can and/or should make to be true to the role it plays in a consumers life. That can be the most challenging part, to not try to be everything to everyone."
Based on your experience, what advice do you give to help drive understanding of consumers and competitors? In other words, how do you effectively track each side? 
Take a step back to consider what's going on in a consumer's life before they ever become a consumer – meaning, think about everyone as a human being that has human-based needs before they ever consider your category or brands. Take that empathy deep dive, and look at how trends are influencing the world around them. Understand how demographic and attitudinal shifts are shaping expectations and behaviours. Only then would I take a step closer to how humans are utilising your category to fulfil their wider needs."

How are we shaping and being shaped by the trends around us?  And stay wide as it relates to thinking occasions before brands or products. And how will those trends shape the future beyond what we see today?  Then you can consider how the competition has and will map themselves against these spaces and how our portfolio of brands will evolve and continue to play a role in fulfilling consumer needs."
What are the most significant changes the FMCG insights space can expect in the next few years (e.g. will AI/ChatGPT impact what you do)?
I hope that AI will continue to aid FMCG companies in making better utilisation of the data that we already have access to and will continue to build upon. Data can be and should be a power source for a company, but without it being simplified and turned into Insights, it's often just untapped potential. So I hope AI aids in better utilisation of the data that isn't yet being used to the best of its ability. Maybe that's a low-bar expectation, but that's the most prominent opportunity space."

Anything that can make us smarter, enhance our advanced analytics to reduce risk in decision making, and allow insights people to be humanistic is an asset that should be understood and utilized as much as humanly possible. And while AI is being utilised, maybe it could even do something crazy like unearth new Beatles songs to bring to the world.  Who knows?"
Top Tip:
"We're in what can be an overwhelming time in the history of consumer insights – more availability and complexity of data sources than ever, ever-emerging methods, and new ways to learn and engage with our consumers. It can all feel like system overload… so just remember that we're humans and represent our companies. We need to keep it simple wherever possible to deliver the picture of who our consumers are, what they need, and how we can help to deliver it.  Find and force your simplicity wherever you can."
Thank you, Adam – I love that Top Tip.
As Adam explains, the focus on Mars' 'Consumer Obsession' philosophy is a data-driven approach that allows consumers to lead the organisation in terms of its product development, strategy, and innovation in order to align with the consumers' wants and needs. While the concept itself is not necessarily new, the application of building a foundation on consumer insights is an approach that helps to deliver a competitive advantage to organisations that embrace this.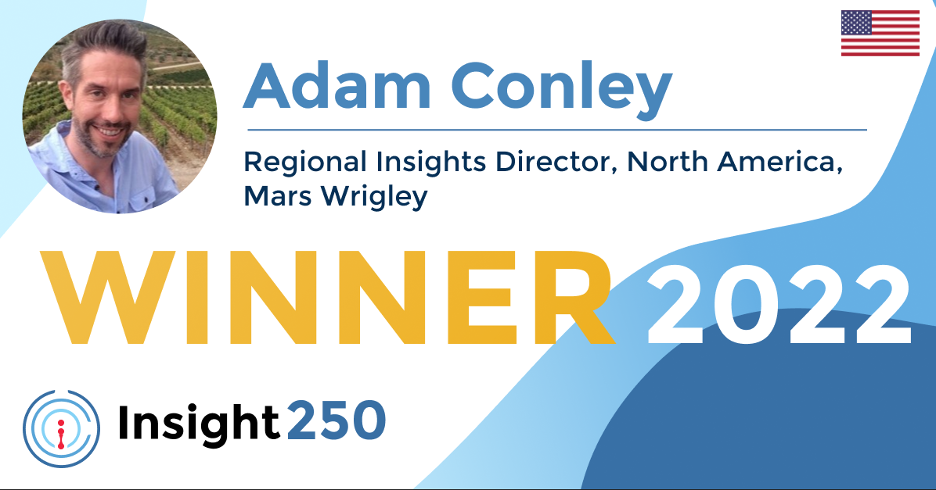 As Regional Insights Director for North America, Adam Conley helps to deliver insights that provide strategic direction to the Mars Wrigley organization. Previously held insight roles with RB, GSK, and Invoke Solutions. Adam has been featured on industry podcasts and as a guest speaker at NYU's Stern School of Business.
Senior Strategic Advisor at mTab, CEO at Insight250, Group President at Behaviorally
Crispin Beale is a marketing, data and customer experience expert. Crispin spent over a decade on the Executive Management Board of Chime Communications as Group CEO of leading brands such as Opinion Leader, Brand Democracy, Facts International and Watermelon. Prior to this Crispin held senior marketing and insight roles at BT, Royal Mail Group and Dixons. Crispin originally qualified as a chartered accountant and moved into management consultancy with Coopers & Lybrand (PwC). Crispin has been a Board Director (and Chairman) of the MRS for c15 years and UK ESOMAR Representative for c10 years. As well as being CEO of Insight250, Crispin is currently Group President of Behaviorally with responsibility for the client and commercial teams globally and the Senior Strategic Advisor at mTab.