The future-focused evolution of foresight
Today, many organisations are demanding more from insights and expecting them to evolve into foresight that can drive predictions and help the company adopt a future-focused approach.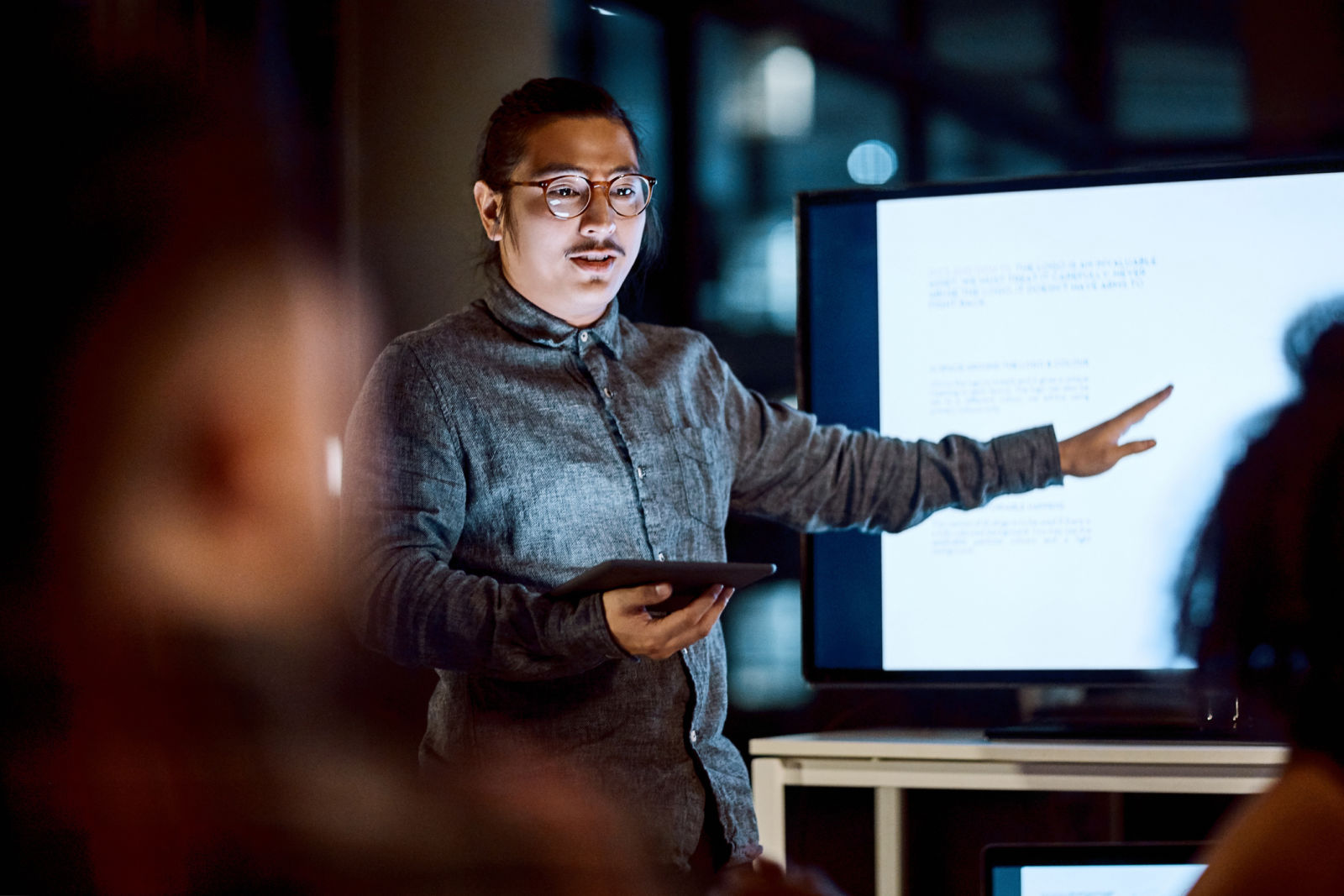 The Insight250 spotlights and celebrates 250 of the world's premier leaders and innovators in market research, consumer insights, and data-driven marketing. The inaugural list was revealed in April 2021 (and the latest 2022 winners were announced in September at ESOMAR's Congress in Toronto), creating renewed excitement across the industry whilst strengthening the connectivity of the market research community.
With so many exceptional professionals named to the Insight250, it seems fitting to tap into their expertise and unique perspectives across various topics. This weekly series does just that; inquiring about the expert perspectives of many of these individuals in a series of short topical features. 
Today, many organisations are demanding more from insights and expecting them to evolve into foresight that can drive predictions and help the company adopt a future-focused approach. I sat down with Kalindi Mehta, Vice President of Consumer Foresight & Predictive Analytics at Estee Lauder, to discuss this evolution and what the approach can deliver to organisations that embrace it.
Great to talk to you, Kalindi; you've recently moved from Heading Insights & Analytics at Colgate-Palmolive to VP of Foresight & Predictive Analytics at Estee Lauder; what does a foresight role mean?
"My previous role at Colgate covered insights and advanced analytics for the North American region, from identifying the ROI through marketing mix modelling, to pricing elasticities, market share, and reporting, as well as concept, packaging, and product validations. I was also responsible for uncovering trends and understanding omnichannel shopper journeys. So it covered a wide range of topics, some of which were about managing the risks of decisions and the efficiency of annual spending and growth.

"My current role at the Estee Lauder Companies takes a future-forward, global growth lens to everything - it really is the global "growth" focused team and looking for ways to grow in the short, medium, and long term through innovation, experience, and commercial opportunities to acquire new users along with new ways of retaining users, services.

"This foresight role has data science, predictive analytics, and AI at the core. At the same time, there's a lot more creativity, cultural understanding, and imagination, which really brings the two together. In foresight centred roles, the interconnectedness of data is the foundation of everything we do. While insights and foresight differences are nuances and could be just semantics but in the end, all good insight should result in foresight. It should tell us about what to do in the future and not just explain the past. The insight could lead to explanation and knowledge. Foresight always leads to action."

Kalindi Mehta
Why is having a Foresight function important today, or why is it so important to think of insights and analytics as "foresight" today?
"Foresight is critical to have as a function in every organisation. Alternatively, renaming insights and analytics functions as foresight is a signal of a future-forward mindset of the organisation. It can help set up a culture that encourages metrics, measurement, and decision-making that's focused on sustainable, long term and profitable growth versus getting caught in the vicious circle of focusing on the short-term.

"Addiction to the short-term is not a new phenomenon, but it has worsened. One of the problems is that (for) short-term activities, in this new digital work of real-time evaluation, you get immediate feedback: responses, clicks, or short-term sales. If you are a marketer who's spending money and nervous about what you're getting for your money, you can immediately see that this stuff pays back. It's become easier and easier to see these short-term effects because we have more granular short-term data that comes through faster and faster. The medium, long-term stuff does perform, but it might just take you longer to find out. However, this short-term/real-time evaluation and planning could lead us to focus on the wrong metrics and steer us toward activity that looks good in the short term but actually destroys medium and long-term profit.

"In this increasingly uncertain and fast-paced world, we need to build an ambidextrous organisation, focusing on both short-term growth but also long-term sustainable growth and profitability. For doing this, having a central Foresight function helps set the tone and the culture."

Kalindi Mehta
Like foresight, predictive analytics is a growing field; what does it mean to you, and how is it best used?
"Predictive analytics is the centre/core of a foresight function and foresight-driven organisational culture. It can be leveraged for decision-making across every part of the business. We have only touched the tip of the iceberg of what it could potentially do in the future. Predictive analytics can be used across the board - new opportunity identification, media, and touch point planning, pricing decisions, identifying segments, and targeting for personalisation for predicting if a pack or a commercial is likely to do well in the market, etc.

And predictive analytics goes hand in hand with AI. AI is playing a bigger and bigger role in driving predictions in an autonomous, scaled way. For example, to predict ongoing trends, we use visuals.

"Analysis using AI that can interpret and predict the emotion/cultural value linked to trends. Important to note that while predictive analytics is core to a foresight function, it is most effective when it is connected with deep consumer and human empathy and/or cultural/economic/societal understanding. This connection allows predictive analytics not just to impact tactical decisions but influence and impact strategy. To be more inspiring, you can tell a story and drive action in a scaled way across the organisation.

"All companies need to start building capabilities and a few suggestions:

Ensure that it's part of a growth organisation- integrated and not a separate ivory tower.

Start the pathway of converting unstructured data (survey data) to structured data that can then be used as part of the models.

Build in multi-dimensional data sources beyond the focus category – bring in external data sets. What is likely to happen in your category will come from environmental, cultural, macroeconomic, and societal factors.

Clearly define the decision to be made first and build your model backwards. Predictive analytics always works well – decision back."

Kalindi Mehta
Is foresight a unique skill? What's the right skill set for a foresight function?
"Foresight is more than a skill set of an individual. Foresight takes a community. It is not about one expert. Data science, human insights, and advanced analytics professionals bring it all together. It really is about team organisation, structure, and way of working versus having very specific skilled foresight professionals.

"Having said this, the right leadership for a foresight organisation is critical. Foresight leaders should have versatility in understanding insights, analytics, and data science. They should be able to see the meaning of maths and convince people through powerful and provocative communication.

"Creativity and imagination are not just technical expertise. Foresight leaders should bring a spark of imagination and magic to maths. They should be able to create a ripple effect and should be able to create infectiousness of the foresight mindset. Because, in the end, your goal is not just to create foresight but to create action from the foresight, and so you need to help the organisation build that foresight-driven mindset for decision making."

Kalindi Mehta
You've worked and led teams in Hong Kong as well as the US; what is your observation of Asia vs. the US? Do these markets take different approaches?
"As we talk about differences in regions, it's important to start with the different markets;  there are a different set of challenges in Asia versus the US; business challenges, organisational culture, and data ecosystem challenges. Each region needs you as an insights leader to pull a different lever, flex a different muscle, and constantly learn and apply things from one region to another. You cannot take a cookie-cutter approach to leading analytics and insights. I have learned to cross-pollinate approaches, apply different mindsets, and flex my skills and knowledge in different roles. For example, to lead insights and analytics in China, you need to be more future-forward than anywhere else in the world as things are changing so fast. The digital ecosystem is constantly evolving at the speed of light. And the data ecosystem in China is very unique from other parts of the world and is so ahead in terms of the use of AI and personalisation that you cannot fully apply things to the US market.

"However, working in China helped me truly build a foresight mindset as if you work in China and if you are not ten steps ahead, then you will be behind very quickly. In many other markets in Asia, the data available is rich but not complete and imperfect – I was taught how to be comfortable with imperfection. Regarding analytics, modeling, and data science, perfection is the enemy of good.

"In the US, we have so many different data sources that it teaches you to use the right approaches to integrate data and connect the sources to tell that story. You learn how to do that at scale through technology and AI."

Kalindi Mehta
What would you say is the biggest challenge in the insights and analytics industry today versus 10 years ago?
"In this world, there's so much data and foresight and insight knowledge available across the organisation. The biggest challenge in any organisation is getting the business to pay attention to the important areas of foresight/insight and act on it. There's so much to do and so little time and resources across teams.

"Furthermore, there is so much pressure on budgets and how we get ongoing and increased investment. We need to make sure that everything we do drives value. How do we make sure it does drive value? Otherwise, it is hard to get ongoing investment. As an industry, we must focus on driving action/adding and showing value versus identifying insight. We do need to evolve the way we think about our roles to do this. The job description of the foresight function is not just coming up with thought-provoking foresight but also helping drive impact and action."

Kalindi Mehta
Top-Tip:
"Data might be the new oil, but we need to use the pipeline as a function. Be the matrix. Be the inspirer. We need to own "end to end" insight to action by not just creating the foresight but also facilitating the action/decision through working sessions and recognising that often multiple discussions are needed to drive change."

Kalindi Mehta
As Kalindi explains, the shift from insight to foresight is largely focused on driving short, medium, and long-term growth through innovation, experience, and commercial opportunities. This requires technology and people to connect data and sources to predict and prepare for the future. It is a challenge many organisations are taking head-on and is becoming a major focal point in understanding customers while constructing competitive advantages.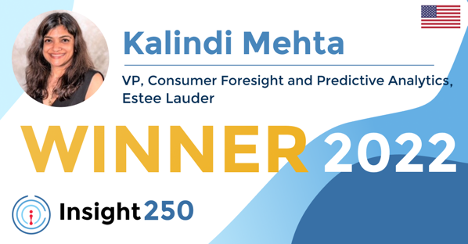 Kalindi Mehta is the Vice President for Consumer Foresight and Predictive Analytics, Enterprise Marketing, and Data at The Estee Lauder Companies. Previously she held insight leadership roles for Colgate Palmolive for nearly 20 years.
Senior Strategic Advisor at mTab, CEO at Insight250, Group President at Behaviorally
Crispin Beale is a marketing, data and customer experience expert. Crispin spent over a decade on the Executive Management Board of Chime Communications as Group CEO of leading brands such as Opinion Leader, Brand Democracy, Facts International and Watermelon. Prior to this Crispin held senior marketing and insight roles at BT, Royal Mail Group and Dixons. Crispin originally qualified as a chartered accountant and moved into management consultancy with Coopers & Lybrand (PwC). Crispin has been a Board Director (and Chairman) of the MRS for c15 years and UK ESOMAR Representative for c10 years. As well as being CEO of Insight250, Crispin is currently Group President of Behaviorally with responsibility for the client and commercial teams globally and the Senior Strategic Advisor at mTab.