The value of diversity
How diversity is driving value in market research and beyond.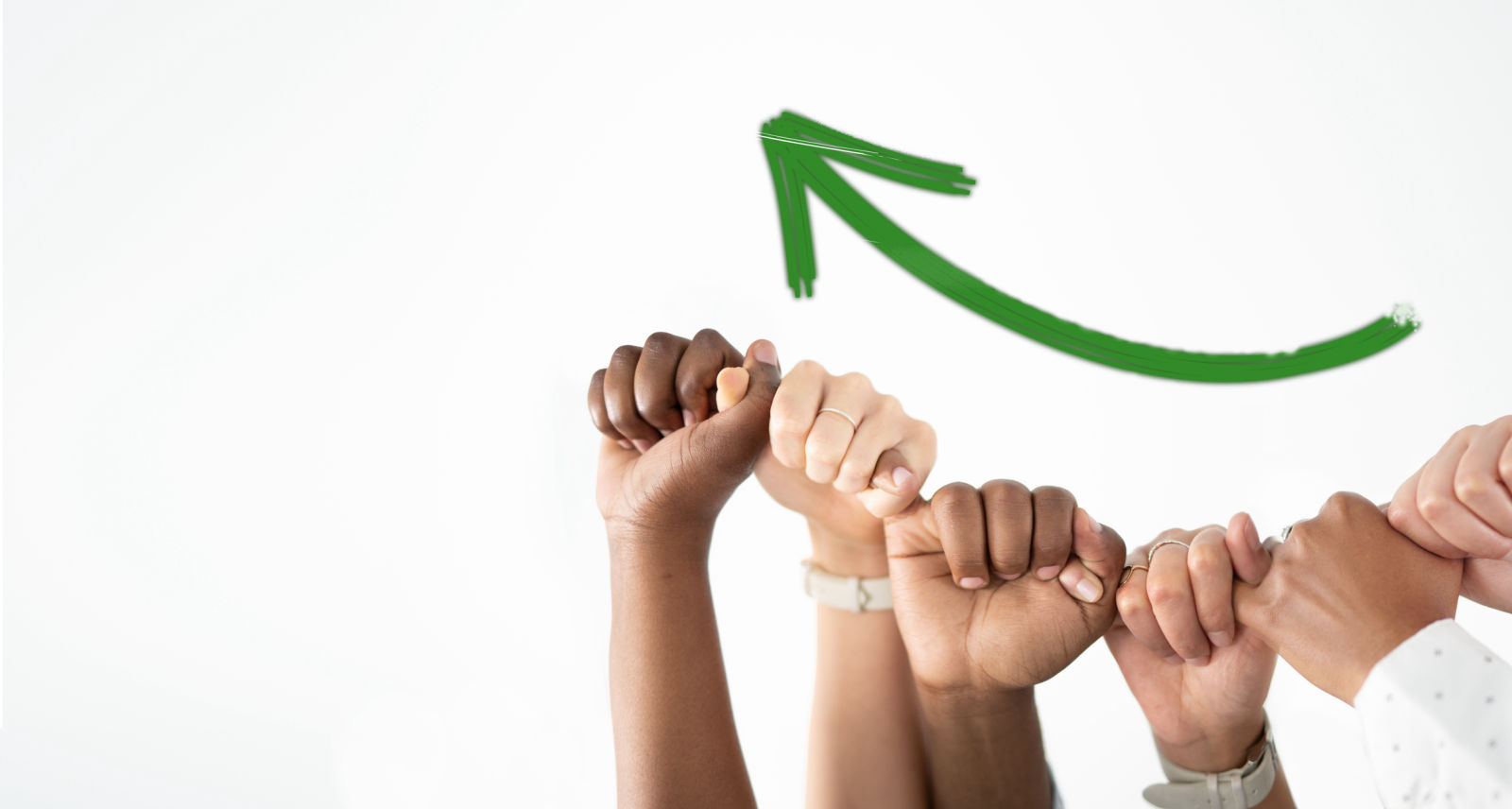 The Insight250 spotlights and celebrates 250 of the world's premier leaders and innovators in market research, consumer insights, and data-driven marketing. The inaugural list was revealed last April and created renewed excitement across the industry whilst strengthening the connectivity of the market research community. 
With so many exceptional professionals named to the Insight250, it seems fitting to tap into their expertise and unique perspectives across an array of topics. This weekly series does just that; inquiring about the expert perspectives of many of these individuals in a series of short topical features.   
This edition focuses on the value of diversity for organisations in terms of experience, perspectives, and insight and how this can drive and shape innovation, solutions, and leadership. I sat down with Vanella Jackson, formerly Global Chief Executive Officer for Hall & Partners, to get her unique perspective on this topic and hear about her experience on how diversity is driving value in market research and beyond. 
Vanella, you've long been a passionate advocate of the need for attracting more diversity into our profession - what do you mean by that, and why do you consider it to be so important? 
"The research business historically has relied heavily on its academic routes and persona. We all see ourselves as "clever chaps" who like to deal with the intricacies of data and explain to everyone else what we discover. 

"This naturally does not feel very open. It suggests you need a "proper" degree from a "proper" university and gives off a slightly superior attitude.  And yet really all that is needed is a curious mind, one that asks questions and is keen to find answers. 

"The industry has made huge strides to change this traditional dusty academic image and done a lot to become more proactive on diversity and inclusion. The MRS DE&I board run by Babita Earle is testimony to this. However, I think we can all generally accept we have not gone nearly far enough. The industry continues to debate how we can attract more people at the bottom and how we can encourage more people to think about research and data as a career. It is something we have been asking ourselves for a long time. Most people still just fall into research." 

Vanella Jackson
What areas as a profession are we doing well, and where do we need to improve? 
"Research has always had a strong contingency of women in the workforce, but not always at the very top of organisations. This has changed over recent years and we are seeing more women leaders coming through, which is great. But there is still more to do. 

"There are also more proactive programmes to tackle the lack of diversity. These are largely focused on gender and race. Social inclusion and those with disabilities are still some way behind on the consideration and action list." 

Vanella Jackson
Are there any risks or pitfalls associated with attracting more diversity, and how are these challenges overcome? 
The short answer is no. All the evidence suggests that diverse teams generate better ideas and create better decision-making. However, like all change, it can take some getting used to. There needs to be a proactive rejection of "this is what we normally do around here" and a positive embrace of the unfamiliar and new. This can take time and is why leadership's support and commitment are so critical." 

Vanella Jackson
Do you see particular countries or companies that are leading in this space - what can we learn? 
"The MRS Diversity Pledge has been a fantastic initiative. Not only has it identified what individual companies are doing. It has also provided a long list of practical guidance and steps that can help anyone improve their approach to Diversity and Inclusion. I encourage everyone to compare what they are doing with some of the other large and smaller organisations. It is all available to see on the MRS website." 

Vanella Jackson
Are there more innovative ways for us to accelerate attracting more diversity into our industry? 
"I am excited to be supporting Rachel Keane of Dig Data fame. She is the Chief Inspiration Office of the Data Inspiration Group, hence the 'Dig!' She is on a mission to inspire kids, aged 10 to 21, from socially deprived backgrounds, to consider a career in data. She is keen to show them how everything the world does, is impacted and inspired by data. 

"She is directly challenging the perception that research and data are dull and only for geeks. Instead, she brings students of all backgrounds, together with client organisations and asks the clients to pose an interesting question. Together they work to solve it. The impact is transformative. The kids get first-hand experience of what data can tell them and what impact it can have. I love this because it is practical, not just talking. It also is collaborative, connecting businesses to the future generation of talent they are looking to engage. But most of all it is open to all and makes a difference. 

"I think the industry needs to find more truly collaborative and practical ways to reach out, connect and create real change. Talking to each other is never going to be enough." 

Vanella Jackson
HOT TOPIC: Sustainability 
Another critical global issue is sustainability; what more should companies and individuals be doing? 
"The challenge is these topics tend to get stuck in HR. Do we have a sustainability policy? Yes...tick. And yet this is a topic that concerns everyone. If organisations ask all their talent what more they could be doing, then they are likely to have better more imaginative ideas and a more engaged workforce. 

"Beyond this is our ability to influence our clients through the voice of the consumer. And this is where our real power lies. If we can proactively show companies how important their wholehearted commitment to sustainability is to their customers, then we, as relatively small organisations, can have a huge impact." 

Vanella Jackson
TOP TIP 
"Read the runes. Constantly scan and anticipate what next and how you, your organisation, and clients can get ahead of the curve." 

Vanella Jackson
As Vanella shared, "diverse teams generate better ideas and create better decision-making." This diversity can provide major value to an organisation on both tactical and strategic levels. Having access to a diversity of backgrounds, experiences, perspectives, and expertise can provide unmatched advantages to not only how a business operates but in how it revolves issues and beats the competition. Thank you Vanella – such important topics.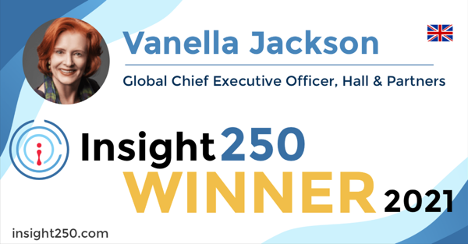 Vanella was recognised as an Insight250 winner whilst serving as the Global CEO of Hall & Partners, which creates commercially and emotionally rewarding brand relationships. She focuses on how digital technology transforms business models and has spent over 20 years with some of the world's premier advertising agencies, including BBH, BBDO, and JWT.
Senior Strategic Advisor at mTab, CEO at Insight250, Group President at Behaviorally
Crispin Beale is a marketing, data and customer experience expert. Crispin spent over a decade on the Executive Management Board of Chime Communications as Group CEO of leading brands such as Opinion Leader, Brand Democracy, Facts International and Watermelon. Prior to this Crispin held senior marketing and insight roles at BT, Royal Mail Group and Dixons. Crispin originally qualified as a chartered accountant and moved into management consultancy with Coopers & Lybrand (PwC). Crispin has been a Board Director (and Chairman) of the MRS for c15 years and UK ESOMAR Representative for c10 years. As well as being CEO of Insight250, Crispin is currently Group President of Behaviorally with responsibility for the client and commercial teams globally and the Senior Strategic Advisor at mTab.