What if
Editorial on the ESOMAR Congress 2022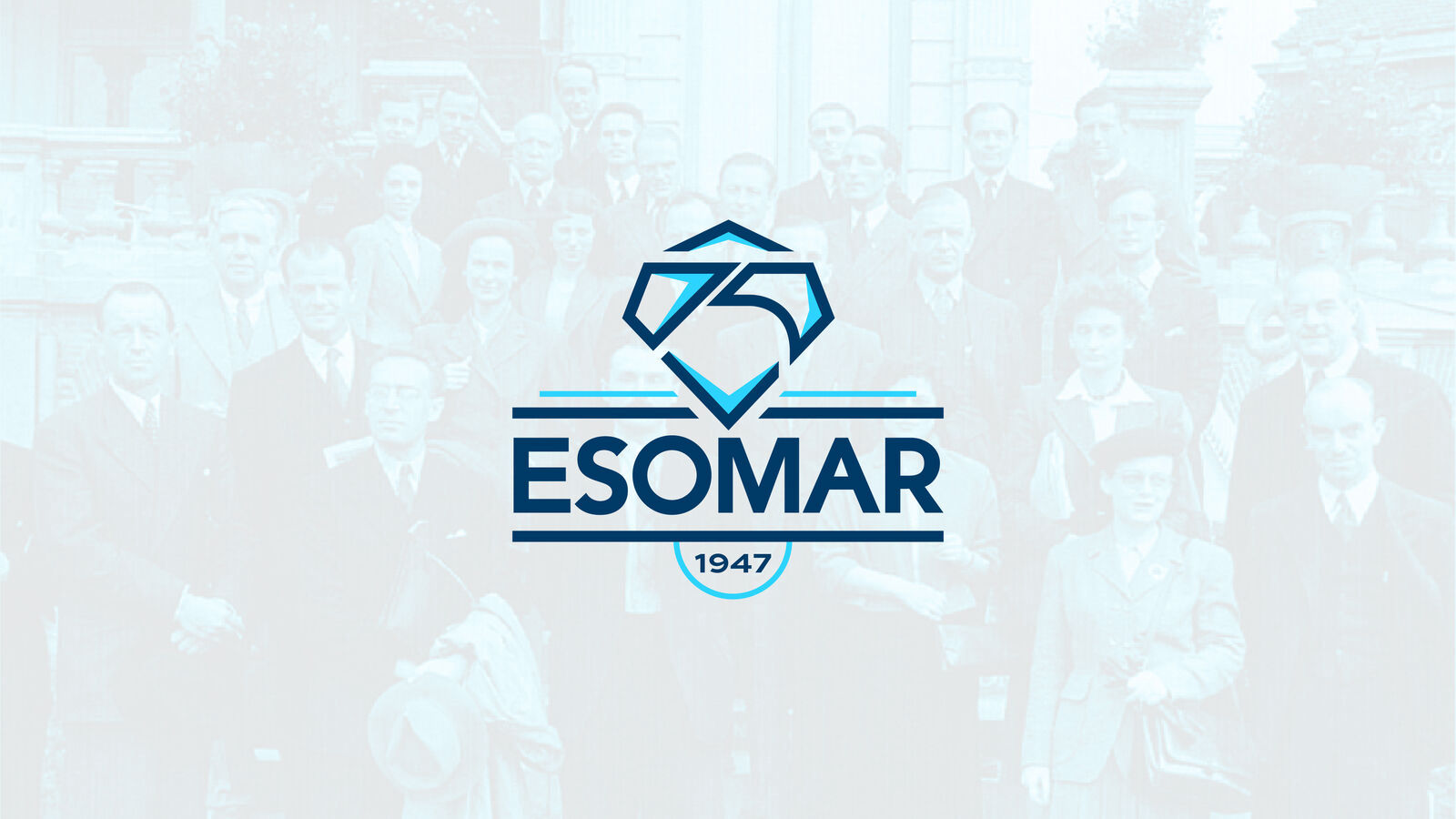 "Transformation"—the theme of ESOMAR Congress 2019, and "Let's Disrupt"—the intended plan for the 2020 Congress that had to be postponed. Did the programme team sense a pivotal event on the horizon? When the curtain was drawn on the stage in Edinburgh that September back in 2019, none of us had any idea of what was about to happen six months later and the impact it would have on the planet for the next two-plus years. "Coronavirus" was an alien word, "pandemic" was an alien concept, to so many of us at that point. Three years on, we finally get a chance to meet again, face-to-face, as our community gathers in the wonderful city of Toronto, Canada. Congress is back, and with an extra bang, as we celebrate 75 years of ESOMAR! 
In 1947 a group of new professionals got together and asked: "What if…we could have an organisation that establishes a set of guidelines and ethics, and helps represent and promote the new industry of market research?" And with that, ESOMAR was born. At this time, previous generations were recovering from the enormous impacts of World War II and dealing with the huge challenges experienced in its aftermath. ESOMAR was launched against this incredibly testing backdrop, but it is important to understand that this new organisation, like so many others at the time, was about exciting innovations, emerging industries and new beginnings. At the same time as the creation of ESOMAR, a hugely exciting post-war project was also underway in our host city of Toronto. Not dissimilar to where we are today, this example shows our ability to deal with the challenges caused by a global crisis, whilst retaining hope for new beginnings and a better world. 
In January 1946, the people of Toronto also posed a question: What if… "a new rapid transit system could be built for the city…provided that the cost to the ratepayers is limited to such amounts as the city council may agree are necessary for the replacement and improvement of city services?" With huge optimism, the Toronto people voted 10-to-1 in favour of the new proposed subway programme. New beginnings and an exciting innovation beckoned for Toronto. In reality, the scale of the proposed project was too large given the economic challenges that the city, and country, were dealing with. The project had to be reduced in size and work on the subway didn't actually begin until 1949. Whilst the economic, political and social challenges made it a much harder project to complete than everyone had hoped, the spirit of the city and the prospect of new beginnings won out, and the subway eventually opened in 1954. 
In some respects, recovering from the Covid-19 pandemic has so many parallels with coming out of a world war. We have been optimistic and hopeful, but we are now feeling the impact of the pandemic on our economies, politics and society. We should not necessarily be surprised by this, as we have seen plenty of examples throughout history of this being the case, following a huge global event. 
When we came together as a programme committee, we felt it was important to allow the industry to assess this post-pandemic landscape: where has the last two to three years left us; what can we be optimistic about and why; and how can we help each other navigate this period?
Therefore, we deliberately chose the broad theme: "what if?". We felt it was important to provide the community with the opportunity to take stock of where we are as an industry. We looked to provide a platform to showcase the successes and innovations we see coming out of these challenging years, and give license to future-gaze. The papers we have curated paint a picture of what has been achieved in the last year or so, what members of our industry are working on now and into the near future, as well as provide an opportunity to discuss and debate what this means to the post-Covid-19 pathway for our industry.  
I would highlight three key aspects from within the programme that helps provide this platform.
1.    Global representation
We are delighted to present papers from 25 countries across the globe, from Canada to Australia, Brazil to Kenya, Denmark to the Philippines. This is the broadest global representation ESOMAR has ever had on the Congress stage, and it's great that we are coming together as a truly global industry for the first face-to-face Congress in three years. Worthy of note, the Toronto subway was built by engineers hailing from over 18 countries! New beginnings are at their best when they are globally inclusive!  
2.    New beginnings and new ways of viewing the world
We were delighted to see so many of the big global topics of the day come through in the submissions, and be able to include them in the programme. Topics such as diversity, inclusion, racism, the environment, societal change, challenges to commercial business models and disruptive innovations are all to be found in the programme—once again, with perspectives from all corners of the globe.   
3.    Development of our people moving into the future
The big topics of our industry and the new beginnings we are observing are asking for different skills from our people and the stakeholders we work with. In the programme, we have papers and presentations that discuss and debate how business models need to change, in addition to how we need to develop and train the people in our industry. Coming together, I am convinced we are going to find a renewed energy and perspective from this theme.    
Thus, it just leaves me to say a big "thank you" to my fellow programme committee members for all of their hard work, energy and spirit of collaboration throughout the process: Fenny Leautier-ten Brinke, Barry Watson, Neha Firdous, Charles Wilson, Caroline Frankum, Emily Huang and Diego Casaravilla. A huge well done also to Rhiannon Bryant and the ESOMAR team, for all of the hard work involved in pulling the Congress together in very challenging circumstances. 
Finally, if you get the chance, please check out the Toronto subway; it is still an amazing feat of engineering and stands the test of time. Who knows, maybe there are some projects and initiatives in these papers that will be doing the same 75 years on from today!
Managing Partner at InSites Consulting
Graeme has worked in Insight and Marketing for over 25 years. He started on the clientside with Lloyds Banking Group in the UK, in a variety of Marketing roles. In 1997 he moved to BJM Research (which became part of Kantar) and specialized in Advertising and Branding Research. Between 2001 and 2006 he worked for Harris Interactive and moved from Business Development to Head of Consumer in the UK.​
​He joined Virtual Surveys in 2006 as Head of Sales and Marketing and became a Board Director and part owner in 2008. Graeme led the re-brand to Join the Dots in 2011 and was a driving force in 6 years of 20+% growth of the Online Community experts. In 2017 he was a part of the leadership team that conducted an MBO of Join the Dots.​
​In 2019, Join the Dots was bought by the InSites Consulting Group, and Graeme became Managing Partner and took on the role of Global Client Partner for key accounts including GSK, Nestle and Kellogg's.