Connecting the world of Market Research through Insight250
The 2023 Insight250 features innovators and leaders from over 50 nations spanning six continents. This year, almost 75% of the honorees were first-time winners.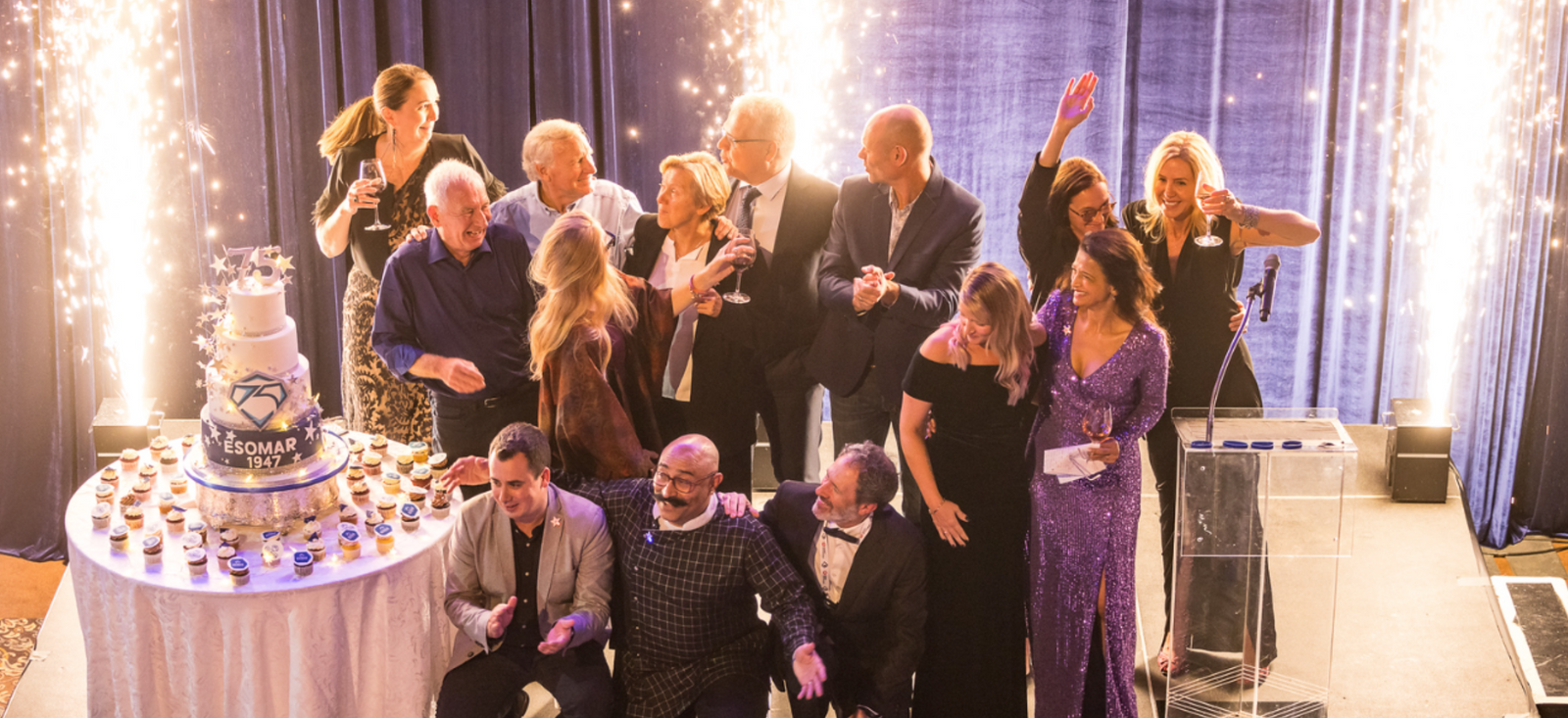 The third annual Insight250 awards are set to be revealed on Thursday, 13th July, with a special online ESOMAR announcement.
The announcement will also be made simultaneously at an in-person ESOMAR event in London with ESOMAR's Joaquim Bretcha and Insight250 CEO Crispin Beale. Insight250 features leaders, innovators, visionaries, and pioneers focused on elevating and enhancing market research, enterprise intelligence, and data-driven marketing.
This list spotlights 250 of the world's premier innovators of insights across academic, enterprise, agency, technology, consulting, and media realms. The complete Insight250 list will be available after the announcement on Thursday 13th, at Insight250.com (as are the 2021 and 2022 Winners). The 2022 Winners were announced by then ESOMAR President Kristin Luck at the September 2022 ESOMAR Congress in Toronto.
The 2023 Insight250 features innovators and leaders from over 50 nations spanning six continents. This year, almost 75% of the honorees were first-time winners. About 15% have won an award twice, and just under 10% are true industry legends, having won the award for three consecutive years. The winners are from an array of organisations ranging from agencies like Behaviorally, Ipsos, Kantar, Opinium, and Savanta to enterprises like Apple, Disney, Google, Netflix, PepsiCo, and Unilever. There are also leading universities represented, including Bowling Green State University, Strathclyde University, University of Castilla-La Mancha, University of Georgia, and University of Lyon, to name a few.
Two of the creators of the Insight250, Mark Langsfeld, Co-Chair of the awards, and Crispin Beale, CEO, sat down to discuss the vision, importance, and direction of the Insight250.
Research World: Talk about the evolving importance of Insight250 to the overall industry.
Traditionally, researchers and insight professionals have been 'behind the curtain' in supporting roles of critical decisions, tactics, strategies, and innovations for companies. The Insight250 has placed the spotlight squarely on the industry and placed these experts at the centre stage to celebrate their accomplishments."

Crispin Beale
Also, Insight250 is an ever-growing network of professionals who share their perspectives, expertise, and insights. The Insight250 initiative is shining the spotlight on the industry, as Crispin mentioned, and it's bringing the industry closer together on many levels, which is exciting to see."

Mark Langsfeld
The inaugural awards in 2021 took the industry by storm, with 20+ million impressions online in the launch week alone. This was then surpassed in 2022. When you look towards the 2023 edition, why do you think it has been embraced so widely?
There has been a need to bring together the industry to celebrate its wins and advancements. Given its incredible global reputation, it's incredible to have ESOMAR as the strategic partner of Insight250. There's a tremendous amount of excitement around this honour, which we hoped for when we first devised the idea, but it happened faster than anyone expected. Even more fantastic is that many individuals nominate their colleagues and co-workers for their innovation and leadership."

Mark Langsfeld
Also, the industry press has been incredibly supportive of Insight250, from Significant Insights and MRWeb to Research Live and Quirks and, of course, Research World. It's fantastic to have these industry publications supporting the initiative and helping to announce and celebrate global greatness across the profession. So, the Insight250 has really become a rallying point for the entire industry."

Crispin Beale
The judging process is quite involved, with ESOMAR Country Representatives involved and a panel of global judges (of whose names are in bold were also judges in 2022) that include:
Roland Abold, Managing Director, Infratest, Germany

Seyi Adeoye, CEO, Pierrine Consulting, Nigeria

Dangjaithawin Anatachai, COO, INTAGE Thailand, Thailand

Paul Baines, Professor, Leicester University, United Kingdom

Nick Baker, Chief Research Officer, Savanta, United Kingdom

Diego Casaravilla, Fine Research Latin America, Argentina

Mitali Chowhan, Director General, Market Research Society of India, India

Justine Clements, Consumer Insights Manager, Samsung, Australia

Tony Costella, Global Consumer & Market Insights Director, Heineken, Netherlands

Arundati Dandapani, Founder, Generation1.ca, Canada

Sharmila Das, Chairwoman, Purple Audacity, India

Chris Farquar, Managing Partner, Cimigo, Hong Kong

Caroline Frankum, Global CEO, Profiles Division, Kantar, United Kingdom

Alejandro Garnica, Independent Consultant, girOscOpio, Mexico

Kudazi Guvi, Senior Research & Insights Lead, Standard Bank Group, South Africa

Wim Hamaekers, Founder, One Inch Whale, Belgium, Tim Hoskins, President, Quester, United States

Jennifer Hubber, Chief Client Officer, Head of Ipsos Global Client Organisation, Italy

Ed Keller, CEO & Executive Director, Keller Advisory Group, United States

Umesh Kumar, SVP & Head of International Research, Hansa Research Group, India

Christian Kurtz, SVP, Global Streaming & Corporate Insights, ViacomCBS, United States

Mark Langsfeld, CEO, mTab, United States

Jean-Marc Leger, CEO, Leger, Canada

Tony Li, Head of Market Research, South East Asia, Philip Morris International, Hong Kong

Kristin Luck, President, ESOMAR, United States

Ande Milinyte, Senior Research Manager, Opinium, United Kingdom

Patricio Pagani, Founder & Lead Puma, Black Puma, Argentina,

Andrea Rademeyer, CEO, Ask Afrika, South Africa

Elaine Rodrigo, Chief Insights and Analytics Officer, Reckitt, United Kingdom

Laura Ruvalcaba, CEO, Brain, Mexico, Urpi Torrado, CEO, Datum Internacional, Peru

Grace Yu, Senior Marketing Leader, Research & Insight, ANZ Bank, Australia

Andy Zhao, President, China Market Research Association, China
Tell us about the importance of these individuals.
Judging the Insight250 is quite involved. These individuals are so impressive and critical to the process. It is certainly not an easy task to review and select the Winners, from the thousands of nominations but the judges do a fantastic job in helping to assemble such an impressive list. ESOMAR's country representatives around the globe also play a huge role, shortlisting nominations in their geographies before passing them to the International Jury of Judges. The Jury then reviews the nomination materials and examines nominees' contributions to the industry through the lens of leadership, innovation, thought leadership, speaking engagements, and many other dimensions. The judges are truly the backbone of the Insight250 and put in a huge effort for which everyone is grateful - thank you"

Crispin Beale
It's important to note that many of these judges were inaugural Insight250 Winners, so they embody the calibre of individuals often selected for the Insight250. They are a critical part of the process and add so much to the integrity and credibility of the awards. We can't thank them enough for the impact they make."

Mark Langsfeld
What do you see as the next step for Insight250?
This is a big question for us. We will sit down as a team and start working on the 2024 edition in short order. Many of these discussions will take place with ESOMAR's leadership, where we will talk about different ideas on how to increase exposure and further elevate the awards' profile. It will certainly be an exciting discussion. This really is a year-long process that involves so many experts."

Mark Langsfeld
Aside from what Mark mentioned about the 2024 awards, we're also preparing for the first set of Insight250 Hall of Fame honorees. Stay tuned for this dimension of the awards, more on which will be announced on Thursday, 13th July."

Crispin Beale
What do you hope Insight250 does for the industry?
I hope it continues to show individuals how innovative and critical market research and consumer insights are to all sorts of organisations worldwide. And that impressive innovations and advancements are occurring to provide better insight and understanding from all over the globe. Insights and research for too long have often been just backroom aspects of a business - now more than ever, they should be front-and-centre and celebrated for their incredible contributions."

Crispin Beale
I also look for us to find ways to unite the industry further and bring these professionals closer together. There is tremendous value in connecting people, and I believe this is a major contribution that Insight250 provides to many.

Mark Langsfeld
From all of us at ResearchWorld, ESOMAR, mTab and Insight250, good luck to everyone nominated for 2023. Don't forget to register to hear the 2023 Winners' Announcement.
Nominations for the 2024 Insight250 Awards will reopen after ESOMAR Congress in Amsterdam in September - watch this space.
Senior Strategic Advisor at mTab, CEO at Insight250, Group President at Behaviorally
Crispin Beale is a marketing, data and customer experience expert. Crispin spent over a decade on the Executive Management Board of Chime Communications as Group CEO of leading brands such as Opinion Leader, Brand Democracy, Facts International and Watermelon. Prior to this Crispin held senior marketing and insight roles at BT, Royal Mail Group and Dixons. Crispin originally qualified as a chartered accountant and moved into management consultancy with Coopers & Lybrand (PwC). Crispin has been a Board Director (and Chairman) of the MRS for c15 years and UK ESOMAR Representative for c10 years. As well as being CEO of Insight250, Crispin is currently Group President of Behaviorally with responsibility for the client and commercial teams globally and the Senior Strategic Advisor at mTab.