Driving sustainability impact through research and insight
Insight and innovation to help brands drive advancements that focus on sustainability while still delivering for the customer

The Insight250 spotlights and celebrates 250 of the world's premier leaders and innovators in market research, consumer insights, and data-driven marketing. The inaugural list was revealed last April (and the latest 2022 winners were announced last month at ESOMAR Congress in Toronto), creating renewed excitement across the industry whilst strengthening the connectivity of the market research community. 
With so many exceptional professionals named to the Insight250, it seems fitting to tap into their expertise and unique perspectives across various topics. This weekly series does just that; inquiring about the expert perspectives of many of these individuals in a series of short topical features.  
This edition dives into the importance of research and insights in driving sustainability in business. I sat down with Caroline Bates, Founding Partner of Citizen Good. Caroline focuses on insight and innovation to help brands drive advancements that focus on sustainability while still delivering for the customer. 
Caroline, you set up Citizen Good Consulting to champion Sustainability - tell us more about that decision and why sustainability is so important to you. 
"I want to leave the world in a better state than it is today and ensure it can thrive for my daughter and future generations to enjoy. We've spent far too many years taking more and more from people and the planet to pursue constant growth at all costs.

Now it's time to reconsider how we do business to ensure we can use brands and businesses as a force for good and to consider new ways to operate that are more sustainable and drive positive impact for people and the planet. It's an exciting time to work in this space as the challenges are vast, but so are the opportunities for impact and engagement, so every day is always interesting! 

"The creation of Citizen Good came about from that ambition to help brands and businesses see how they could use sustainability as a driver of brand connection and brand growth." 

Caroline Bates
It feels like time is running out - is it too late to make a difference? 
"I'm always optimistic, but the climate clock is always ticking. The longer we take to act on positive steps on the sustainability agenda, the harder and quicker the change needs to be.

However, I do have hope as I see more and more clients, citizens, and investors focusing on this agenda and bringing energy, ideas, and funding to this space. But, it does require a step change in acceleration of focus and rewiring how we do business today. 

"I'm pleased to see that it's becoming much more of a key topic of board rooms, but still, there is a lot of work to do to make it part of business as usual and embed into being part of the key metrics that guide businesses and brands." 

Caroline Bates
What more should we be doing as a profession? 
"There's the opportunity to inspire businesses and citizens in scaling the behaviour change needed to support a net zero future and help address the say-do gap by developing effective communications. As David Attenborough has said; 'Saving the planet is now a communications challenge.' It can support tracking impact, which is critical for businesses to understand what progress they're making, by supporting Science Based Targets and providing additional understanding. Finally, it can help connect and inspire brand owners on ideas and opportunities on how they can rewire their business approach to be more sustainable." 

Caroline Bates
How can we all make a difference in this critical area? 
"I feel that everyone can start to make a personal impact in the work that they do – simply by asking how their work can support or advance the sustainability agenda. No matter what their job role is. Every advocate or supporter matters in driving visibility and action."

Caroline Bates
What do you see to be the biggest challenge in getting people to embrace sustainability? 
"One of the biggest immediate challenges right now is the cost of living crisis overshadowing the investments and activity needed to drive sustainable impact.

It's vital to keep sustainability top of mind in driving business transformation and ensure the business leaders are engaged and committed to taking action. 

"We've seen many brands wanting to be seen to be doing the right thing, and so the prevalence of greenwashing is increasing; this is not helpful to driving more sustainable decisions or behaviours. From an insights and data point of view there's the challenge of

understanding the nuances in the say-do-gap – for both consumers and for businesses. Especially ensuring brands and businesses commit to taking and tracking real impact." 

Caroline Bates
Can you give us some inspiring examples of where you've seen this working? 
I think where sustainability impact is greatest is where there is a real emphasis on this agenda from the board and leaders of an organisation. It's where it becomes part of the blueprint for doing business. 

"MUD jeans are an inspiring example of thinking about all elements of sustainability and rethinking how jeans are bought and produced. They're the world's first circular denim brand. They use the highest percentage of recycled denim content in their jeans, and they continue to minimise their water usage, using 477 litres of water per pair of jeans versus an industry average of 7,000. They also share their learnings to inspire others to progress and raise their sustainability ambition too. 

"A more corporate example is Walmart with Project Gigatron they've introduced platforms to share their learnings and enable progress for all. E.g. their Circular Connector, which helps brands understand opportunities for sustainable packaging solutions. There are also many, many smaller brands growing their brands through sustainable approaches. WhatIF Foods are a really powerful example, showing how a genuinely better approach to creating foods that are better for our health, better for the planet and how they are farmed and better for the communities in which they operate - showing how business can be positive for all - rethinking and reimagining food." 

Caroline Bates
You've done all of this through a new consultancy. What advice would you give to anyone starting a business? 
"Make sure you have a support system in place, not just to help run your consultancy but also on a personal level. Making sure you have good partners with shared values is key." 

Caroline Bates
HOT TOPICS: Client: Agency interaction
You've been both client-side (at Telefonica, Royal Mail) and worked at agencies such as Hall & Partners and CIE Group - what do you think is the most challenging role and why? 
"To be honest, I will sit on the fence on this one. As I do think both sides have their challenges. The pressure is on the client side, as you are delivering the final outcomes and responsible for the final impact and making it happen. 

"On the consulting side, the challenge is often related to being slightly further removed from that, so you need to rely even more on influencing skills to drive impact." 

Caroline Bates
How can agencies and clients work together more effectively? 
"I think just like the sustainability agenda, collaboration and trust are key. Working in partnership together for a shared goal. My most impactful work has always been when we have worked in genuine partnership together with clients. That does mean both sides need to spend time getting to know each other and invest time upfront on ways of working and shared expectations. I have always found this investment in the relationship before the project or task pays off for stronger collaborations and partnerships." 

Caroline Bates
TOP TIP 
"Consider collaboration as a superpower; it can help you expand your impact and your partners, double win! For us all to succeed in addressing the climate crisis, we need to work together and share learning to drive impact fast, for this is a mindset shift but a critical one to make." 

Caroline Bates
As the needs of our planet become a greater priority for many businesses, efficiency and innovation are becoming a stronger focal point. Much of the backbone in achieving these advancements lies in understanding. This is why market research, to uncover insights to shape innovation and drive strategy, is becoming increasingly important. Caroline is at the forefront of this and is helping brands enhance their operations with the environment squarely in mind whilst delivering to the needs and wants of the consumer. This is a balancing act that an increasing number of businesses are taking for the good of us all. Thank you Caroline, it was a pleasure talking to you.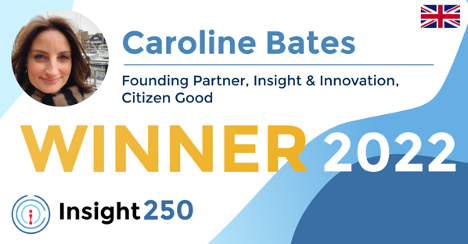 Caroline is the Founding Partner at Citizen Good Consulting where she helps brands embed sustainability into their business strategy towards a regenerative future, to ensure brands can be a force for good and positive impact. Caroline draws on hybrid experience across Insight, Brand Marketing and Communications leadership experience from both the agency and client side - Hall & Partners, Chime Communications, Kokoro, O2 Telefonica, Post Office and Royal Mail.
Senior Strategic Advisor at mTab, CEO at Insight250, Group President at Behaviorally
Crispin Beale is a marketing, data and customer experience expert. Crispin spent over a decade on the Executive Management Board of Chime Communications as Group CEO of leading brands such as Opinion Leader, Brand Democracy, Facts International and Watermelon. Prior to this Crispin held senior marketing and insight roles at BT, Royal Mail Group and Dixons. Crispin originally qualified as a chartered accountant and moved into management consultancy with Coopers & Lybrand (PwC). Crispin has been a Board Director (and Chairman) of the MRS for c15 years and UK ESOMAR Representative for c10 years. As well as being CEO of Insight250, Crispin is currently Group President of Behaviorally with responsibility for the client and commercial teams globally and the Senior Strategic Advisor at mTab.