The importance of in-person networking
The importance of face-to-face networking and research.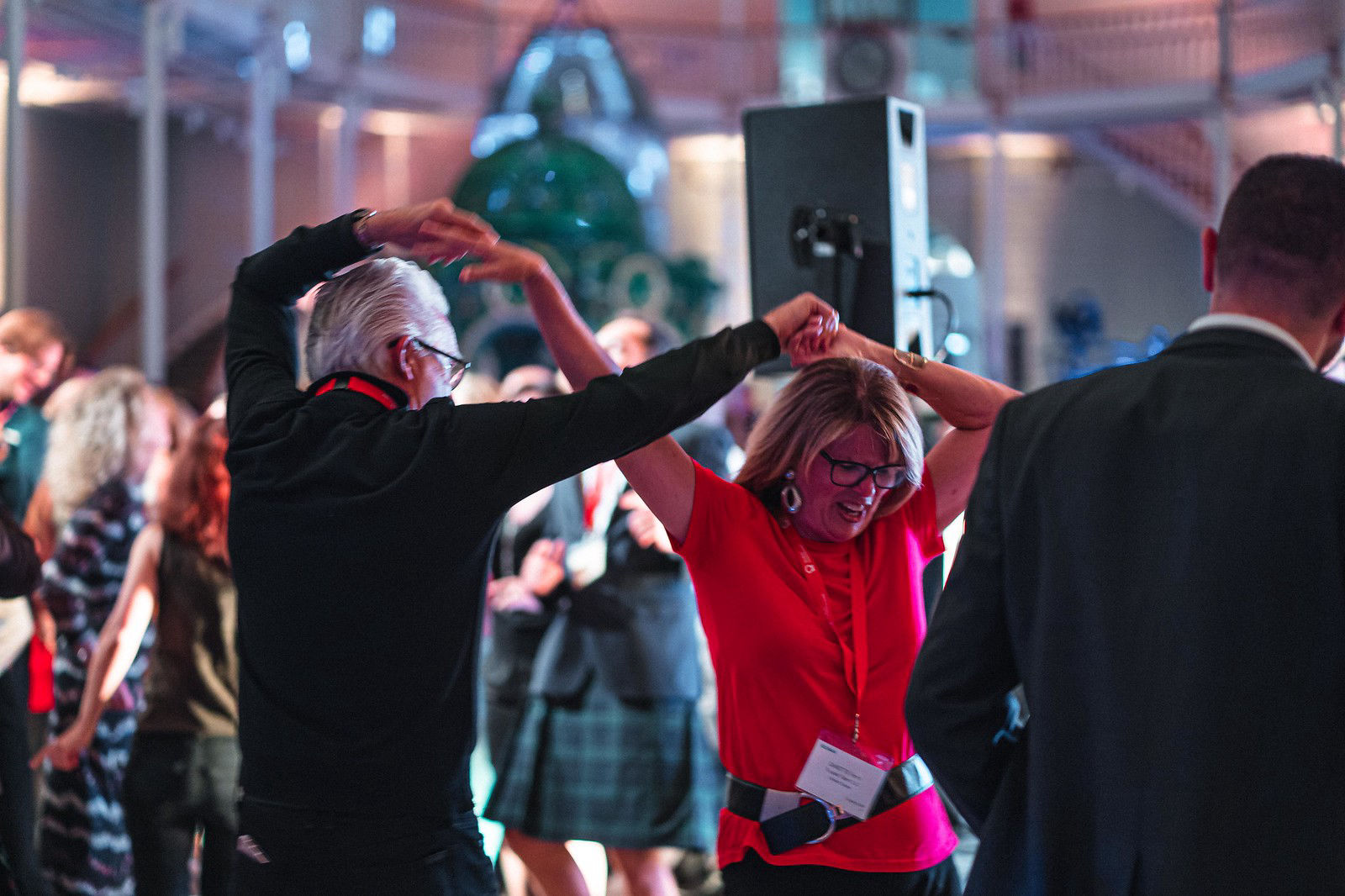 The Insight250 spotlights and celebrates 250 of the world's premier leaders and innovators in market research, consumer insights, and data-driven marketing. The inaugural list was revealed in April 2021 and created renewed excitement across the industry whilst strengthening the connectivity of the market research community. 
With so many exceptional professionals named to the Insight250 it seems fitting to tap into their expertise and unique perspectives across an array of topics. This weekly series does just that; inquiring about the expert perspectives of many of these individuals in a series of short topical features.  
This edition focuses on the importance and need of in-person networking as our world continues to emerge from the isolation of the pandemic which has impacted us all over the past few years. I sat with Bob Qureshi, Co-owner & Managing Partner of i-view Studios, who discusses the importance of face-to-face networking and research and how these relationships not only strengthen the industry and insight but also individuals across the market research realm. 
Bob, you've worked at some of the industry's leading brands - ACNielsen, Synovate, TNS, Escalent, and others; how does running your own business differ from those experiences? 
"This is one of those questions that even if you gave someone a 1000 words to help differentiate and explain you'd never get the complete answer! I've been fortunate to hold some senior positions and some of our Industry's leading brands and whilst I had a great sight of what was coming my way and a team of great colleagues around me, one never had the complete picture of the 'business' - the personal obligations and liabilities were very different. The buck stops with you as the owner and the financial implications can have a deep risk or a huge gain. You're much closer to all aspects of the business and have a complete view of all processes. Assembling a great team around you is key, they get to run their units. The biggest difference for me in running my own business has been the ability to say no when I really didn't feel something was quite right for us. Being able to do only what we want to do!" 

Bob Qureshi
You have run i-view Studios for over a decade, for the international readership can you elaborate? 
"The move from full agency to what is regarded as service or support offers was quite the leap of faith for me. In particular, the move from designing and running surveys and being in the back room to watch a focus group or moderating and presenting findings to actually owning a viewing facility with all the property and commercial lease needs was a fast learning curve. I've thoroughly enjoyed it and wish I had done it earlier in my career. It's akin to hospitality and that really suits my personality. Providing a hosted service and watching clients and participants visit our venues in London and Leeds is fabulous – the breadth and depth of work are simply amazing, from complex medical device testing with surgeons to good old-fashioned coffee taste tests!" 

Bob Qureshi
Has the pandemic accelerated the move to digital research solutions or is this a temporary blip?
"The move to online or digital was always going to happen where there was good reason to do so. The Pandemic did of course accelerate it but at the same time help reconfirm where it didn't make sense to do so. Touch, feel, ambiance, and having people in a room together, simply can't be beaten. We are now seeing some huge pent-up demand and relief in being back to face-to-face research as well as in-person meetings. There's a time and place for everything and doing things the right way." 

Bob Qureshi
What role should face-to-face (or in context/in-person) research play in the researcher's toolkit? 
"The role it's always done to help unearth and contextualise the real thoughts, views, and opinions by people about products and services, where touch, feel, sound, and sight in 3D or real life have an integral aspect to it. To offer much more than on-screen faces. It's why we jump to book a holiday and get on a plane and immerse ourselves in another country and or location - I mean would you go on holiday online!" 

Bob Qureshi
What are the main benefits of face-to-face research? 
"To get the richest, fullest and deepest understanding you need the whole picture from head to toe. Body language, reactions not just facial expressions. Hand and body movement. Reactions when one person speaks and another watches. It aids in providing the best hierarchy on and decision-making process" 

Bob Qureshi
And do you see drawbacks of face-to-face research, other than the obvious increased costs? 
"We've found in our experience that costs for online in many cases are the same if not more than face-to-face research in some studies. Once incentives, project management, and platform costs are taken into account along with incentives not having changed at all – perceived higher costs can be a misnomer. In some cases, it makes total sense to run a study online. The key is to know and do what's best for the client and project objectives." 

Bob Qureshi
Is face-to-face research evolving post-pandemic or have things gone back to "normal"? 
"Things have not only gone back to normal but evolved much more on the UX and CX type of studies to the point we have installed more zoom-in cameras and additional room configurations such as hospital-style ward beds or bar style settings.  We've also increased our video streaming options to enable clients from around the world to be able to stream in and view the studies. What's been simply amazing is having all our international clients travel into London – not forgetting that it is latent help for our economy which we seem to overlook or forget with any online work. Hotels, restaurants, coffee shops, and travel transportation all benefit when we run our studies at our facilities. On any given day we may have had 100 people travel in, spend money, eat something at a local store, buy an item in town, and the clients stayed at hotels and had dinner as a team at a restaurant. For every £1000 spent with us, we estimate another £1000 has been spent in the areas surrounding us!" 

Bob Qureshi
Bob, you also run "The Research Club" that helps researchers network worldwide - talk to me more about the club? 
"Networking can really help broaden and enrich your contact base. I felt so strongly about this that I helped set up a networking community of which I am an owner and shareholder.

I am incredibly proud of my involvement in The Research Club (as a not for profit organization) that has hosted and run over 150 events worldwide across 30 cities. 

"From starting as a small networking group in London with 15 people at our first event in 2008, I have helped take it to over 11,000 market research professionals as members on the database. Importantly, partnerships, cross promotion and agreements have been formed with leading market research organisations and conferencing & industry trade shows, with Research Club as the official networking event." 

Bob Qureshi
HOT TOPIC: Diversity, Inclusion & Cricket 
Bob, you co-founded Colour of Research (CORe) - why is that so important to you? 
"I have been forthcoming in offering mentoring to researchers and guiding industry colleagues and joining various market research think tanks to aid when helpful. Presently, I am working with a group of around eight market researchers from diverse ethnic backgrounds called Colour of Research (CORe) to help create a platform to encourage and mentor people from these backgrounds wishing to enter and develop further in our industry. In addition to this I mentor in the Stepping Up programme helping women who are starting up their own businesses, from community activity clubs to materials and furniture design!" 

Bob Qureshi
You're also passionate about cricket, does your involvement there help with your day job? 
"I feel it's really important to have an involvement in another industry that you can learn from. My work at the Surrey Cricket Foundation and the impact of research in the decision-making process has been incredibly informative. It's allowed me to give back by running fundraising events. In the 10 years I have been involved with charity, I have helped raise over £500,000 toward helping increase participation in cricket in those areas where social poverty, immobility and inclusion and diversity challenges exist. 

Bob Qureshi
There's lots of talk about ensuring our industry is diverse and inclusive - how do you feel we are doing? How do we do more? 
"We are getting there, although slowly, but even if it's a case of one day at a time and one conversation at a time, it all builds up. The MRS Pledge in the UK is a very good place to start and it should be replicated across the world with all the Industry bodies, it's how we can do more." 

Bob Qureshi
TOP TIP 
"Being proactive and not just working to instruction is really going to make you stand out. Having nothing to do is a sign to do something creative. Manage your manager and set your path! Talk regularly to your colleagues – especially those that you'd normally have little interaction with. They'd appreciate it as much as you! Together come up with some collaborative ideas to help promote your company and also to offer some leading knowledge." 

Bob Qureshi
As the world increasingly emerges from the isolation of the pandemic, following Bob's advice on embracing face-to-face interactions is one we should all heed. This can only help the industry to re-strengthen its relationships and help individuals to build their networks and enhance their engagements. Both sides will make market research stronger whilst bringing our professional community closer together. Thanks Bob – as always, a pleasure to talk to you.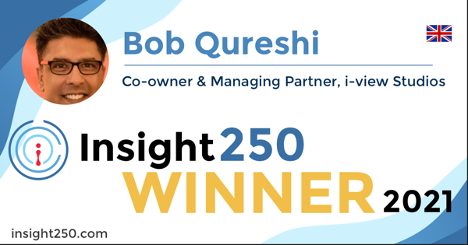 Bob Qureshi works with and advises an array of research providers and serves as Managing Partner of -view Studios which is a dedicated media lab which conducts eye tracking, dial testing and neuromarketing. He is also the Co-owner and Partner with The Research Lab where he oversees the events team in coordinating events for over 12,000 market research industry members.
Senior Strategic Advisor at mTab, CEO at Insight250, Group President at Behaviorally
Crispin Beale is a marketing, data and customer experience expert. Crispin spent over a decade on the Executive Management Board of Chime Communications as Group CEO of leading brands such as Opinion Leader, Brand Democracy, Facts International and Watermelon. Prior to this Crispin held senior marketing and insight roles at BT, Royal Mail Group and Dixons. Crispin originally qualified as a chartered accountant and moved into management consultancy with Coopers & Lybrand (PwC). Crispin has been a Board Director (and Chairman) of the MRS for c15 years and UK ESOMAR Representative for c10 years. As well as being CEO of Insight250, Crispin is currently Group President of Behaviorally with responsibility for the client and commercial teams globally and the Senior Strategic Advisor at mTab.
Co owner and Managing Partner at i-view Studios
Helping companies understand their customers better. Founder and owner of several Market Research businesses. Trustee at Surrey Cricket Foundation. Co Founder at Colour of Research, a diversity and Inclusion Community