The importance of C-level talent to success
How the power of perception, performance, and people can intersect to drive the success of an organisation.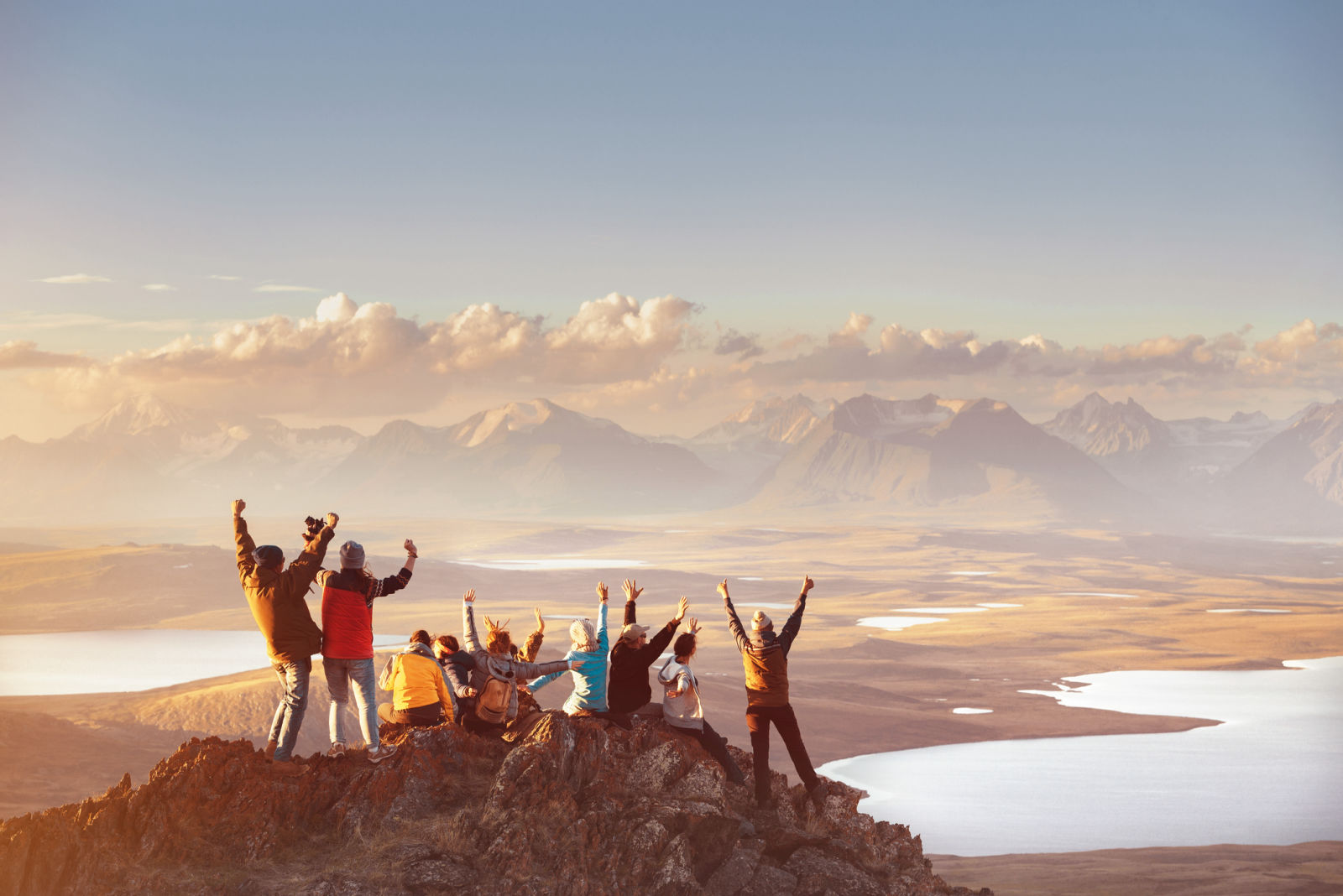 The Insight250 spotlights and celebrates 250 of the world's premier leaders and innovators in market research, consumer insights, and data-driven marketing. The inaugural list was revealed last April and created renewed excitement across the industry whilst strengthening the connectivity of the market research community. 
With so many exceptional professionals named to the Insight250, it seems fitting to tap into their expertise and unique perspectives across an array of topics. This weekly series does just that, inquiring about the expert perspectives of many of these individuals in a series of short topical features.  
This edition reviews the increasing importance of C-level leadership, specifically how chairs can facilitate purpose-driven success for organisations. I sat down with Rita Clifton, who has chaired an array of organisations, to get her perspective on how top-level leadership can make a difference to organisations, employees and customers, but also to society and beyond. 
Rita, amongst other roles, you're Deputy Chair at John Lewis, Chair at Forum for the Future, and previously Chaired BrandCap, Populus, and The Conservation Volunteers, what do you enjoy most about leading organisations, and what do you consider makes a great Chair? 
"Well, to be honest, leading organisations can sometimes be pretty relentless and not always enjoyable. Leading in downturns and international crises is obviously particularly challenging and stressful – you need to keep everyone's spirits up as well as your own, however, you might feel yourself. The real upside is that as a leader, you can set the tone, the agenda, and a positive culture. I do feel particularly strongly about the importance of balance between challenge and support for people and creating an open and safe space for people to be their best. Being a good Chair is about creating this positive environment at the board level, whilst being clear about strategy, priorities, and performance standards."

Rita Clifton
Do you need different skills to Chair a charity as compared with a for-profit organisation?
"I think the core skills of strategic clarity and creating a safe space for debate and contribution are common, but the 'business' and governance priorities are obviously different. You do need to understand very different funding models and also understand that employee motivations and mindsets can, of course, be very different. Having said that, having a clear purpose and encouraging passion for the cause is crucial to both nonprofit and commercial organisations."

Rita Clifton
Should charities, businesses, and member associations learn more from each other?
"Yes, of course. As (hopefully decent) human beings, we all want to make as much difference as possible in what we do and to help address the many problems we have in the world. There are many opportunities for public and private organisations to work together in a complementary way for more effective social, environmental, and economic outcomes. My commercial, brand, and marketing experience has come in quite useful to help my range of non-profit organisations, and equally, I got my first board-level governance experience from the non-profit sector. Understanding risk and different funding models is a huge learning and development experience on all sides."

Rita Clifton
How important is diversity and inclusion within the Boardroom, and how can we foster that environment?
"I hope that everyone has seen the numbers and research evidence of how more diverse organisations and boards outperform the average in terms of better business performance and lower risk. Even if the 'hard' evidence were not there, though, I would hope that all of us would recognise the importance of fairness and equity in how the world works and try to be good examples of how we do that in our own organisations. Clearly, there are good and developing processes and policies to address issues like unconscious bias in recruitment and culture; people might be cynical about the burgeoning ESG agenda, but it has shifted attitudes and Board priorities. But, at the leadership level, you do need to make your commitment show up in a very practical way. E.g. what does the Board represent, and is it 'being the change' we'd all like to see in diversity and inclusion? If not, what's your plan to address that?"

Rita Clifton
How can leadership drive a culture of innovation?
"There was a fabulous and funny section of a Charles Handy book many years ago that stuck in my mind, that listed all the things a company should do if it wanted to squash innovation! For example, making sure there were lots of management layers people had to get through before getting their idea considered and ensuring a culture of blame and constant criticism! To my mind, setting a tone of openness and experimentation, positive learning from mistakes (vs blame), a willingness for rapid test and learn, and a proper system of feedback on ideas is crucial – it's very demotivating when people are asked to contribute ideas, and they seem to go into a black hole."

Rita Clifton
Do you feel artificial intelligence is changing marketing services (both the research and advertising spaces)?
"Yes, as it will change so many aspects of our lives. The opportunity for replacing inefficient manual processes and the extraordinary insights, personalisation, and accuracy gained from AI will be transformational, as will the creative processes that are becoming possible. However, you do need to be able to 'train' your AI to do what you need and to think creatively about what to do, and that still needs human intelligence."

Rita Clifton
Recruiting and retaining researchers is harder than ever before, how can we overcome that challenge?
"To my mind, research is one of the most interesting and rewarding careers. I mean, what's not to like about being paid to be nosey about people, their attitudes and behaviour? And helping people and organisations turn knowledge and insights into positive actions? Obviously, as a sector, research needs to exude the kind of dynamism and importance that it deserves. It also needs to be explicit about the value it creates (and the wastage it saves!) in order to be able to remunerate people competitively."

Rita Clifton
The MRS "tagline", where you were previously President, is "evidence matters" - why do you feel evidence is so important in business? With all the talk of "fake news", has understanding the "truth" become harder? 
"Businesses have to be effective and efficient in order to survive and thrive, and unless it's your own company and you have lots of money to splash about on hunches with no risky consequences, you're going to want evidence to help you make the right decisions. In a public company, you need to be able to justify what you are investing in and prioritising, and this is normally the same in any organisation that is funded by others. The methods of collecting and acting on evidence will always change, as will the speed, but in the real business world, evidence will always matter."

Rita Clifton
HOT TOPIC: Sustainability
Rita, you've been a brand ambassador for WWF (the World Wide Fund for Nature) and a Board Trustee of the Green Alliance for many years - is sustainability becoming more important in the insights profession, and what more should we be doing? 
"Sustainability is fundamental to the world and all of us as human beings if we're going to survive. The evidence is so clear about the consequences of climate change, loss of biodiversity, and of the catastrophic social impacts that it's the main thing that should matter to us all. There are obviously many things the insights profession can do to minimise our footprint – energy, travel, materials used, etc. But as a sector, helping to simplify messages and calls to action feels a constant opportunity. Helping to explain the tension between what people say and what they actually do can also help – as we know, people can be radical at the research questionnaire and reactionary at the checkout, and we have to divine ways to help close that gap. If you don't think the organisations you're working for are doing enough to accelerate sustainability, perhaps you can get involved with a working group within the company, do employee and/or shareholder surveys on the opportunities to act, or indeed offer some of your help pro bono to sustainability charities if you have the time."

Rita Clifton
Rita, you're also a visiting fellow at the University of Oxford - do the next generation of leaders take sustainability seriously?
"Yes! Having been banging my head up against a brick wall about sustainability issues in business for over thirty years (I even set up the Green Unit at Saatchi & Saatchi in the late 1980s!), I've almost experienced whiplash at the speed of change in business leaders' attitudes and commitment over the past few years. It has helped that unlikely players like investment management firms have changed priorities about the financial risk of inaction and the opportunities for new sustainable sectors. I was recently part of a working group at Oxford Said Business School about 'Enacting Purpose', and it was really gratifying to see that it wasn't just the usual list of suspects involved. Clearly, the pandemic has had a huge impact on people's priorities, as has the cost of living crisis, but if anything good has come from the past two years, it has been that we have shown how quickly and collaboratively we can act when needed. And the world's on fire (literally in some places). It's needed."

Rita Clifton
Will businesses that don't prioritise sustainability miss out on top talent and, ultimately, sales?
"Yes, for any number of reasons. We know that, when they have a choice, people want to work for (and buy from) organisations with a motivating purpose and ones that make a positive contribution to the world. And frankly, if we don't get the sustainability issues sorted for our planet, there won't be any other issues left to worry about…because we won't be here. The world needs changing, business runs the world (whether we like it or not), so we need to change business. The insights profession has a fundamental role in that change."

Rita Clifton
TOP TIPS 
"Be yourself because you'll never be as good at trying to be someone else. But just make sure you are developing the skills, experience, and mindset to be the best self you can be."

Rita Clifton
Thank you, Rita, it is truly inspiring to hear your views and insights on both our profession but also on Sustainability – I couldn't agree more and hope everyone who reads your words feels compelled to act and start changing their businesses as you suggest – that's the only way we'll save the world. 
I am sure everyone will agree that Rita is a great example of It is leadership, like Rita's, that can not only accomplish goals but also provide a purpose in reaching these achievements. This purpose can often serve as a catalyst of success beyond mere revenues and metrics, to the point where the organisation is making a meaningful, measurable impact on society and beyond. Thank you again, Rita – inspiring.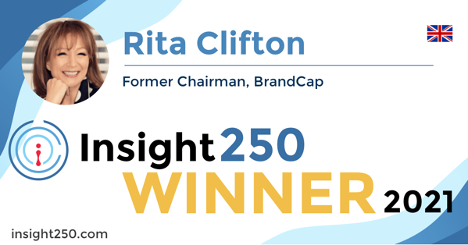 Rita has a deep, diverse realm of experience as a company chair and portfolio non-executive director, speaker, and writer. She has focused largely on brand strategy and business leadership and is a regular columnist and commentator for outlets like BBC, CNBC, and Sky. She has written several books, including The Future of Brands, Brands and Branding, and Love Your Imposter.
Senior Strategic Advisor at mTab, CEO at Insight250, Group President at Behaviorally
Crispin Beale is a marketing, data and customer experience expert. Crispin spent over a decade on the Executive Management Board of Chime Communications as Group CEO of leading brands such as Opinion Leader, Brand Democracy, Facts International and Watermelon. Prior to this Crispin held senior marketing and insight roles at BT, Royal Mail Group and Dixons. Crispin originally qualified as a chartered accountant and moved into management consultancy with Coopers & Lybrand (PwC). Crispin has been a Board Director (and Chairman) of the MRS for c15 years and UK ESOMAR Representative for c10 years. As well as being CEO of Insight250, Crispin is currently Group President of Behaviorally with responsibility for the client and commercial teams globally and the Senior Strategic Advisor at mTab.