Insight innovation and leadership in media
Christian Kurz explains how audience insights are driving content development and channel strategies as the industry continues to transform.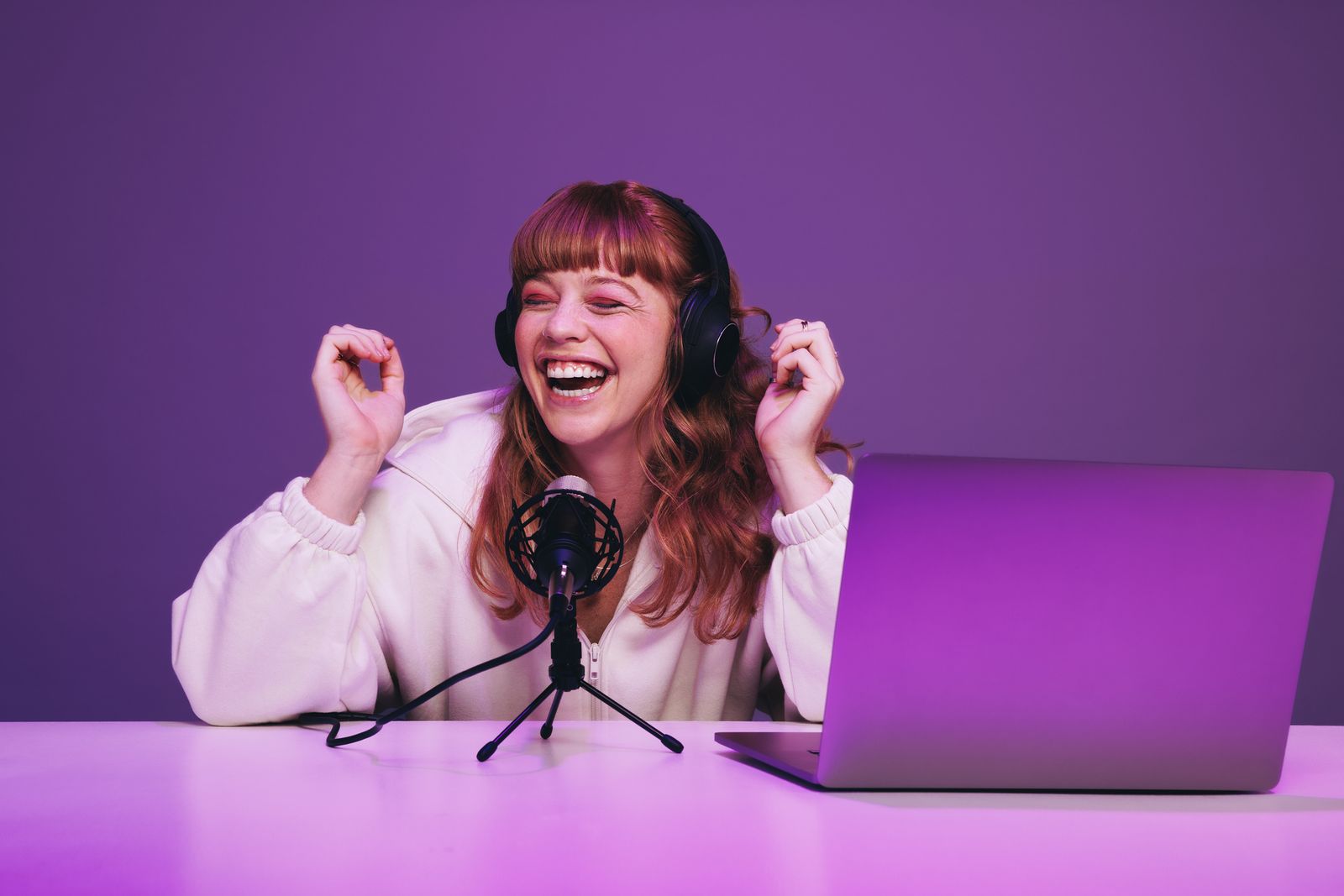 The Insight250 spotlights and celebrates 250 of the world's premier leaders and innovators in market research, consumer insights, and data-driven marketing. The inaugural list was revealed in April 2021, and the 2022 winners were announced in Toronto last September at ESOMAR's Annual Congress. The awards have created renewed excitement across the industry whilst strengthening the connectivity of the market research community. The 2023 Winners were announced this past July and can be seen at Insight250.com.
With so many exceptional professionals named to the Insight250, it seems fitting to tap into their expertise and unique perspectives across various topics. This weekly series does just that: inquiring about the expert perspectives of many of these individuals in a series of short topical features.
This edition features Christian Kurz, the Senior Vice President of Global Streaming & Corporate Insights for Paramount. Christian has a wealth of broadcast entertainment experience, having held strategic and insight roles with leading brands like Disney / ABC Studios, Discovery, Viacom, and Warner Bros. I sat down with Christian to get his expert perspective on the trends, advancements, evolution, and importance of research and insights related to streaming media. Christian explains how audience insights are driving content development and channel strategies as the industry continues to transform. Watch the video interview below or read the interview.
Crispin: Christian, you've spent over two decades working in media in the US and the UK (and with a stint in Austria). You've worked across brands such as Granada/ITV, Warner Bros, Disney, Discovery, Viacom, and now Paramount - how critical is insight in these media brands?
It varies by organisation, of course, but at Paramount (formerly Viacom and MTV Networks), it's very, very important and always has been! I keep quoting our President and CEO, Bob Bakish, who said, "Research today is an inspiration. It's where we begin. It informs our strategies. It informs both business and creative. It shapes our brands. It inspires our content and our marketing." This could not be truer for how our organisation behaves and evolves – we truly try to understand the consumer and the audience and then build products for them. And, of course, our research teams are bringing that voice of the audience into the boardrooms.

"More broadly, I would say that at most media organisations – at least those I have worked at – a version of this is true. Sometimes more, sometimes less, and of course, this evolves over time like any business focus and function, but I do believe in media, we have been closer to research and consumers over the years than several other industries."

Christian Kurz
Crispin: Is the use of insights to drive commercial decisions increasing or decreasing in the media sphere, and why do you think that is happening?
Definitely increasing. But with that, the pressure, particularly on timing, is also increasing. Decisions need to be taken rather quickly in today's environment, and that means research and insights also have to be delivered more quickly. Sometimes, that means realising that just 'good' is good enough and not everything can unfortunately be perfect, but it's important to think through and realise when that is and is not the case."

Christian Kurz
Crispin: What techniques are used to conduct insights for competitive streaming platforms (like Parmount+ vs. Hulu, Peacock) vs. Network Brands (CBS, Nickelodeon, Comedy Central, etc., and competitors)?
Streaming platforms, of course, have their own first-party data to analyse and don't need to rely on syndicated measurement sources like channels. That changes the focus on analytics, how that is done, and what is being looked at. Beyond that, though, when it comes to primary research, the techniques are pretty much the same. We still use normal qualitative and quantitative methodologies; we test content and creativity and combine that with user testing and usability research like other digital-first companies, and it's very similar. What is different again is volume – the volume of shows and creative executions that want to be tested in a streaming environment is very high compared to individual cable channels."

Christian Kurz
Crispin: Does a growing and changing customer base influence how media companies gather insights? How has the profile of the average Paramount consumer evolved over the last decade, and what factors do you believe are driving these changes?
Yes and no. Many media companies – Paramount included – used to function primarily as B2B2C companies. They marketed their services to other businesses (like cable/satellite companies), who then packaged, bundled, and marketed their services to consumers. With the advent of direct-to-consumer streaming businesses, this is now different, and many of these companies have a direct connection to their consumers for the first time. This takes some adaptation of how you think about your business and your consumers. For the first time, we can actually directly talk to our users.

"The users themselves haven't really changed – they are still excited by the entertainment we produce and distribute and are now just consuming it on a wider spectrum of platforms and distribution channels."

Christian Kurz
Crispin: Is it easier to differentiate between traditional network brands and streaming brands?
To a degree – there used to be the channel brand and the distributor/platform brand (cable/satellite company). Most streaming brands share similarities with both and live somewhere in between – their content mix is significantly broader than a single channel, and brand personalities need to reflect that, but it's not a platform brand that arguably is just providing a delivery function and more removed from content. But of course, the streaming platforms do that also, and if something buffers or takes a while to load, the brand perception is impacted."

Christian Kurz
Crispin: What are the key differentiating factors for understanding your customers: frequency of use, demographics (gender, age, ethnicity), geographies (US vs. Europe)?
We look at our consumers in various different ways – from segmenting the market as a whole to looking at streaming users on their own to content preferences within the market and our platforms. Gender, age, and ethnicity are used more as outputs – to describe groups of users rather than as input.

"Geography is still a significant input, though. We look at our products globally but do of. course live in the real world where the competitive and cultural environment is different in each market. We have to take that into consideration and, as a result, are also reaching different business decisions by market – an example is our distribution strategy and the partners we chose in each market, like Amazon Channels, Sky, Canal+, TVING, etc."

Christian Kurz
Crispin: What role do insights play in conquesting new customers and moving them from occasional viewers to more frequent viewers? Does this reduce churn?
That's certainly the intention! We aim to understand our consumers, what we do right and where we can improve and then work with the content, product, retention, and other teams to help inform their approaches and plans."

Christian Kurz
Crispin: Can you provide an example of a key insight that fundamentally changed a production decision or marketing strategy at Paramount? How do you ensure that such insights are effectively communicated and implemented across various departments?
'Change' is tough as Paramount+ and Pluto TV are still relatively new products, so we are still in the building process, but the launch marketing campaigns for Paramount+ across Europe, and the ongoing development of our brand and creative perspective are a good example. The UK was the first European market to launch Paramount+ as a direct-to-consumer product, and we worked hand-in-glove with the local and central marketing teams to arrive at a good campaign that delivered the key messages and was understood and positively perceived by the consumers. That work set us up for a great partnership that continues daily."

Christian Kurz
Crispin: You're on the board of egta - the European Trade Association for Marketers of Advertising Solutions. What role(s) should trade and professional associations (such as ESOMAR, IA, and MRS) play in innovation and leadership in our profession?
I think trade associations are essential in allowing us to come together, share and exchange perspectives, and find out where we face similar and different issues. I think there is a large role for them to play in government relations and regulation."

Christian Kurz
Hot Topic: Evolution of the entertainment space
Crispin: Christian, how do you see the media and entertainment space evolving?
I see the industry evolving in a number of crucial ways at the moment. Firstly, the world is evolving ever more quickly, and business decisions need to be taken much more rapidly, and that often means only having imperfect information to base decisions on, if there's any at all. What that means for the insights profession is that we have to continue to strive to get to findings and results ever more quickly while still, of course, maintaining the quality and reliability of our takeaways and continuing to identify actual 'insights'."

Sometimes, that gets made harder by the current trend of DIY and many believe they can do research themselves. I sometimes find myself having to defend researchers and insights professionals as experts in their fields – not everybody knows how to write or ask a question – and not every question can be answered by consumers. There's a reason for the training, expertise and experience research professionals bring to a question."

In addition, there's this discussion about data and how more data in principle is better and can answer any question. While I agree that data is a crucial part of our profession, observational data alone can only ever get to the 'what' and not the 'why', and even more importantly, so much of the data out there is just not good enough. That's why we always try to understand what any dataset is actually made up of, what it purports to represent and if that's at all possible to be true. We can analyze data as much as we like, but if the underlying source is off, then any decisions based on it will be questionable, possibly wrong."

And lastly, in the medium to longer term, there's of course AI which will end up playing a role in our future. So far, everything I have seen is really just data processing on a larger scale and machine learning or Natural Language Processing. Many of these tools make our lives easier. But I am more skeptical of AI being able to actually replace conversations with consumers. The datasets AI are trained on is just not broad or representative enough at this point. But this will be an interesting area to continue to evolve and evaluate." 

Christian Kurz
Top tip
Never lose your curiosity. Always ask Why."

What has driven me to become who I am professionally is the desire to truly understand consumers, what makes them tick, and how they would respond in various situations. Coupling that with a fundamental understanding of the business the research is intended to support is the crucial nexus. There's a lot of information that already exists in each and every industry – let's use it rather than reinvent it, and then build on it to further the business objectives in a way consumers appreciate."

Christian Kurz
Crispin: Thanks, Christian. This is a fantastic view into the evolving world of entertainment and how audience insights and consumer understanding drive the decisions and strategies of streaming services as the entertainment industry continues to evolve. Congratulations on your nomination as an Insight250 Legend - good luck to you and all the 75 nominees. I encourage everyone to vote for your MRX Legends at insight250.com.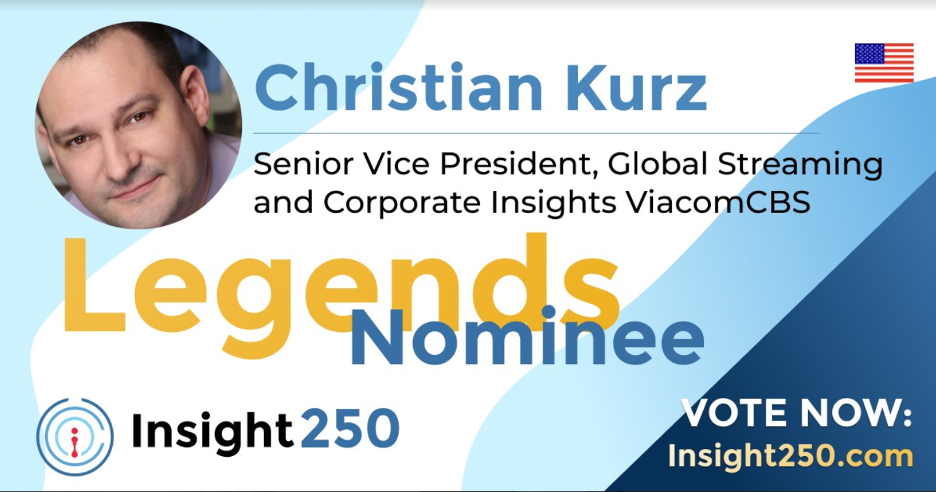 Christian Kurz is the Senior Vice President for Global Streaming and Corporate Insights for Paramount+ and Pluto TV. Previously, he's held strategy and research leadership positions with Warner Bros., Disney / ABC Networks, Granada/ITV, and Discovery. He is a previous Insight250 honoree, now an Insight250 Judge and a current nominee for the inaugural Insight250 Legends award.
Senior Strategic Advisor at mTab, CEO at Insight250, Group President at Behaviorally
Crispin Beale is a marketing, data and customer experience expert. Crispin spent over a decade on the Executive Management Board of Chime Communications as Group CEO of leading brands such as Opinion Leader, Brand Democracy, Facts International and Watermelon. Prior to this Crispin held senior marketing and insight roles at BT, Royal Mail Group and Dixons. Crispin originally qualified as a chartered accountant and moved into management consultancy with Coopers & Lybrand (PwC). Crispin has been a Board Director (and Chairman) of the MRS for c15 years and UK ESOMAR Representative for c10 years. As well as being CEO of Insight250, Crispin is currently Group President of Behaviorally with responsibility for the client and commercial teams globally and the Senior Strategic Advisor at mTab.