The importance of face-to-face engagements
The return, and importance of face-to-face events in bringing people together and of using awards to celebrate our sector.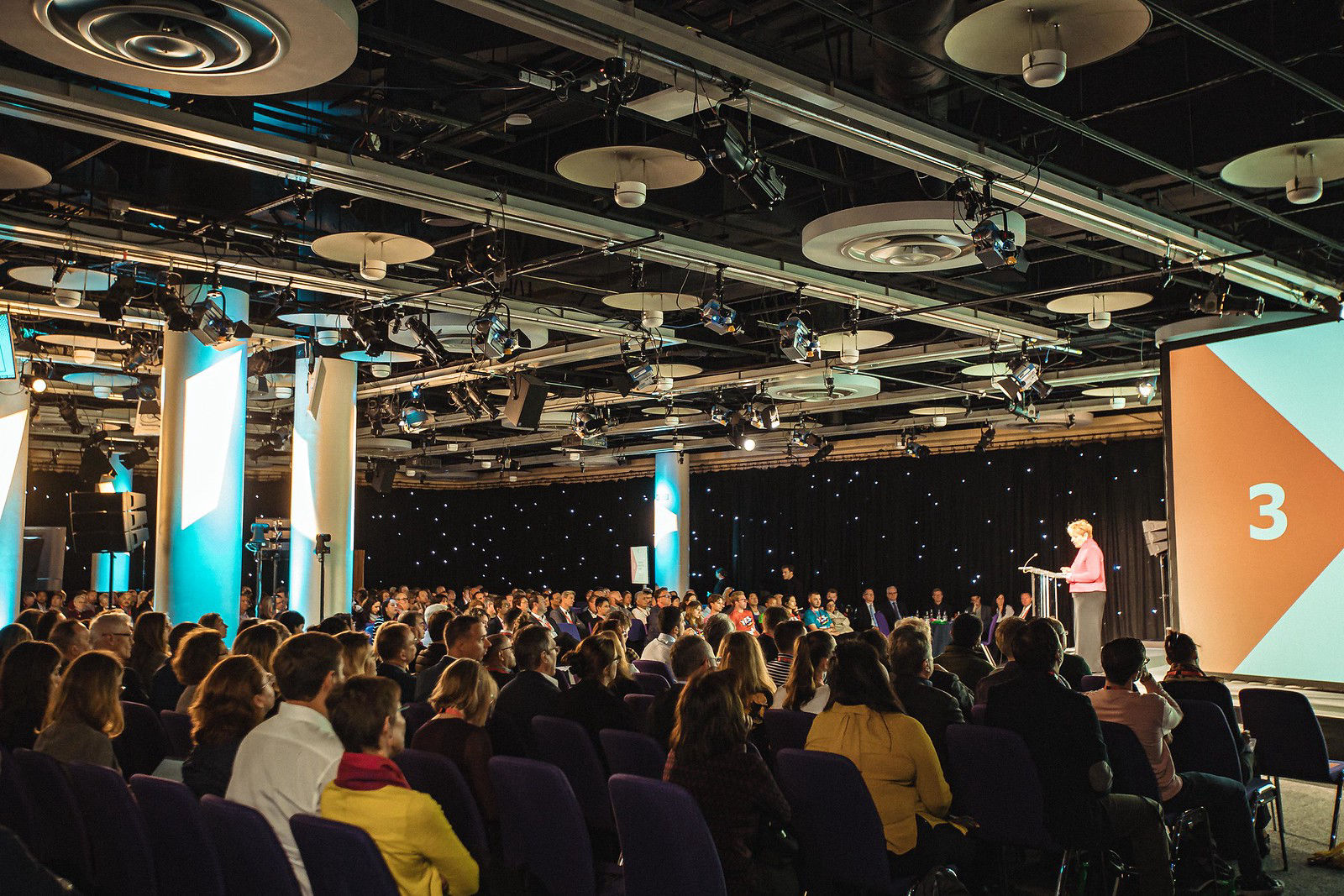 The Insight250 spotlights and celebrates 250 of the world's premier leaders and innovators in market research, consumer insights, and data-driven marketing. The inaugural list was revealed last April and created renewed excitement across the industry whilst strengthening the connectivity of the market research community. 
With so many exceptional professionals named to the Insight250 it seems fitting to tap into their expertise and unique perspectives across an array of topics. This weekly series does just that; inquiring about the expert perspectives of many of these individuals in a series of short topical features.  
This edition focuses on the professional and personal importance of face-to-face engagements, which have obviously been a challenge in recent years with the limitations of the pandemic. I sat down with John Bizzell, Events & Awards Manager for The Market Research Society to discuss the increasing return and growing importance of in-person events and interactions to both industries and individuals. 
John, you've been actively involved with events and awards at the MRS for over 15 years. For those who don't know, what is MRS and what is your role? 
"The Market Research Society (MRS) is the UK professional body and regulator for research, insight, and analytics. We've been around for over 75 years and for almost 16 of those I've been helping our members and Company Partners celebrate their successes and connect with each other through awards and networking events." 

John Bizzell
How do you feel events and awards drive innovation and leadership? 
"Platforms that showcase new thinking and new talent are vital for our sector's development. Whether it's through contributing as a speaker or just lifting a trophy on stage in front of hundreds of your peers, events, and awards are key for inspiration and recognition. 

"Maybe a competitor's triumph will challenge you to up your game; maybe you'll spot the person who is going to lead your business to the next level; maybe you'll have that magic moment of synergy with someone whilst sharing a drink at the bar that will germinate your next big idea - which is exactly what happened with me and Michael when we dreamed up MRSPride, by the way. 

"It's also about supporting the sector. Our speakers and award winners get the chance to shine, but they also pay their experience into the communal research knowledge bank, informing best practices and contributing to a stronger future for everyone working in and using research." 

John Bizzell
What makes a great event or awards ceremony?
"The people! You can have all the twinkling lights and smoked salmon you want, but if the right audience isn't in the room it will always feel flat. The driest conference presentation can be saved by insightful questions from interested delegates and nobody remembers what they ate at dinner when they were too busy sparking off the company around them." 

John Bizzell
Do events and awards work online or are face-to-face events better? 
"The future is about matching the mode to the content. The MRS training programme has thrived online – with an experienced facilitator, an online learning environment really delivers for delegates and employers; no travel time and costs, accessible to everyone from their own homes, and interactive activities that structure the conversation and maintain engagement. 

"That's not usually what we want from awards though. A lot of the fun is in the social aspect – entertaining clients, rewarding the team for a job well done, seeing old faces, and making new contacts. Throw as many bells and whistles as you want at a virtual events platform, it can't compete with doing all that face-to-face in my view." 

John Bizzell
Should more be done to champion our profession? 
"Research definitely still has an image problem. We recently held an Awards Showcase in Manchester where presenters shared work on diving into the minds of teenagers, tackling destitution, gambling addiction, big brand activations, and women's health. Researchers involved in these projects had traveled and interacted with people all over the world, they'd energised big groups online and experienced heartfelt confessions with people hiding in their cars. They'd conducted long, sensitive interviews, analysed huge reams of data, and done psycho-drawings. Crucially, all of them talked about the real-world impact their involvement in amplifying the voices of citizens and consumers had. What an exciting and dynamic sector to work in! Yet, when you ask most people about market research they think… clipboards. 

"MRS and AQR run a Graduate Roadshow every year to get the true story into universities and a Schools Roadshow is also in production, but maybe we need some sort of huge ad campaign to change people's minds? Or a Richard Curtis rom-com where the client/agency leads fall in love through the one-way mirror in a viewing facility? I'm open to suggestions." 

John Bizzell
What awards and events are MRS running that you would encourage readers to attend? 
"We're hoping for all of our awards events to take place in person this year – our new Fellows already had a brilliant time at the Excellence Awards in June. Next up is the Oppies party on 29 September – which is always a wild night for those working in the field, tech, and support side of the sector – and then the MRS Awards Dinner will be on 5 December. The last one was in 2019 when just over 900 people attended. Everyone seems very excited about its return and I would love for us to get to 1000 guests for the first time." 

John Bizzell
What advice would you give to readers thinking of entering the MRS Awards? 
"Years of experience have taught me, though apparently very few others, that it's a good idea to ask your client for sign-off on your entry before the deadline day (that's 4 July this year FYI)." 

John Bizzell
HOT TOPIC: Diversity & Inclusion
Talk a bit about the importance of diversity and inclusion in our industry? 
"Employees who can bring their whole selves to work thrive – personally and professionally – and diverse thinking in a team increases creativity, innovation and problem-solving. I'd like it if everyone wanted a more inclusive and equitable future for the good of humanity alone, but realistically it's good for business too. Get involved." 

John Bizzell
TOP TIP
"Being a genius will get you some gigs, but being punctual, reliable, and useful will get you more." 

John Bizzell
As John pointed out, while online events have proven to be effective, it is difficult to replace the engagement of face-to-face interactions. Having that interpersonal experience fosters relationships and builds trust for both individuals and the industry as a whole. There's a place for both online and in-person interactions and using each effectively can continue to elevate and advance the market research community. Thank you John a fascinating interview on which it is useful for us all to reflect.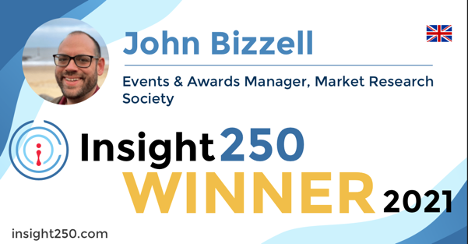 John is the Events & Awards Manager at the UK's Market Research Society (MRS). As well as overseeing all awards schemes and connected events, John looks after MRS regional networks, IJMR lectures, the disability inclusion network MRS Unlimited and the sector's first LGBTQ+ network MRSpride, which he co-created with Michael Brown in 2019.
Senior Strategic Advisor at mTab, CEO at Insight250, Group President at Behaviorally
Crispin Beale is a marketing, data and customer experience expert. Crispin spent over a decade on the Executive Management Board of Chime Communications as Group CEO of leading brands such as Opinion Leader, Brand Democracy, Facts International and Watermelon. Prior to this Crispin held senior marketing and insight roles at BT, Royal Mail Group and Dixons. Crispin originally qualified as a chartered accountant and moved into management consultancy with Coopers & Lybrand (PwC). Crispin has been a Board Director (and Chairman) of the MRS for c15 years and UK ESOMAR Representative for c10 years. As well as being CEO of Insight250, Crispin is currently Group President of Behaviorally with responsibility for the client and commercial teams globally and the Senior Strategic Advisor at mTab.