What if we built a lexicon for insightful leadership?
Highlights from the ESOMAR Congress 2022 in Toronto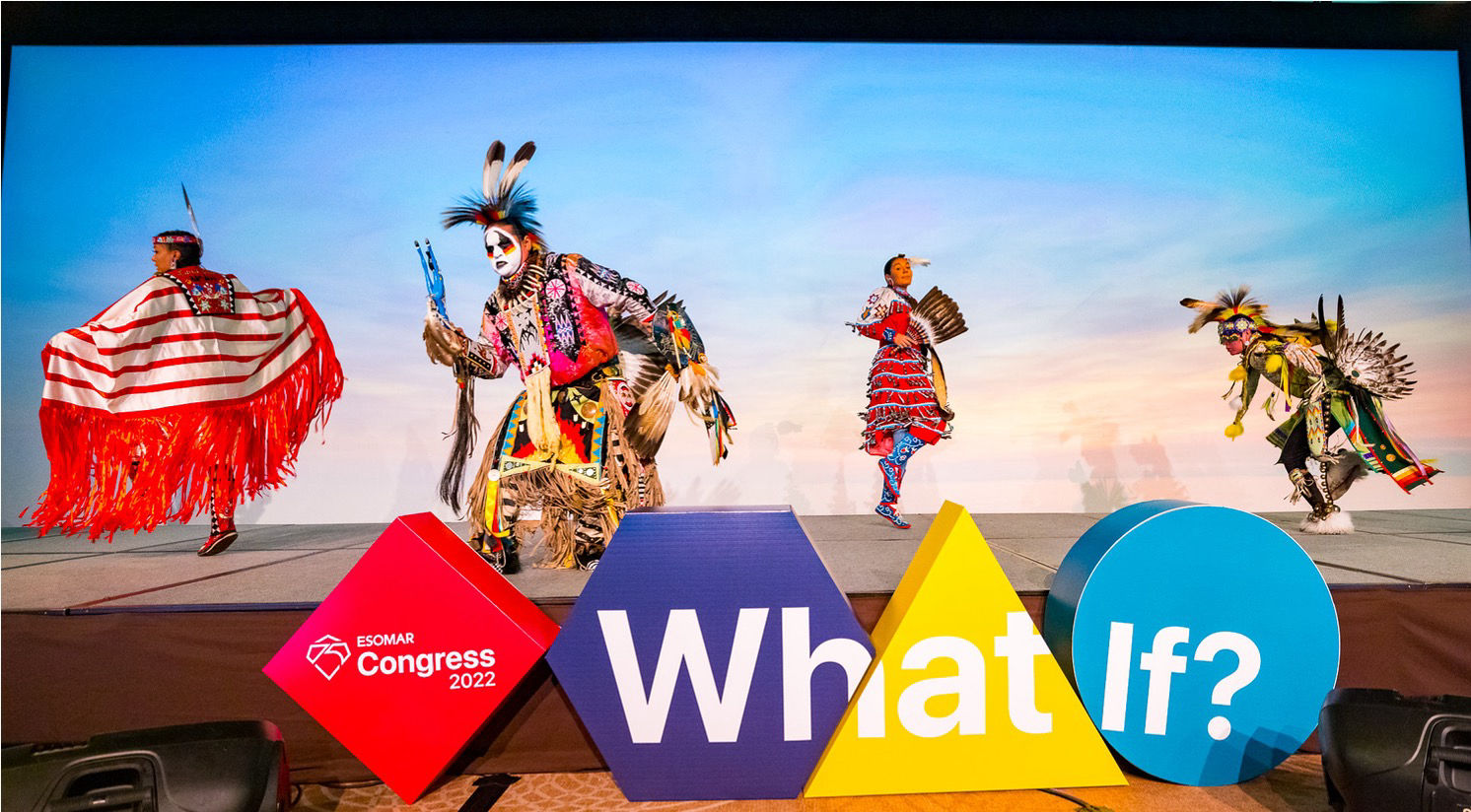 ESOMAR's 75th Congress in Toronto this fall was a much-anticipated kickoff to a season full of vision, possibilities, and new opportunities. The calls to action throughout, in ESOMAR's Chair of Legal Affairs Committee and Director General of the European Network Against Racism (ENAR) Kim Smouter's own words were, "Have fun and grow your business." Growing your business is preceded, of course, by lots of networking, learning, making new friends, understanding others' strengths, tools, technologies, and also pain-points to build and grow mutual trust, and all this was also echoed by the North American ESOMAR leaders.
Executives who slip in and out of many roles with effortless ease wearing – what someone in the audience yelled – "as many hats as you want" – ESOMAR's President Kristin Luck, CEO Dr. Parves Khan and past-interim CEO Pravin Shekhar urged the audiences to reflect, connect, and re-imagine success.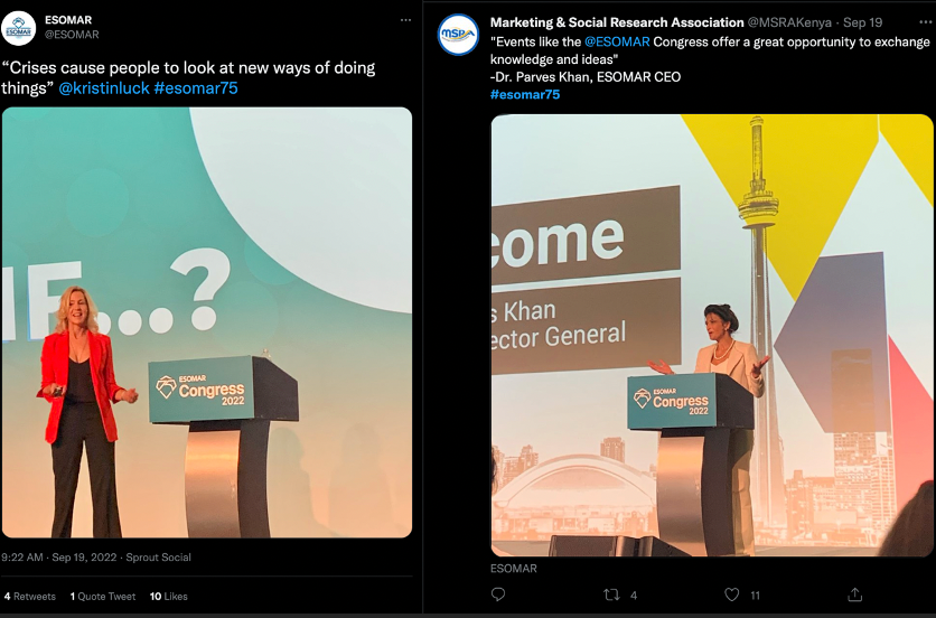 Crispin Beale, CEO of Insight250 and Group President of Behaviorally, united industry in celebrating the newest crop of insightful leaders (including two-time honourees since 2021) across all segments of our globally strong US $119 billion industry, based on over a thousand nominations received from over 50 countries this year, and an esteemed international jury. Watch the video clip trailer of the Insight250 unveiling, and also nominate 2023's winners on www.insight250.com.
Graeme Lawrence and the conference programme committee put together a four-day extravaganza for hungry business minds focused on the power of data, analytics, insights. What if the world acted as per intention? Followed through with plans, promises, and made good its treaties and agreements? Would we still be suffering climate consequences? Would there still be racism? Would we still be trying to improve equity and the world, moving mountains one at a time or faster? The goal of the conference was to help move researchers away from path dependencies (mental shortcuts) according to Jeremy Gutsche, and asking people to rethink and question everything for improved / alternative outcomes. 
Focused on global intelligence transcending not just geographies and time, but also mindsets across the insights and data-led industries spanning many layers of regulation, self-regulation and ethics across clients and ancillary sectors, I highlight a few calls to action from our high-profile conference presenters and exhibitors at this intellectual data-led extravaganza:
Invest in skills: Talent wars continue to surge post-pandemic, in what is being seen as an "employee's marketplace". Talks were focused on upskilling your workforce and investing the time and resources into making your researchers well-rounded in their use of agile technologies, frameworks, and tools specific to their business environments.

Invest in research services: Be a consultant. It's never too late to build a research advisory team within your insights or insights-tech function. Building your research competencies to leverage existing capabilities improves your effectiveness and grows your influence as a trusted supplier and advisor of research. Pictured below are the team from Kevin Cowan and Maria Bruder of BBC World services shared five key challenges for brand trackers to improve respondent engagement - better representation, improved accuracy, understanding brand choices, responding to the news cycle, and keeping shareholders engaged.
Invest in technology: AI, Machine Learning, NLP, Blockchain all have their uses in simplifying that speed to market and achieving scale cost-effectively. Human beings must rely on automation to scale repetitive mechanical work, finessing their processes to stay on top of creative problem scoping and ethical decision-making and be futuristic. Among memorable presentations in this topic were how a team used Virtual Reality to give children a better sense of control and agency over feelings like pain and fear when they were being administered needles. Judith Passingham and Mike Cooke offered their recommendations on AI best practices in their essential showcase, leading up to their five specific calls to action for the new ESOMAR Council of rigorous debate, adopting an ethical code, carving a role for research as citizens' voice, facilitating deep engagement with legislators and knowledge sharing.
Embed inclusive cultures: Interview your employees to understand their needs and values and develop organisational frameworks that empower your people. Be revolutionary. It starts with building a habit of sustained evolution. The Multicultural Insights Collective presented some of their diversity-research findings and frameworks, followed by a client-supplier panel. Both sessions offered useful provocations.
Improve your brand trust measures: Building brand trust is hard work, and this indicator is a combination of financial trust (people trusting you with their money) and relationship trust (your brand advocacy level and customers liking and referring you to others). Brand trust leaders outperform the market, but most brand trust measures are flawed, according to a presentation from Kantar.
Know the competitive set: Building partnerships that complement your strengths and offerings to retain your customers and acquire new ones is key. Managing growth in volatile times can be very hard, so building an effective ESG blueprint can cement your success for the long-term.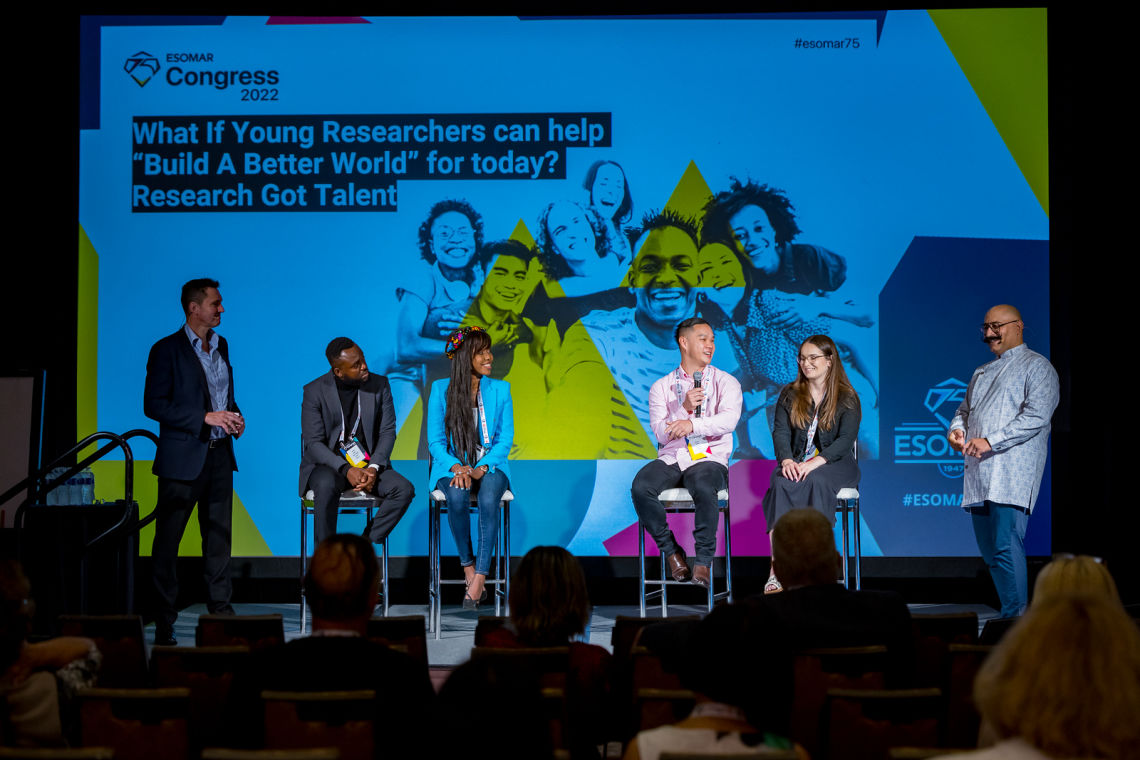 Obsess with user experience: Be prepared for the upcoming and current privacy regulations in your jurisdiction and put respondents and users at the centre of your research studies. It's never a battle of the modes so much as understanding your research participants' environments and meeting them where they are.
A strong contender for exhibitor of the conference prize,  Nikkei Research Inc. offered its booth-visitors Japanese motif chocolates, Thai mermaid keychains and a magic pen that helps you erase all your worries as soon as you have written them on paper.
Jeremy Gutsche of Trend Hunter, Daniel Quinn of the Forge, Scilla Alecci of the International Consortium of Investigative Journalists (ICIJ) and Esie Mensah of Esie Mensah Creations gave stellar keynotes testifying to the power of multi-disciplinary leadership ripe with constantly questioning the status quo to innovate and improve the lives of others with imagination, truth-telling, art, empathy, and research, whether in public or private sectors, academia or other realms of work.
Thank you ESOMAR for a brilliant week of celebrating insightful excellence.
Founder at Generation1.ca
Arundati Dandapani MLitt, CAIP, CIPP/C, is the Founder of Generation1.ca, a global platform and community that places Canada's newcomers, non-profits and legal cannabis at the forefront of insights innovation. She is the author of two books, the editor and contributor of several trade publications, a certified information privacy professional, and a seasoned analytics, insights and non-profit association leader. She has earned notable industry honours including serving as a 2022 Insight250 Judge for the ESOMAR-led awards program, is the Vice Chair of the Advisory Board of Algonquin College's Marketing Research and Analysis (MRA) Program in Canada and has presented at, chaired or reviewed presentations for global industry forums at AAPOR, WAPOR, ESOMAR, CRIC, CAIP, Market Research Institute International (MRII) and the University of Georgia (UGA) among others. Find her on Twitter at @itadnura, or email her at arundati@generation1.ca.