Supercharging survey engagement
Advertorial
Learnings from the Dynata RISE Awards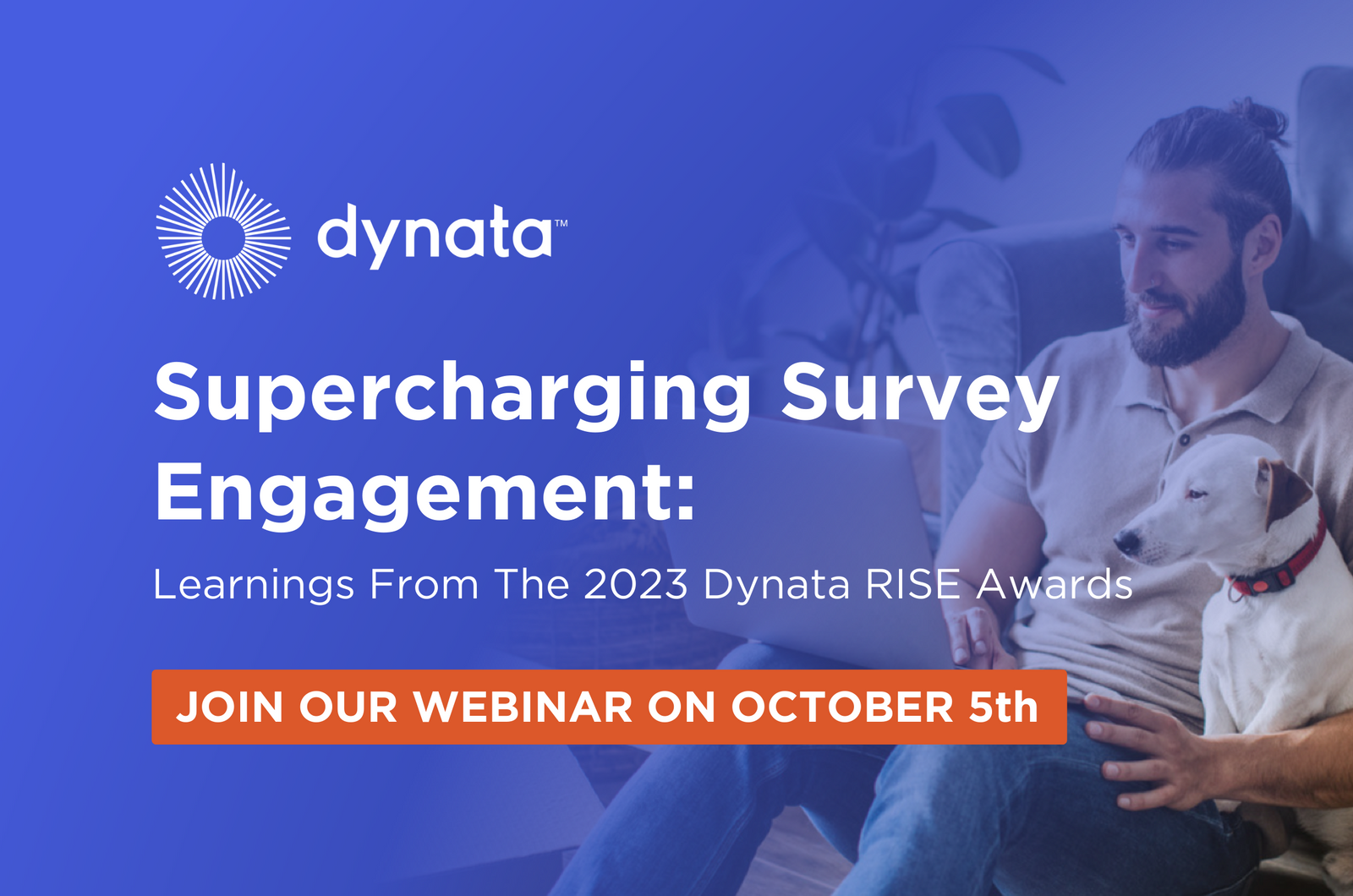 In the ever-evolving landscape of market research, one crucial element consistently takes centre stage - the respondent experience. At Dynata, we deeply understand the importance of survey engagement, and this understanding fuels our dedication to celebrating excellence in this field. 
For the second year running, we've hosted an award ceremony at the global ESOMAR Congress to publicly recognize and celebrate our best-performing clients when it comes to elevating individual survey experience. 
Dynata's RISE, which stands for Recognizing Innovation in Survey Engagement, underscores our enduring commitment to implementing best practices in survey design that benefit the entire research ecosystem. 
The RISE Awards extend recognition across three regions - the Americas, EMEA, and APAC - and encompass three verticals: market research agencies, corporate organizations, and consulting & investment firms. Our winners have consistently maintained the highest levels of survey engagement across all their projects over a 12-month period ending in June 2023: 
The 2023 Dynata RISE Award Winners 
Americas  

Market research agency: 84.51°, a retail data science, insights and media company 

Corporate: Capital One 

Consulting & investment: Bain & Company 

EMEA 

Market research agency: Nepa  

Corporate: Klarna  

Consulting & Investment: KPMG Nunwood  

APAC 

Market research agency: TRA (The Research Agency) 

Corporate: BIG W 

Consulting & Investment: Deloitte 
But what is the driving force behind these awards? What sets these clients apart? It all centres around the respondent commitment reflected in the RISE Score, a comprehensive metric that quantitatively evaluates the impact of a survey on the respondent ecosystem. 
As Nancy Brigham, our VP and Head of Research Science at Dynata, explains: "Survey engagement isn't just a metric; it's the heartbeat of successful research. The Dynata RISE Score goes beyond numbers: it represents our commitment to improving the respondent experience."​ 
The approach to calculating the RISE Score is intended to be purposeful and holistic. It addresses one of the four key pillars – the Ecosystem – of Dynata's holistic Member Centricity initiative. These pillars play an influential role in impacting the survey experience: 
Design: Continuously improving and implementing good survey design practices to enhance the individual survey experience

Ecosystem: Driving behaviour change to benefit the entire research ecosystem and ensure long-term sustainability

Quality: Increasing survey data quality by focusing on the right respondents to remove

Wastage: Reducing overall respondent wastage on surveys
On October 5th, we invite you to join a webinar to take a closer look at the strategies that earned our Dynata RISE Award winners their well-deserved recognition. This interactive webinar is not just a window into the success of our clients; it is a roadmap for your journey toward survey engagement excellence. 
Here's what you can expect from this session: 
Practical Strategies: Gain insights into actionable strategies that focus on creating a better respondent experience. Discover how to optimize survey length, pre-populate fields, and maintain respondent interest throughout the survey.

Industry Expertise: Benefit from the experience of industry leaders, including our award-winning clients. They will share their tips, learnings, and strategies for elevating survey engagement.

Engaging Discussions: Participate in thought-provoking discussions and a Q&A session with our experts and fellow attendees. Acquire insights and inspiration from your peers.

Networking Opportunities: Connect with professionals in the field of market research. Expand your network and explore potential collaborations.
This is your opportunity to elevate your research efforts and be part of the conversation on survey engagement excellence. Don't miss this chance to unlock the secrets of survey engagement success. 
Join us on October 5th, and let's embark together on a journey to unlock the full potential of survey engagement. If you can't join the live session, you can still sign up and receive a link to the webinar recording afterwards. We look forward to having you with us! 
Senior Knowledge Specialist at Dynata
Experienced Knowledge Specialist with a demonstrated history of working in the market research industry. Strong professional skilled in Customer Insight, Advertising Research, Online Research, Market Research, and Data Collection.