Assessing AI's potential for Insights: lessons from ESOMAR's AI Forum
AI is fast becoming a driving force in the market research and insights industry.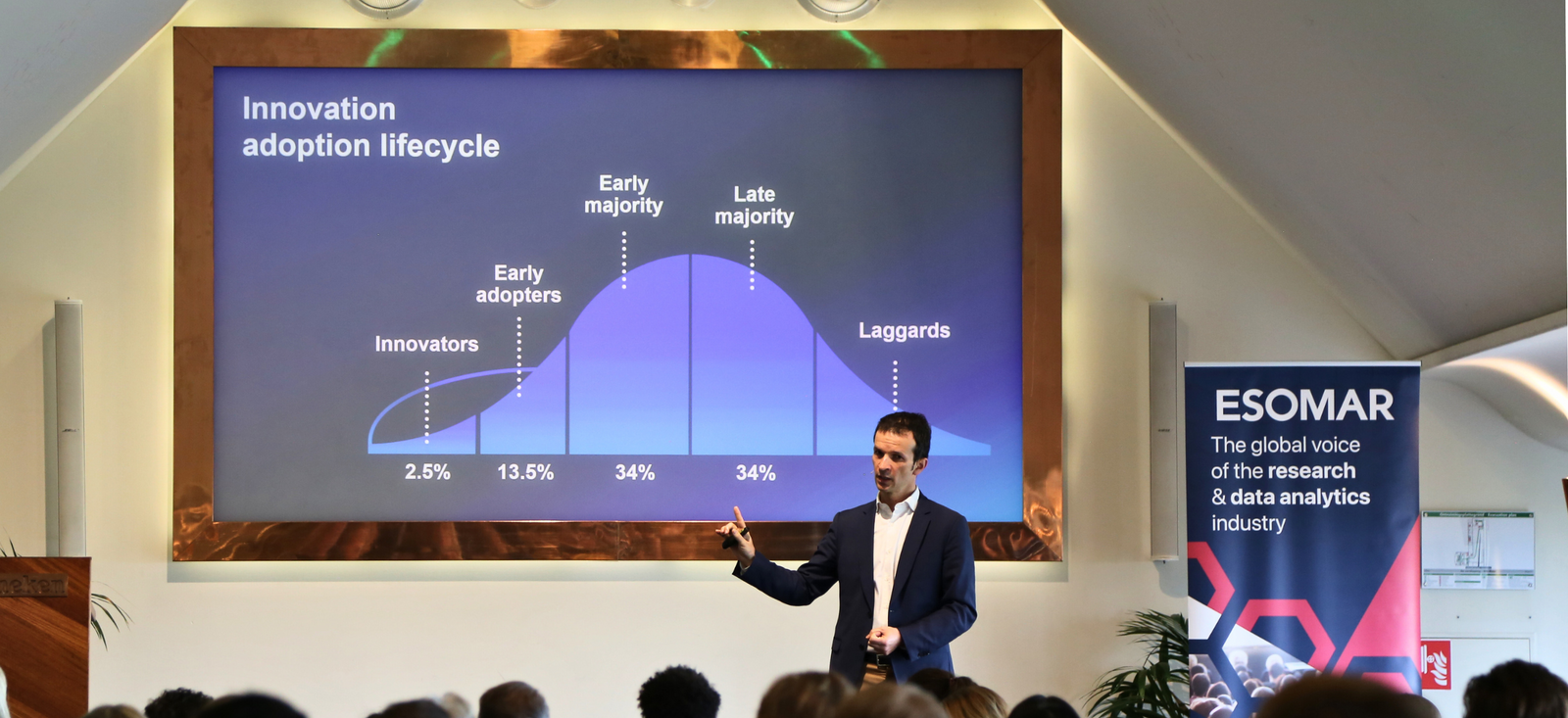 On 19 October, I had the opportunity to attend ESOMAR's AI Forum at the Heineken Experience, in what became a day of comprehensive presentations and discussions on artificial intelligence. AI is fast becoming a driving force in the market research and insights industry. The presentations at the event highlighted the immense potential of AI, as well as the legal implications and ethical considerations associated with its use. Additionally, the discussions covered the topics of data quality and synthetic data, as well as the evolving landscape of AI tools tailored to the market research sector. Two topics stood out among the presentations.
Is synthetic data the future of market research?
Synthetic data, artificially generated models that imitate authentic data patterns, was identified as a powerful tool for researchers to simulate real-world scenarios and explore insights. Annelies Verhaeghe from Human8 explained interestingly the benefits of synthetic data, describing it as faster, cheaper, and better. However, she also acknowledged that the touch of humans is still required to validate the data.
Generative AI & insights
How can AI generate insights specifically tailored to market research needs? Some market research agencies have already started to move in this direction since the current all-purpose generative AI is not always the best fit for every situation, additionally facing problems like biases, security and data privacy assurance. Ipsos has already taken steps by creating an in-house generative AI, Ipsos Facto, to ensure data quality, relevance, and intelligence specifically for market researchers' needs.
After the presentations, participants had the opportunity to network with clients and agencies during the lunch break, engaging in conversations before the start of the second part of the day.
At 13:30, all participants reunited in roundtables to discuss different aspects of AI.
Around the roundtables
In one of the roundtables, the focus was on regulations, guidelines, and law, led by Claudio Gennaro, the Legal and Public Affairs Manager at ESOMAR. The discussion emphasised the pivotal role played by legal and ethical considerations in shaping the landscape of market research in the era of AI. Participants agreed that ESOMAR should define AI within the market research/analytics industry and identify best practices for protecting intellectual property rights within the industry companies. Given the importance of adhering to data protection regulations and respecting privacy boundaries when deploying AI for research purposes, ESOMAR should continue to provide guidelines and a code of conduct for the benefit of agencies, clients, or any individual in the market research and data analytics sector. 
The second roundtable involved an exercise on how to engage with ChatGPT practically. Providing better context, short prompts, and an agile way of prompting in GPT will likely produce better results. This applies not only to ChatGPT but also to new and different agile AI tools. Participants mentioned Claude and Palm 2 to compare results and analyse trends.
Looking ahead
As the market research industry continues to evolve, AI will undoubtedly play an increasingly pivotal role. It offers exciting potential and opportunities, but it also has ethical responsibilities that must be taken seriously. Market researchers need to stay updated on the latest AI tools and methodologies to ensure they harness the full potential of AI while mitigating its associated risks. AI in market research is more than just a trend; it's a transformational force that will define the future of insights and decision-making. 
Market Intelligence Analyst at ESOMAR
Lilas is Italian with Syrian origins and studied Economics and Finance in Padova and did an internship next to her studies at Generali. She was, amongst other activities, responsible for qualitative and quantitative data research, its visualisation, simulation models, and preparing data for presentations to internal and external stakeholders. 
She got married and immediately after moved to the Netherlands in December 2021, and worked as Strategy Analyst at Varian for 6 months.
She joined ESOMAR in March 2023, where since then, she has been responsible for developing the different reports and studies regularly published by ESOMAR's Intelligence Unit and aggregating materials (such as bundles of academic articles, case studies and videos), internal and/or external, that support the role of ESOMAR as a thought leader that represents the data, analytics and insights industry.