Hot, hot, hot! Too hot? Can the investment boom last?
2021 had been an incredible year for investment into the insights and marketing analytics sector – over $9 billion in one single year. Surely the market would have to take a rest in 2022?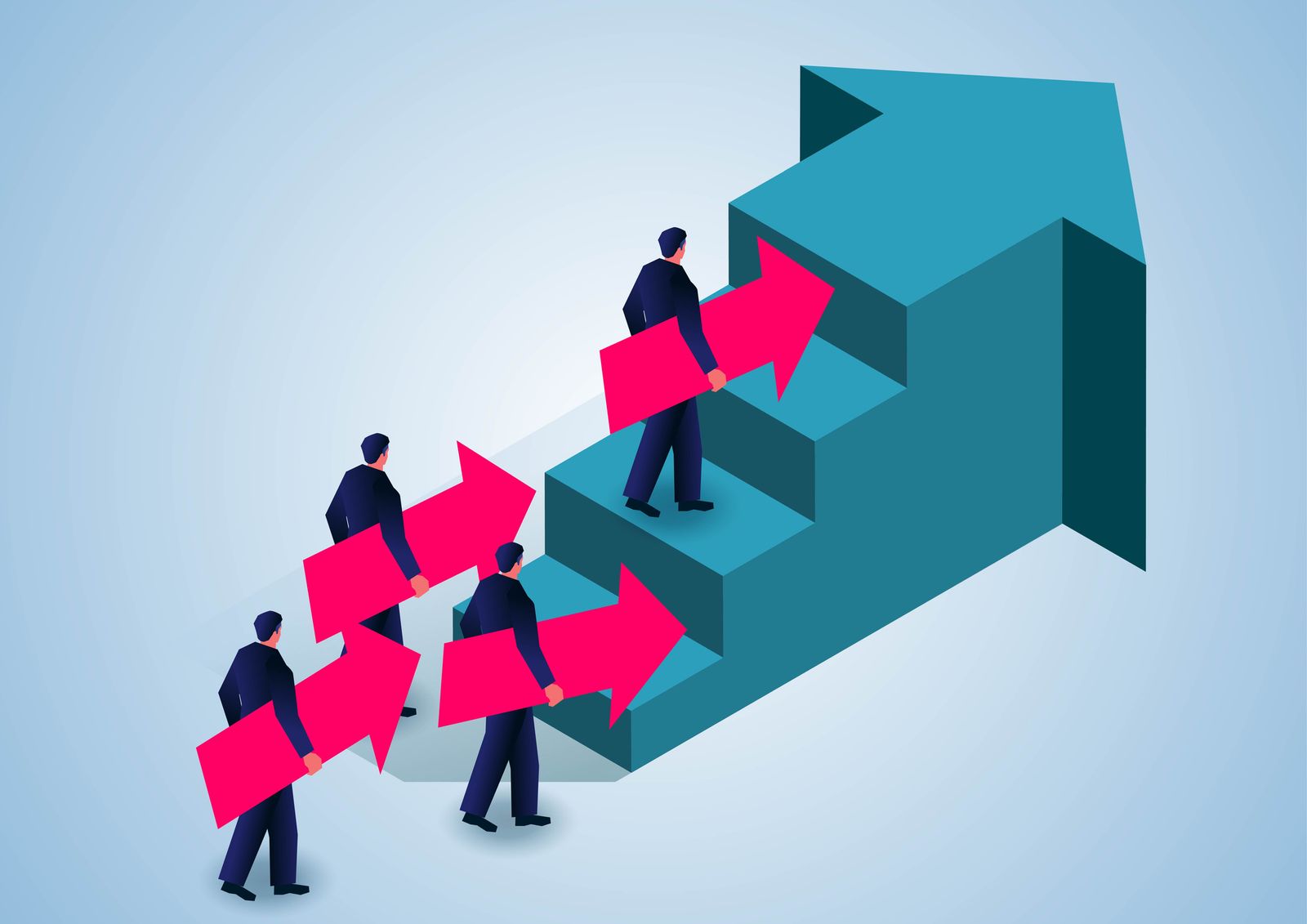 2021 had been an incredible year for investment into the insights and marketing analytics sector – over $9 billion in one single year. Surely the market would have to take a rest in 2022? After all, inflation had reared its ugly head again after decades of dormancy, and central banks around the world were raising interest rates in a desperate attempt to tame the beast before it could get out of control. That in and of itself should have put the brakes on continued record levels of investment in our industry. Investors would now have to be confident of much higher returns, which in turn would make them more cautious and risk-averse in their decision-making.
It didn't, and it seems that they weren't.
2022 was the second biggest year for inward investment in the insights and analytics sector ever, barely below the record seen in 2021.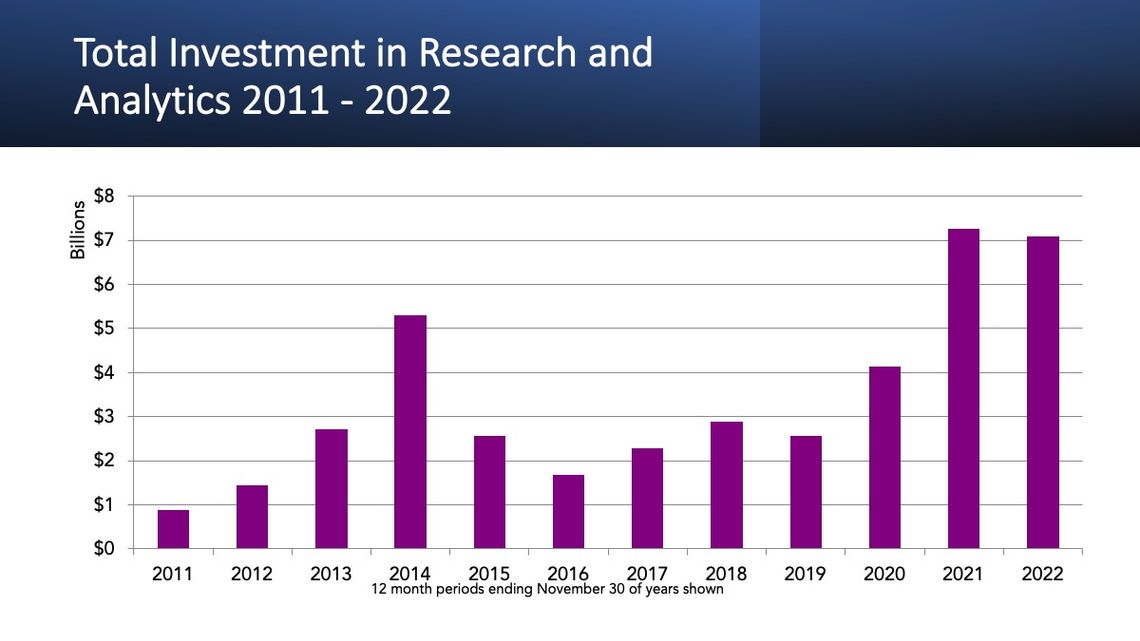 Source: Cambiar Capital Funding Index, 2022
Cambiar estimates that a total of nearly $8.9 billion was invested in our industry in 2022[1] – a mere $220 million short of the record total achieved the year before. For all intents and purposes, 2022 was 2021 redux – the total amount invested was the same, the number of transactions was the same, and the average size of those deals was the same.
It's still the P-word
Once again, the main driver was investor enthusiasm for platforms.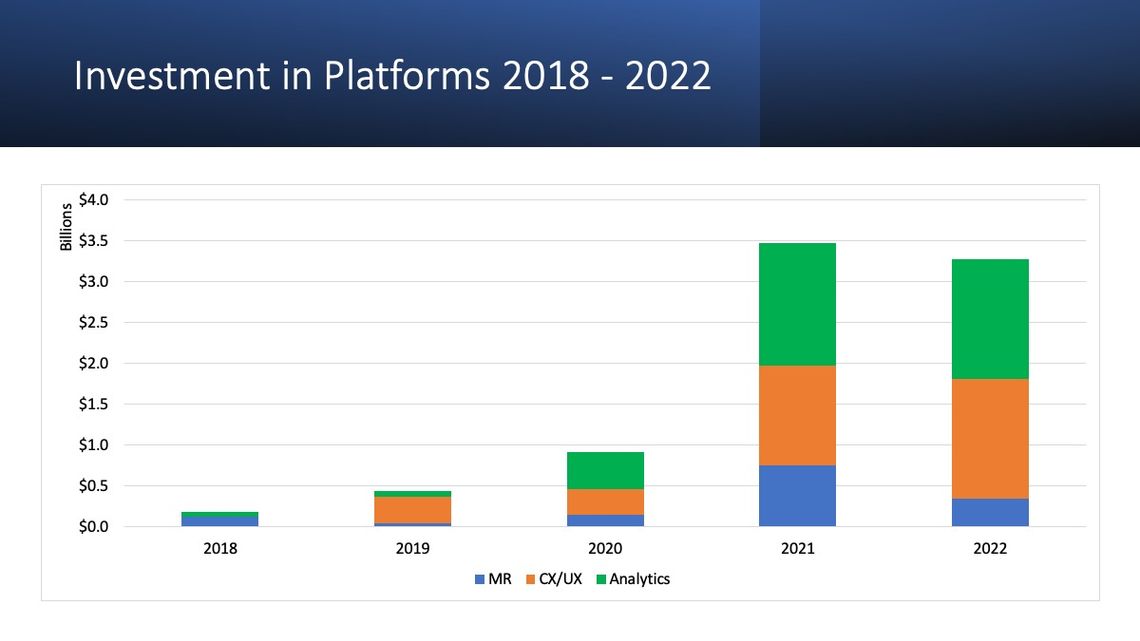 -- Source: Cambiar Capital Funding Index, 2022
The vast majority of funds flowing into this segment of the industry were, however, not in the market research arena but in CX/UX and data analytics. This may indicate that MR platforms as investment candidates are past their prime, potentially because the segment is heavily overpopulated. As of September 2022, there were over 350 market research platform companies globally spanning seventeen or more different types of application.
However, when we broaden the definition of "market research" to include CX and UX, the over $2 billion of monies invested in platforms of that ilk helped MR to record its best year yet for incoming funds.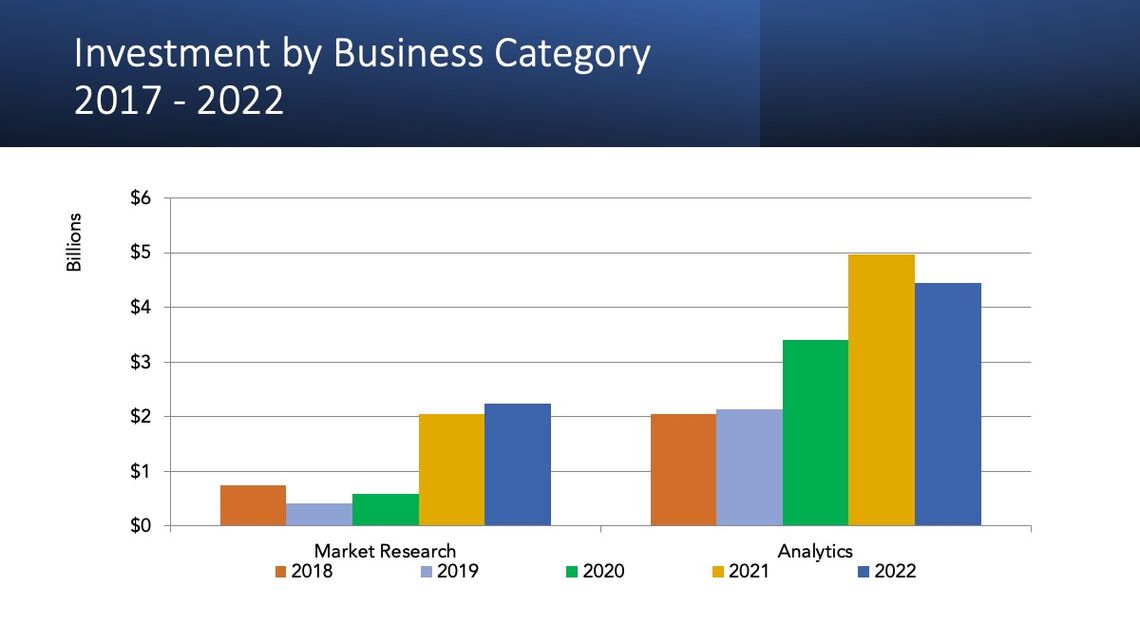 -- Source: Cambiar Capital Funding Index, 2022
Following the money
On the analytics side of the equation, the ebbs and flows of money between different types of application reflect many of the key issues that the commercial world has faced over the last three years:
Customer analytics peaked at over $1 billion in 2020 but has been falling back ever since. This reflects the breakdown of consumer models with the onset of the pandemic and the greater emphasis on customer centricity that resulted from the need to understand customer behavior in an uncertain and rapidly changing world. Huge amounts were invested in record time in 2020/1 to do just that.

Similarly, Retail analytics peaked in 2021 as consumer shopping behavior changed radically and omnichannel became a necessity for survival.

In 2022, the focus appears to be firmly on the management of Big Data and the need to build Predictive models to replace those that fell apart in 2020. Management and democratization of the huge amounts of data possessed and continuously generated by large companies has led to major investments in data integration systems. At the same time, the increasing sophistication of systems available to analyze and decode those data has made predictive analytics a must-have capability.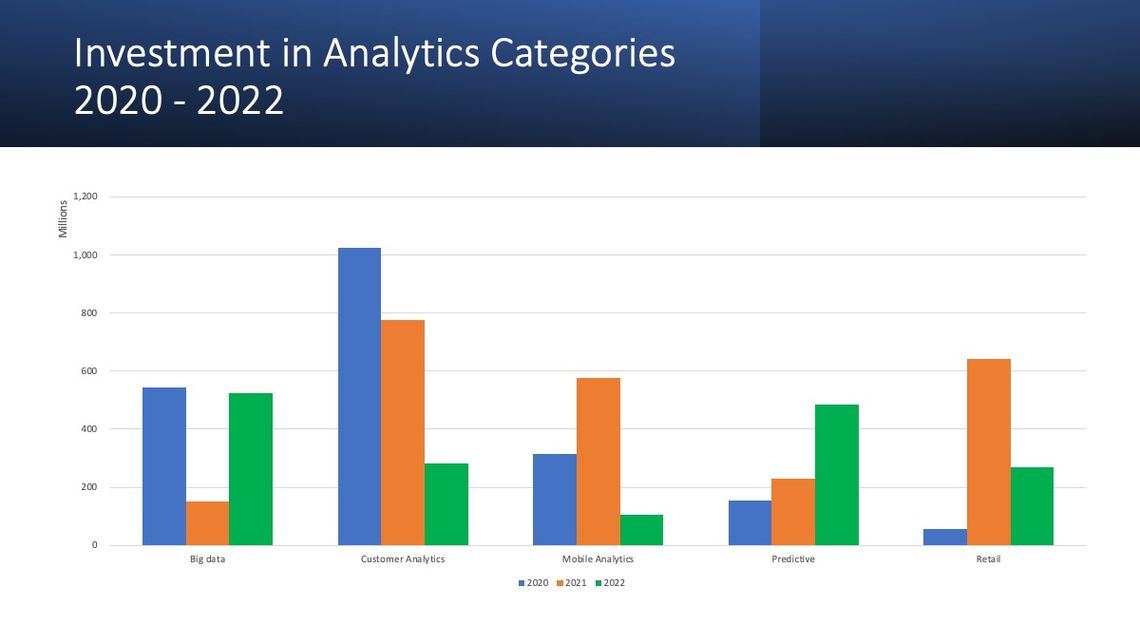 -- Source: Cambiar Capital Funding Index, 2022
Conversely, interest in Mobile analytics appears to be waning significantly while that involving Social Media analytics has all but disappeared. This latter phenomenon could be because social media listening and analytics are now very mature spaces populated by well-established platform suppliers. It's a late-stage market, much in the same way that text analytics is.
On a more granular basis, it is instructive to see where some of the biggest bets were made in 2022: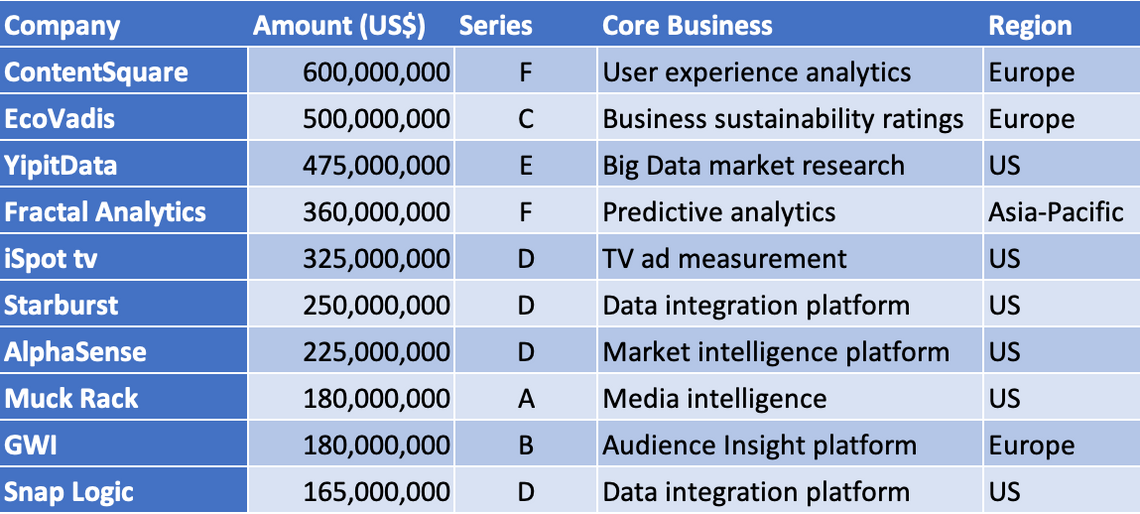 Sidebar
Funding definitions:
Series A through F: sequential rounds of equity funding as the company grows, with "A" being the first in the series; usually, these rounds are funded by venture capital or private equity funds, which then become shareholders of the company.

Debt: funding, often carried out by banks, that injects capital into a company; that capital then becomes a debt obligation for the firm – funders become creditors rather than shareholders.

IPO/Stock Issuance: a public stock offering to raise capital.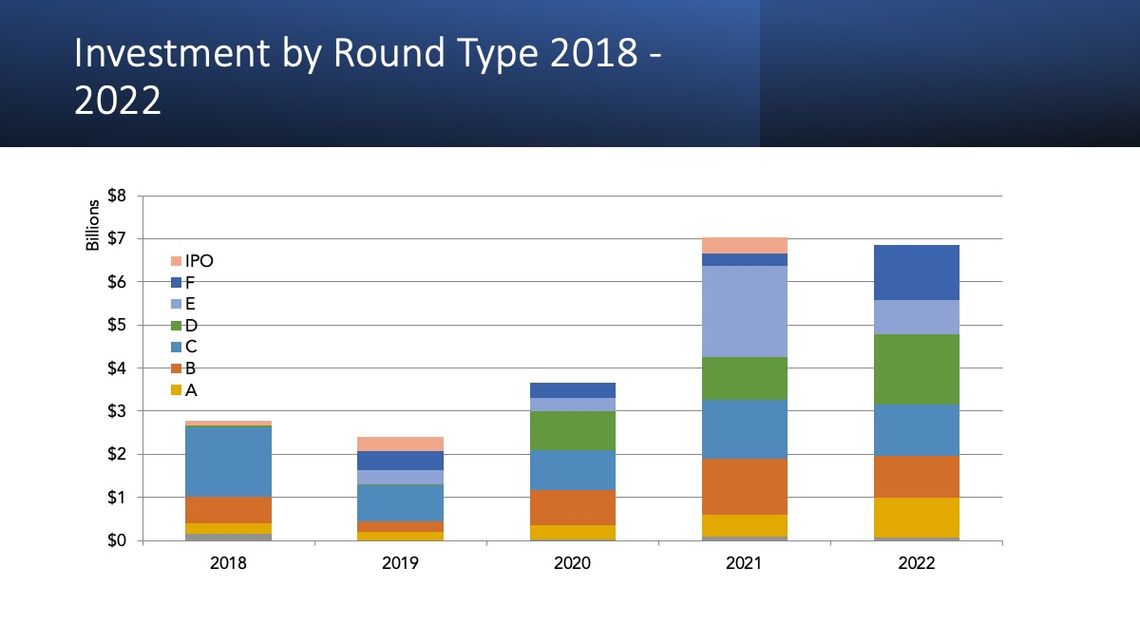 -- Source: Cambiar Capital Funding Index, 2022
It remains heartening to see healthy amounts of earlier-stage (A and B) funding happening – and particularly the increase in A rounds (including seed funding) which, for the first time ever in the history of this index, topped $1 billion. This was especially the case in the United States.
Europe rising?
While America continues to dominate insights industry investment activity, Europe definitively came of age in 2021 and 2022 as a major player. However, last year a good part of this was due to the two biggest global investments (ContentSquare and EcoVadis) occurring in France. The activity was registered in ten European countries in total (with even a small deal in Ukraine), but nearly half of it took place in the United Kingdom. Only two of the British transactions were 'megadeals' (over $100 million), with the majority being either seed funding or Series A. As such, the UK can lay claim to being the insights industry's primary European incubator.
A big shoutout should also go to two smaller nations that punched above their weight: Israel, which saw ten transactions, garnering just under $300 million, and Canada, which brought in $150 million in new funds for the industry. 
Headwinds in 2023?
While countries can make claims to be insights incubators, so too can the entities that actually put their money where their mouths are – the Venture Capital and Private Equity firms that invest their funds in the burgeoning insights sector. Some of these have been truly prolific over the years, including Sequoia, Insight Venture Partners, Andreessen Horowitz (now also known as a16z) and Salesforce Ventures. Each of these has invested hundreds of millions in the sector and has profited handsomely from doing so. There was, however, one prolific investor in the insights industry that was not so fortunate – Silicon Valley Bank. When SVB collapsed in March of this year, it had invested in fourteen market research and analytics entities, including Quantilope and Civis Analytics. Much of this was in the form of Venture Debt (as opposed to Venture Capital), of which SVB was the largest issuer in the world. Analysts expect that the bank's collapse will make it much more difficult to obtain such debt and may even enable VCs to drive down valuations, making raising capital less attractive than it has been for the last ten years.
At this time last year, we noted the headwinds that seemed to be looming over investment prospects in 2022. Of these, the Ukrainian war, rising inflation and increases in interest rates appeared to be the most problematic, and a decline in investment in the industry was likely. Why didn't that happen? I asked this of the President of a major insights brand that completed a very large round towards the end of 2022. His answer was simple: inertia. Once deals are underway, it takes time – months – to complete them. In other words, venture capital is like an ocean liner. It takes a long time to slow down.
Last year I wrote "Time will tell" when wondering whether we would see a deceleration of investment in the industry. This year, I am getting off the fence.
Investment in the insights sector will be down in 2023, quite substantially.
The one exception to this, however, will be an investment in AI as it relates to research and analytics, especially Generative AI. There I expect the wildebeest to run.
[1] The actual total of investments monitored was $7.08 billion. Since we suspect that we capture only 80% of all transactions (some are unannounced or the amount invested is not revealed), our estimate is adjusted to reflect this.
Managing Partner at Cambiar Consulting, Editor in Chief of Research World at ESOMAR
Simon founded Cambiar in 2004 to provide strategic assistance to research and insight companies as they face rapid and fundamental change. With 40 years of guiding and managing international organizations of various sizes and stages, Simon's advice and counsel has helped many companies increase their value – to stakeholders, investors and clients.
He is an acknowledged industry leader, author and conference speaker. In addition to his role at Cambiar, Simon is also a Fellow of the Market Research Society, past Chairman of the Insights Association and Editor-in-Chief of Research World, ESOMAR's global magazine.
He holds an MA in Philosophy, Politics and Economics from Oxford University, UK, and has done post-graduate studies at both Columbia and Harvard business schools in Change Management and Strategic Management.