The role insights play in Google's success
This edition takes a deeper dive into data-driven insights' role for the global technology leader Google, from understanding consumer tendencies to market trends.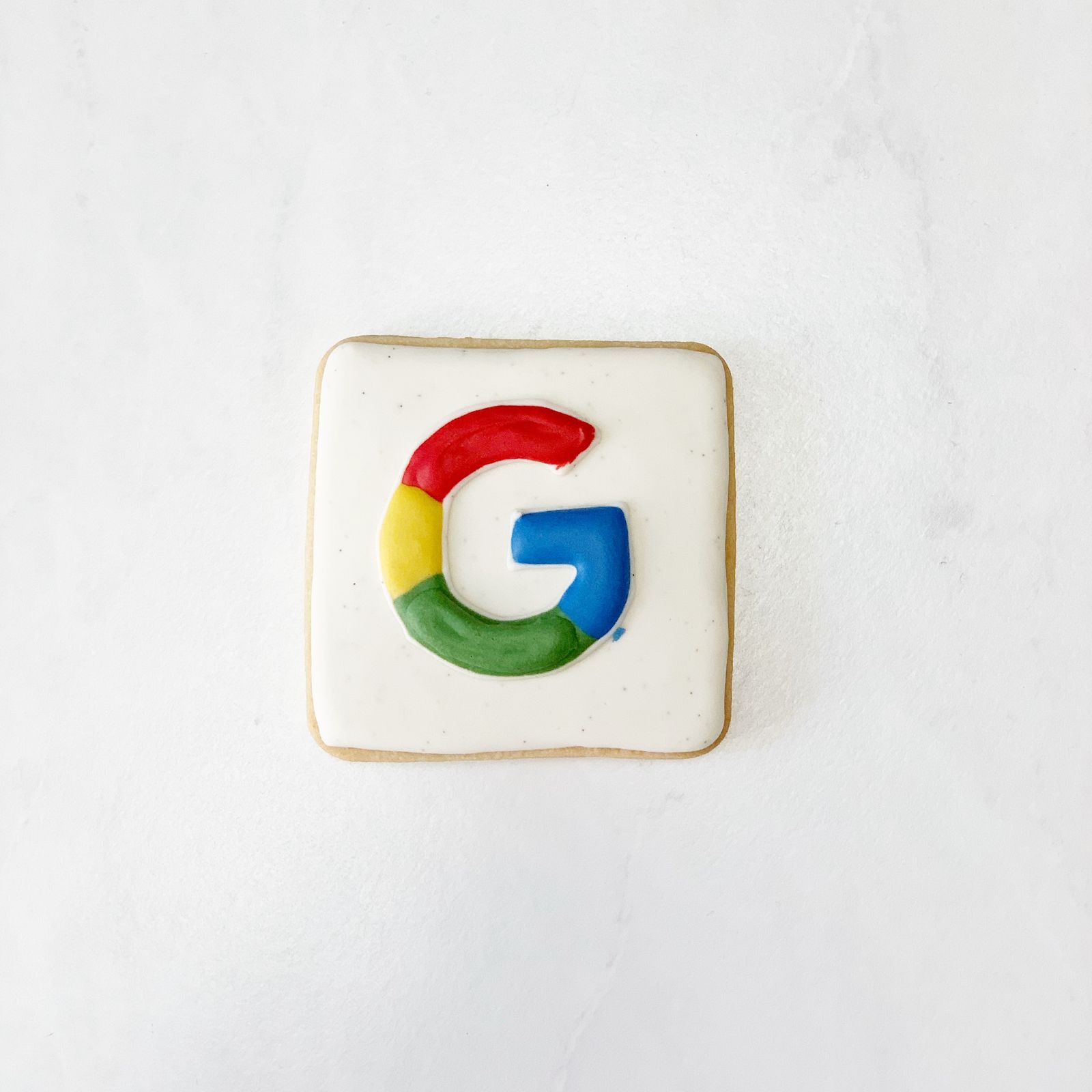 The Insight250 spotlights and celebrates 250 of the world's premier leaders and innovators in market research, consumer insights, and data-driven marketing. The inaugural list was revealed in April 2021, and the 2022 winners were announced in Toronto last September at ESOMAR's Annual Congress. The awards have created renewed excitement across the industry whilst strengthening the connectivity of the market research community.
The 2023 Winners will be announced on Thursday, 13 July – sign-up now:
With so many exceptional professionals named to the Insight250, it seems fitting to tap into their expertise and unique perspectives across various topics. This weekly series does just that; inquiring about the expert perspectives of many of these individuals in a series of short topical features. 
This edition takes a deeper dive into data-driven insights' role for the global technology leader Google, from understanding consumer tendencies to market trends. I sat down with Pashmeena Hilal, Head of Industry Research & Thought Leadership for Google, to better understand how she brings first- and third-party data together to advise Google's strategies and innovations.
Pashmeena reviews the importance of third-party data, saying, "Without third-party data, I don't have a story to tell." As the sheer variety and volume of third-party data increase dramatically, giving market researchers easy access to the array of datasets and studies is critical, which is largely why mTab Marketplace has assembled a spectrum of leading sources like JP Morgan, PWC, BCG, Barnes, Behaviorally, and a myriad of other providers all in one place; in order to help insights professionals access the foundation of this consumer understanding.
Crispin: Thanks Pashmeena for taking part in the series. Firstly, how did you get into research and insights, and what is it like to work at Google?
I started my career on the agency side, working on brands like Dunkin', Reebok, and Wells Fargo. I had always gravitated towards reporting, campaign effectiveness, and custom research for our clients, largely because in my master's program, I majored in statistics. I guess you could say I caught the analytics and insights bug because, after about 4 to 5 years, I transitioned to work for Comscore, working on custom analysis leveraging their clickstream and survey capabilities. 

"It opened my eyes to the wealth of opt-in consumer data companies have access to that allows brands to a) better understand their customer, b) make decisions based on real data, and c) follow consumer trends and behaviours over time.

"At Google, while we have a plethora of data, there are limitations to use (for privacy reasons), and my role is to commission third-party research and subscriptions to marry consumer behaviour with demand trends and effectiveness of touchpoint along a journey. Finding the right story and the data nugget that lies somewhere in an Excel file or a survey response continues to be the most exciting part of my day."

Pashmeena Hilal
With the dynamic nature of the industry, can you talk about the importance of understanding trends, behaviours, and preferences?
It's more important than ever. Trends are moving faster, technology is assisting our customers no matter where or how they choose to shop, and the landscape is changing at such a fast clip - it's incredibly important that companies like Google share consumer behaviour trends. It's equally important that our customers understand that they have a wealth of data within their own "house," which can be a great starting point when trying to unpack a journey."
What role do insights play in driving strategies and decisions?
The best insights are novel, actionable, credible, and relative. I believe that when these criteria are met, you're able to substantiate any strategic recommendation to a client. Grounding a conversation in a solid "why you should care" with a "what you can do it about" is a perfect marriage between insight and a strategic transformation in a customer business."
Where do your most extraordinary insights come from?
I've always believed the combination of qual and quant methodologies help to showcase the "what a consumer is doing" with quant (clickstream or effectiveness, as an example) with the "why are they doing it" qual (survey, diaries, etc.). Without one or the other, you lose half the story, which can leave an audience craving more. For marketing organisations, the greatest insights come from A/B testing, regional-level experiments, and creative or UX enhancements, which showcase pre/post-change in behaviour. Iterating on the experiments and scaling are great ways for customers to use their own data and assets to continue to optimise effectively."
Can you tell me about the importance of third-party data in the industry and your role specifically?
Most of the work I do with insights is commissioned or purchased — so without third-party data, I don't have a story to tell. Our partners are critical to rationalising why Google is a great investment decision for marketers in retail."
Are different sources used in terms of benchmarking, innovation, and strategy? Which sources do you find most useful? 
I don't believe there is a "one-stop shop." Something as simple as trends.google.com can show product teams what sort of clothing is on the rise or decline (e.g., belt bags), whereas SimilarWeb, Comscore, Nielsen, and AppAnnie (to name a few) are great for benchmarking, the share of voice, or wallet. And finally, commissioned work helps tackle a large-scale customer challenge that can only be accomplished from a deep analysis that takes a few months of time."
Do you feel it is more important to understand consumers or competitors fully? Why?
Absolutely! It ties into the questions above, but the only reason why any company exists is due to its customers; without knowing them - there is no way you would succeed. And, you can't control the "uncontrollables," like competitors - but you can learn more about the competitive set and do better by learning where your strengths are or your opportunity areas."
Given the evolving sophistication of consumers, what is the biggest challenge in understanding their attitudes and actions?
It changes so quickly! There are many reasons, from simple weather patterns to macro impacts like inflation - it's hard to keep up with how minor and significant dynamics will influence someone purchasing rainboots or how much they will spend over the holiday season."
Based on your experience, what advice do you give to help drive understanding of consumers and competitors? In other words, how do you effectively track each side? 
The combination of first-party data (your customer data) and third-party sources like SimilarWeb are a great way to get a complete picture of how your consumer is behaving and engaging on your site (and, ultimately, converting) and what your competitive landscape looks like. 
Top Tip
Always test, experiment, and scale. Use your data to help you understand a potential opportunity to optimise. Create a test, experiment, and then scale the learnings!"
Crispin:
As Pashmeena explains, "The only reason why any company exists is due to its customers; without knowing them - there is no way you would succeed," which is a great summary as to why the value of consumer insights is increasing exponentially for so many brands, including Google. Having a holistic understanding of the customer's interests, needs, tendencies, and behaviours has never been more critical or accessible in today's data-driven age. Thank you, Pashmeena, for sharing your thoughts – hugely insightful.
Next week I'm interviewing Warner Bros. VP of Global Entertainment Research, Natasha Hritzuk. Do keep sending me suggestions for the winners you want to hear from and the topics you want to be covered. Remember to register for the big reveal of the 2023 Insight250 Winners on 13 July. Click here now to register: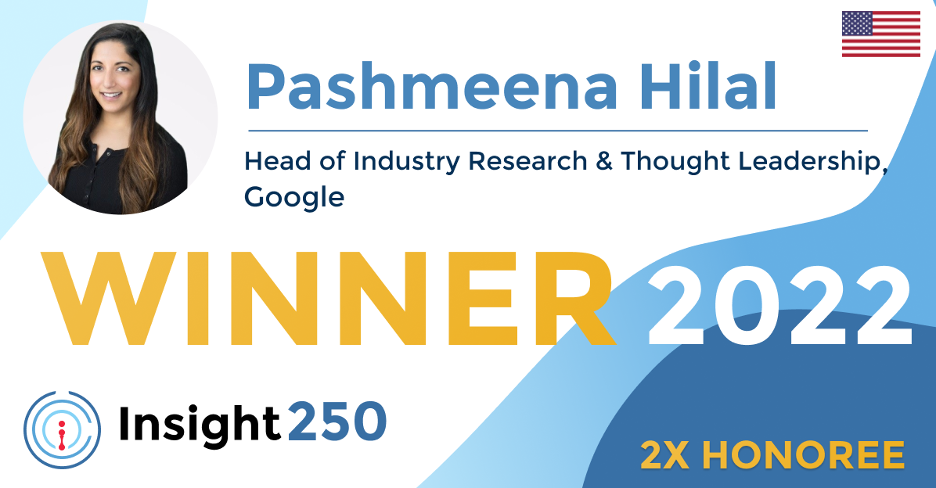 As Head of Industry Research & Thought Leadership at Google, Pashmeena Hilal focuses on selling through data, insights and storytelling. She also specialises in data analytics, marketing insights, customer research and the customer journey. She has also written for ClickZ and Think with Google and presented at a variety of conferences.
Senior Strategic Advisor at mTab, CEO at Insight250, Group President at Behaviorally
Crispin Beale is a marketing, data and customer experience expert. Crispin spent over a decade on the Executive Management Board of Chime Communications as Group CEO of leading brands such as Opinion Leader, Brand Democracy, Facts International and Watermelon. Prior to this Crispin held senior marketing and insight roles at BT, Royal Mail Group and Dixons. Crispin originally qualified as a chartered accountant and moved into management consultancy with Coopers & Lybrand (PwC). Crispin has been a Board Director (and Chairman) of the MRS for c15 years and UK ESOMAR Representative for c10 years. As well as being CEO of Insight250, Crispin is currently Group President of Behaviorally with responsibility for the client and commercial teams globally and the Senior Strategic Advisor at mTab.