Winners
As 2022 gets started, the second edition of the Insight250 awards will soon enter the judging stage.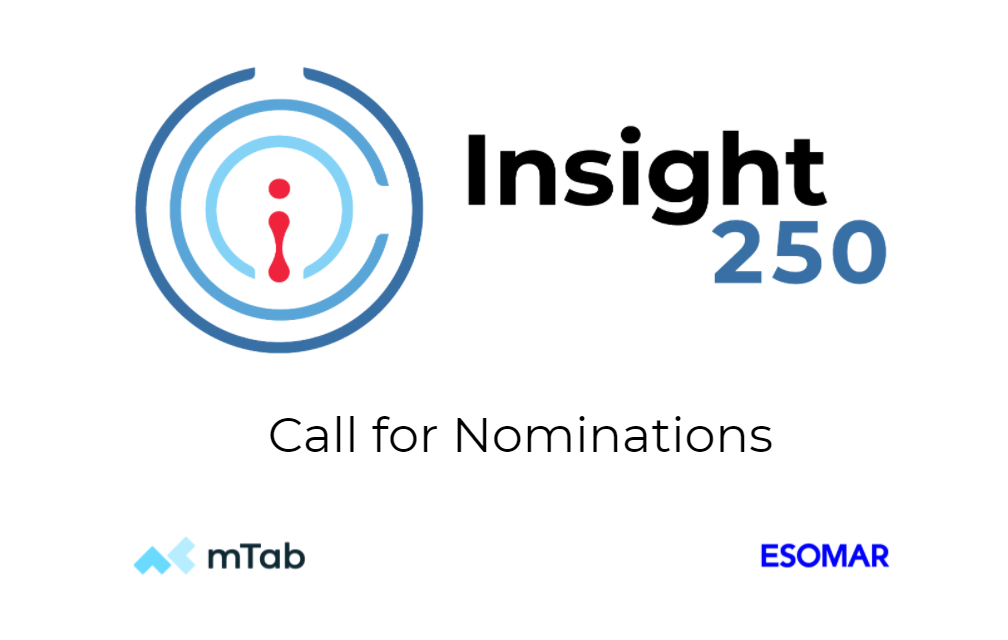 As 2022 gets started, the second edition of the Insight250 awards will soon enter the judging stage. Insight250 is a premier honour for leaders and innovators across the globe in market research, consumer insights and data-driven marketing. Winners come from a spectrum of backgrounds and accomplishments including enterprises, academics, agencies, associations and the public sector. 
Last years' inaugural Insight250 awards saw over 20 million views during the announcement week alone with Winners named from over three dozen nations spanning six continents. It was long overdue to celebrate these leaders and innovators and their impressive contributions to our profession. 
The 2022 edition of the Insight250 will be even bigger with ESOMAR joining in the judging and presentation process as ESOMAR Representatives from across the globe will now be involved in the judging process. To submit a nomination visit insight250.com before the end of January. This month will also see the formal announcement of the 2022 "international jury" of judges and in advance of this I thought it would be useful to talk to Mark Langsfeld, CEO of mTab and the Chair of the 2022 Judging Panel and ESOMAR President, Kristin Luck who is the Vice-Chair of the Judging Panel. I wanted their perspective on the awards and what the judges will be looking for … 
Mark, why did mTab originally establish the Insight250? 
"With the pandemic isolating people and forcing a focus on negativity, we felt it was an important time to celebrate the amazing innovation and leadership across market research and consumer insights globally. The idea really took off and from there we saw so many of these professionals using Insight250 to connect with each other, so it has become a valuable community for the entire industry."

Mark Langsfeld
Kristin, why do you feel innovation and leadership is so important in our profession? 
"These two dimensions are genuinely foundational to advance the insights, analytics and data industry on a people and technology basis. Leadership and innovation often go hand-in-hand, so spotlighting the global leaders driving the evolution of our sector in the way the Insight250 does, allows for a diverse group of pioneers,to be featured and celebrated. It's fantastic to see leadership and innovation from so many different research disciplines and corners of the world."

Kristin Luck
Why did ESOMAR and mTab decide to partner on the Insight250 initiative? 
"This past year was the inaugural year of the Insight250 and its impact on the industry was incredible to see. Given this, we wanted to elevate the awards and extend its reach even further, so we felt we needed the right partner to help us accomplish that goal. ESOMAR's global reach is incredible and the impact it has on the industry is unrivaled, so it was the ideal partner. It certainly helped that Kristin is an mTab Board Member and had just become President of ESOMAR, so the partnership made tremendous sense." 

Mark Langsfeld
"Our Director General, Finn Raben, and I are focused on connecting, elevating and celebrating our global research industry, particularly as ESOMAR enters into its 75th year.  The Insight250 is a major component of this mission. It's an exciting initiative that we're thrilled to be part of it."

Kristin Luck
Who can enter and can you nominate yourself?
"The Insight250 is focused on honoring leaders and innovators in market research, consumer insights and data-driven marketing. The terms 'leadership' and 'innovation' are a bit nebulous, and that is intentional. We have honorees across enterprises, agencies, academics, the public sector, and they are driving advancements in technology, methodology, strategy, thought leadership and more. And yes, you can absolutely nominate yourself since many of the best innovations aren't widely known at their inception."

Mark Langsfeld
What are the judges looking for from Winners? 
"While judges will be considering a wide array of criteria  there is not a single attribute or set of accomplishments that determine our Winners. Typical Insight250 Winners have had a mixture of professional success, academic accomplishments, published contributions, industry leadership, insight innovations and research sector accolades. We're looking for individuals who have made a substantial impact on the industry in meaningful ways."

Kristin Luck
Are there any particular countries or industries that you feel need more recognition for their innovation and leadership and who you'd like to see entering?
"We're hopeful that Nominees, and thus Winners, will be dispersed across the globe from associations and agencies to education and enterprises. However, there are a number of conflict zones and emerging markets impacted by issues ranging from war to natural disasters and economic or political disruption that we want to be mindful of to ensure we recognise the leadership and innovation emerging from these regions as well."

Kristin Luck
In 2022 will there be winner quotas by country?

"No, there will not be direct quotas, However, we naturally expect to see more Winners selected from larger markets (as defined by the market size in ESOMAR's Global Market Research Report) since they will likely have more nominees, however we are largely looking for the best and brightest from all over the world, so Winners will be selected on merit and likely come from an array of countries."

Mark Langsfeld
Who are the judges? Are they representative of our profession and can the judges be winners?
"Many of the judges were Insight250 honorees this past year. Note that judges are unable to be selected as Winners while serving as a judge. The judges, all of whom are research and marketing professionals across agencies, enterprises, academia and associations, represent an array of countries across six continents. Judges will lead on selecting Winners from their own continent to make the process relevant and manageable for them in assessing the nominees."

Kristin Luck
What's the judging process?
"As Kristin just mentioned, judges from each continent will review the nominees from that same continent. We felt this was important since it can be very difficult to assess people from around the world. The process will review and assess their impact on the industry across a series of dimensions that Kristin mentioned previously, including professional success, academic accomplishments, published contributions, industry leadership, insight innovations and sector accolades, among others."

Mark Langsfeld
When will the winners be announced?

"The Winners will be announced on International Market Research Day on May 2, 2022. This is the perfect time to celebrate these global pioneers and innovators who are driving our industry forward."

Kristin Luck
Thinking about the 2021 winners, what surprised you most?
"First, that there was such an incredible response. We were realistically thinking it would take a couple years for the idea to take off. However, to see upwards of 20 million impressions in the first week was well beyond our expectations. Second, I think the way the Insight250 has connected professionals from around the world shows how important the need for interaction and community is. We see this a lot on a social level, but not as much on a professional level."

Mark Langsfeld
There have been a whole series of interviews published with Winners - do you have any favourites ? 
"The edition on business acumen stands out to me (and not just because I was featured in it!). It's just such an important skill set that is oftentimes neglected by researchers. Incorporating business acumen into our professional decisions and perspectives is imperative. That said, there are so many fantastic topics that are covered in the interview series. And it is great reading perspectives from so many impressive thought leaders from around the world."

Kristin Luck
What about you Mark - did any stand out to you?
"I really enjoyed Kristin's feature as well. The article on artificial intelligence from Alex Hunt and Tugce Bulut also stands out, as well as Pete Markey's thought-provoking piece on bravery and how it should drive decisions and strategy. The articles are great to get you thinking and see an array of important topics from different perspectives."

Mark Langsfeld
TOP TIPS
I always end by asking for Top Tips - what would each of you give as a top tip for people nominating?
"I would say make sure you nominate colleagues, or even yourself. There aren't enough opportunities to celebrate individuals and their contributions. So, when these opportunities DO come along we need to take advantage of them to shine a spotlight on the great work happening all around us."

Kristin Luck

"I would say don't undersell yourself or your colleagues in their accomplishments. There are fantastic innovations happening in technology, methodology, analysis, execution, theory, thought leadership and more. Don't assume that what is being done isn't having a major impact."

Mark Langsfeld
Thank you Mark and Kristin - it's really helpful to have this background and your top-tips. I know that hundreds of nominations have already been made from literally all around the World and I encourage everyone to submit their nominations at www.insight250.com (where you can complete the nomination form in multiple languages as part of our attempt to ensure that the awards are as diverse and inclusive as possible). Nominations will close in the next month (final deadline to be confirmed after the judges are formally announced). Good luck everyone.
Senior Strategic Advisor at mTab, CEO at Insight250, Group President at Behaviorally
Crispin Beale is a marketing, data and customer experience expert. Crispin spent over a decade on the Executive Management Board of Chime Communications as Group CEO of leading brands such as Opinion Leader, Brand Democracy, Facts International and Watermelon. Prior to this Crispin held senior marketing and insight roles at BT, Royal Mail Group and Dixons. Crispin originally qualified as a chartered accountant and moved into management consultancy with Coopers & Lybrand (PwC). Crispin has been a Board Director (and Chairman) of the MRS for c15 years and UK ESOMAR Representative for c10 years. As well as being CEO of Insight250, Crispin is currently Group President of Behaviorally with responsibility for the client and commercial teams globally and the Senior Strategic Advisor at mTab.