Judges for the 2022 Insight250 Awards announced
The Insight250 announces an international panel of over 30 judges to help select the 250 leaders and innovators who will be honoured in the 2022 awards.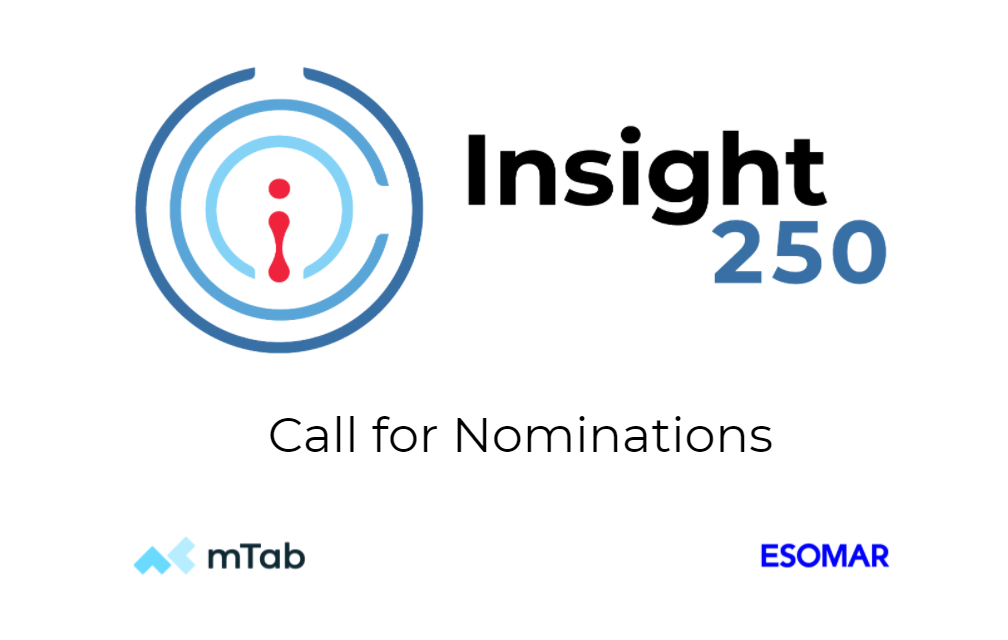 Article series
Judges for the 2022 Insight250 Awards announced
Amsterdam, The Netherlands & Anaheim, Ca. - Over 30 leading professionals have been named as the panel of judges for the 2022 edition of the Insight250 awards, honouring leaders and innovators in market research, consumer insights and data-driven marketing. The judges hail from 16 different nations across six continents. They represent academia, enterprises, agencies, and associations with approximately one third previously receiving the Insight250 award along with honorees from Significant Insights' 30 Under 30 list and Market Research Society's Research Heroes list. The panel will be chaired by Mark Langsford, CEO of mTab, with Kristin Luck, ESOMAR president, as vice-chair.
As Crispin Beale, Chief Executive Officer of the Insight250 said, "We're thrilled to have such an incredible panel of judges who represent such a diversity of dimensions from around the world and across our profession. Their expertise is an essential element of the judging process.
We are additionally delighted that the panel of judges include the Chair of UK's Market Research Society, the Chair of the US Insights Association, the Chair of China's Market Research Association, the Chief Executive of Australia's The Research Society, the CIO of Canada's Canadian Research Insights Council, a board member of Germany's ADM business association and the Director General of Market Research Society of India, as well as representatives from enterprises, agencies and academia. Academia is represented by three eminent Professors, two of whom are past Insight250 winners; Professor Peter Fader (Wharton), Professor Paul Baines (Leicester) and Professor Michael Brereton (Michigan State). We are thrilled to have judges representing all age ranges, including a Significant Insights 30 under 30 Winner and MRS Young Researcher of the Year. We have a plethora of experience from Africa, the Middle East, LATAM, APAC, Europe and North America and it's possible for nominations to be made in multiple languages. Just visit insight250.com to make a nomination."
Nearly 100 Country Representatives from ESOMAR will help to oversee the nomination and selection process for their individual nations before the candidates are provided to the judges. Each judge will serve on a panel for their respective continent in order to select the honourees from that region. As Kristin Luck, President of ESOMAR explained, "We're excited to have ESOMAR and our Country Representatives play such an important role in the Insight250 selection process. Having these Representatives oversee nominations in their respective countries will ensure that we are reviewing as many leaders and innovators around the globe as possible for consideration. Diversity, equity and inclusion are a key pillar of ESOMAR's growth strategy and further elevates, honours and celebrates the accomplishments of so many exceptional individuals across our industry and around the globe."
The 2022 Insight250 judges in alphabetical order are: 
Roland Abold, Board Member ADM, VP Sales & Commercial Excellence GfK,  Germany

Seyi Adeoye, Chief Executive Officer, Pierrine Consulting, Nigeria

Tarek Ammar, Chief Executive Officer, ARA Research and Consultancy, Lebanon

Dangjaithawin Anantachai, Chief Operating Officer, INTAGE, Thailand

Paul Baines, Professor of Political Marketing, University of Leicester, United Kingdom

Nick Baker, Chief Research Officer, Savanta, United Kingdom

Michael Brereton, Executive in Residence, Michigan State University, United States

Diego Casaravilla, Chief Executive Officer, Fine Research Latin America, Argentina

Mitali Chowhan, Director General, The Market Research Society of India, India

Tony Costella, Global Consumer & Market Insights Director, Heineken, The Netherlands

Arundati Dandapani, Chief Editor & Intelligence Officer (CIO), Canadian Research Insights Council, Canada

Peter Fader, Professor of Marketing, The Wharton School, United States

Begonia Fafian, LATAM Human Insights Senior Director, Coca-Cola, Mexico

Chris Farquhar, Managing Partner, Cimigo, Hong Kong

Caroline Frankum, Global Chief Executive Officer, Profiles Division, Kantar, United Kingdom

Alex Garnica, Independent Consultant, girOscOpio, Mexico

Kudzai Guvi, Senior Research & Insights Lead, Standard Bank Group, South Africa

Tim Hoskins, President, Quester, United States

Jennifer Hubber, Chief Client Officer, Ipsos, Italy

Angus Hunter, Chief Executive Officer, The Research Society, Australia

Christian Kurz, SVP, Global Streaming & Corporate Insights, ViacomCBS, United States

Jean-Marc Leger, Chief Executive Officer, Leger, Canada

Tony Li, Head of Market Research, South East Asia, Philip Morris International, Hong Kong

Ande Milinyte, Senior Research Manager, Opinium, United Kingdom

Andrea Rademeyer, Chief Executive Officer, Ask Afrika, South Africa

Elaine Rodrigo, Chief Insights & Analytics Officer, Reckitt, United Kingdom

Adrian Terron, Head of Customer Centricity, Tata Group, India

Urpi Torrado, Chief Executive Officer, Datum Internacional, Peru

Grace Yu, Senior Marketing Leader, Research & Insight, ANZ Bank, Australia

Andy Zhao, President, China Market Research Association, China
As Mark Langsfeld, CEO of mTab and Chairman of Insight250, explained:
The Insight250 was devised to celebrate exceptional individuals around the world who are elevating the insights and research industries across the academic, enterprise, agency, technology, consulting, media and methodology realms. Enhancing the judging with ESOMAR and this accomplished panel helps to elevate the mission of the awards and shine a brighter spotlight on the industry as a whole.
This is an exciting chapter of the Insight250 and ESOMAR is proud to help extend the reach and increase the impact this honour has on our industry," Finn Raben, Director General of ESOMAR, said. "I am thrilled (and also humbled) to see so many accomplished experts willing to give of their time to serve as judges and help to identify and celebrate the incredible work of so many professionals worldwide.
The inaugural Insight250 list was revealed on April 19, 2021, featuring leaders, innovators, visionaries and pioneers focused on elevating and enhancing market research, consumer intelligence and data-driven marketing. The inaugural winners came from over three dozen countries across academia, enterprises, agencies, charities and associations. The list received tremendous industry acclaim with over 20 million impressions in the release week alone. In October 2021 ESOMAR, the global voice of the data, research and insight community since 1947, and mTab, a pioneering leader in market research technology since 1987, announced a partnership to further elevate the exposure and expand the reach of the Insight250.
Nominations are currently open for the 2022 Insight250. To see past winners or submit a nominee, visit insight250.com. For the latest updates, follow Insight250 on Linkedin and Twitter.
About Insight250
The Insight250 is the worldwide 'who's who' of leaders and pioneers of insight innovations across market research, data-driven marketing, consumer insight and data intelligence. Sponsored by mTab, the selection process is overseen by a panel of insight, marketing and research professionals. Winners are selected based upon an extensive array of professional dimensions. To see the complete list, and nominate for 2022, visit Insight250.com. Many of the winners are featured in the ESOMAR's Research World series 'Insights from the Insight250.'
About ESOMAR
ESOMAR champions the research, insights and analytics sector worldwide.
Founded in 1947, the global membership association is a network reaching over 50,000 professionals and 750+ companies in 130+ countries. We support our global community through raising ethical standards, facilitating education, advocating with legislators, sharing best practices, promoting evidence-based solutions for decision-makers, and ensuring the values of honesty, transparency and objectivity are applied to all data sources.
About mTab
mTab is a leading provider of data-driven customer intelligence and market research solutions. The mTab Insight Cloud platform, awarded Best Data Solution by Market Research Society, empowers hundreds of brands with seamless access to explore, analyze, visualize and unlock the value of insights data. On the Insight Cloud, companies unite siloed data to access and securely share governed information, delivering enhanced understanding to empower decisions and deliver exceptional experiences.
Senior Strategic Advisor at mTab, CEO at Insight250, Group President at Behaviorally
Crispin Beale is a marketing, data and customer experience expert. Crispin spent over a decade on the Executive Management Board of Chime Communications as Group CEO of leading brands such as Opinion Leader, Brand Democracy, Facts International and Watermelon. Prior to this Crispin held senior marketing and insight roles at BT, Royal Mail Group and Dixons. Crispin originally qualified as a chartered accountant and moved into management consultancy with Coopers & Lybrand (PwC). Crispin has been a Board Director (and Chairman) of the MRS for c15 years and UK ESOMAR Representative for c10 years. As well as being CEO of Insight250, Crispin is currently Group President of Behaviorally with responsibility for the client and commercial teams globally and the Senior Strategic Advisor at mTab.
Article series
Judges for the 2022 Insight250 Awards announced