Has inflation undermined Europe's insights industry?
With industry's growth on the rise, some countries are struggling to keep pace.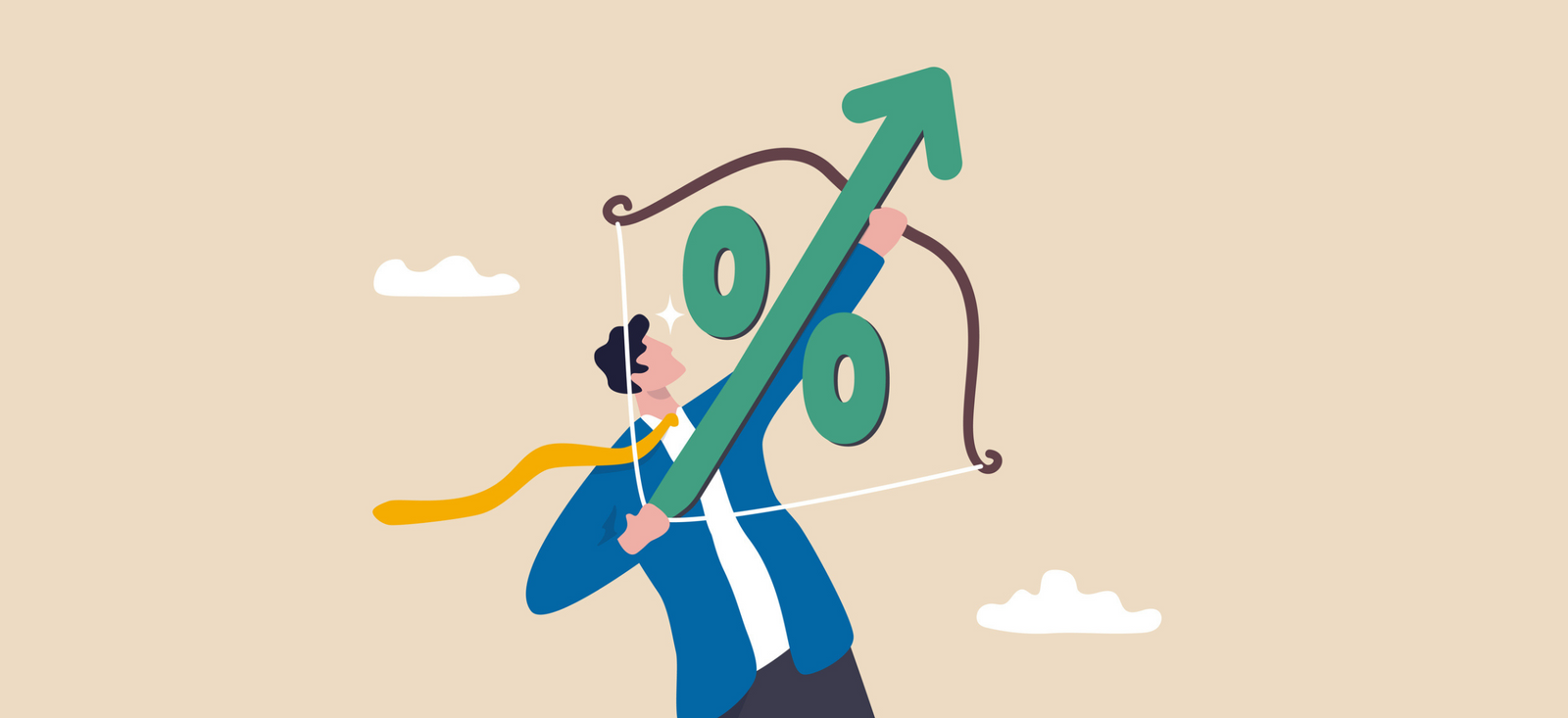 The views presented here are part of the Global Market Research report. This report provides you with the most comprehensive overview of the state of the insights industry around the world using data collected by national research associations, leading companies, independent analysts, and ESOMAR representatives.
Europe's insights industry underwent substantial expansion during 2022, evident in numerous countries recording double-digit growth rates in absolute terms. Yet, our analysis published in ESOMAR's Global Market Research 2023 report reveals that, when factoring in the impact of inflation, positive net growth is limited to countries such as the Netherlands, Ireland, Norway, and the UK – among those with a turnover above US$100 million.
France and Germany registered the highest industry output in the EU with US$2,344 and US$2,107 million respectively. Significantly, the UK occupies a prominent position as an industry leader in terms of market size, reaching a total turnover of US$11.055 bn after reporting a modest net growth of 1.8% during 2022, a result primarily influenced by the lingering repercussions of Brexit on trade and exports during 2020 coupled with the elevated cost of living.
Nonetheless, the UK has played an important role in contributing to positive growth within the Data Analytics sector across the region, which we attribute to a heightened focus on channelling investments into new business models for the research and insights industry.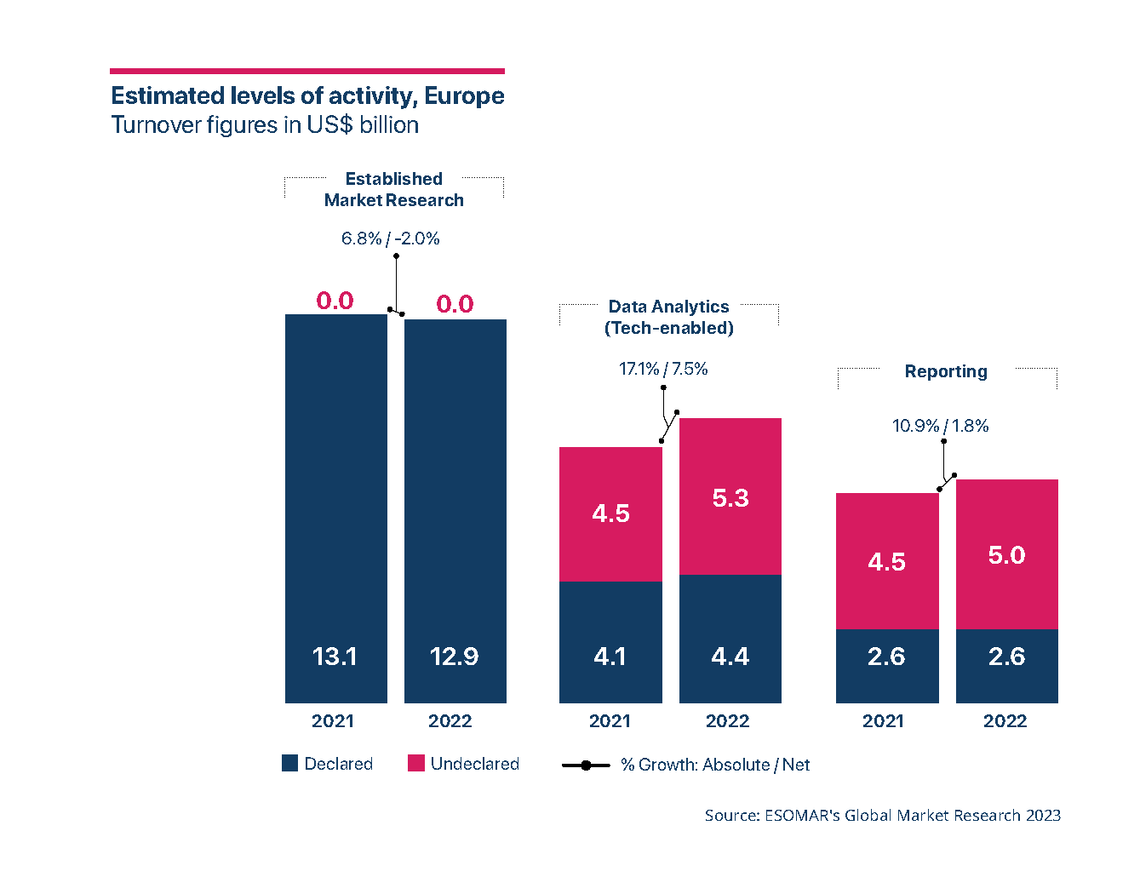 Consequently, the Data Analytics sector, gauged at approximately US$9.6 billion in 2022, portrays a robust net growth of 17.1% compared to the preceding year. Meanwhile, the Reporting and Established Market Research sectors have also demonstrated remarkable expansions of 10.9% and nearly 7%, respectively. As ESOMAR's Global Top-50 Insights Companies ranking showed, this growth underscores the sector's resilience and unveils promising avenues for investment and consolidation.

When examining the scale of the industry, the declared turnover from the participating countries in the region amounted to US$20.129 billion (out of US$31.140 bn), reflecting a net growth of 2.0%. This slow growth is primarily attributed to the inflation rate witnessed by Europe, the highest since the beginning of the millennium. Notably, out of the 37 countries we surveyed, 24 reported negative net growth rates in the preceding year.
However, it is worth noting that the independent assessments conducted by ESOMAR's data provider, Outsell, propose the existence of an additional "undeclared" portion amounting to US$10.3 billion. Accounting for this factor, the overall net growth for the industry in Europe is recorded at 2.3%.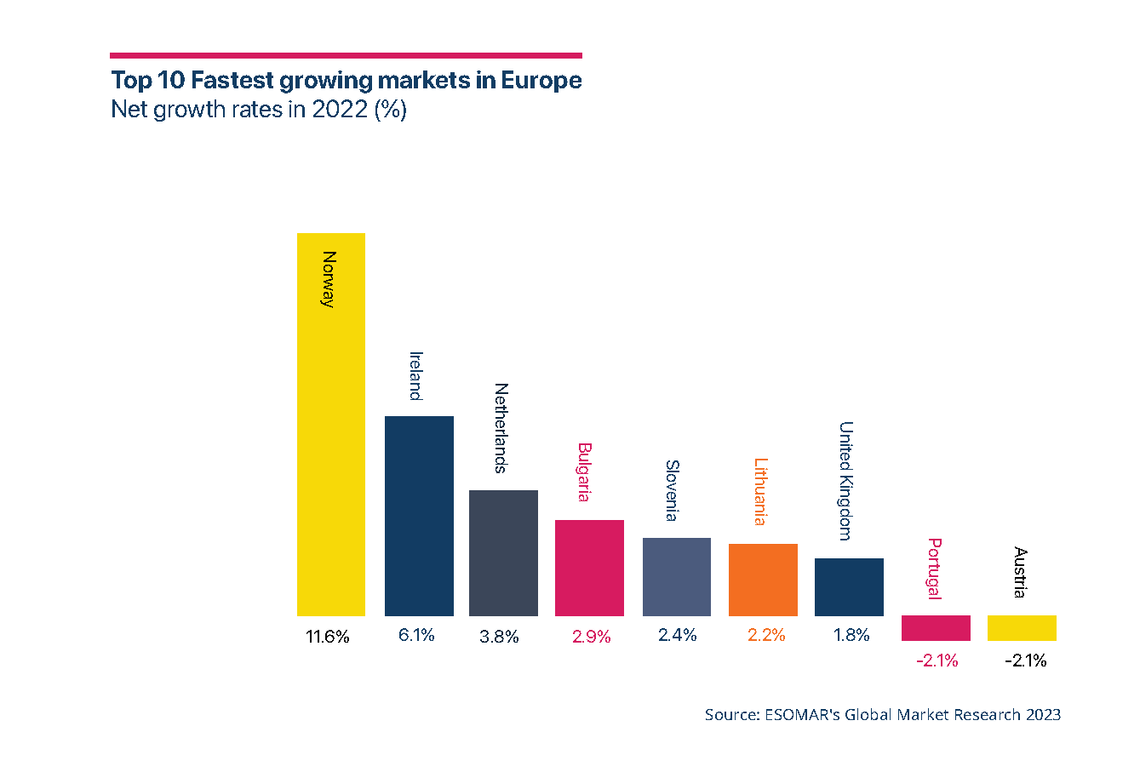 Anticipated as a year of recovery, we project that the insights industry in Europe will regain momentum in 2023, displaying an estimated net growth of 3.1%. This revival would primarily stem from the influence of stringent monetary policies implemented by several central banks to mitigate anticipated inflation rates.
As the year unfolds, total sales in the region have the potential to surpass US$34 billion, even while certain countries such as Belgium, Denmark, Romania, Hungary, Croatia, Georgia, Armenia, and Ukraine may require more time to attain turnover values comparable to those of 2019.
2023 will see a rising number of countries making strides towards recovery in output compared to the previous year. Of the 26 countries in the EU, we anticipate that 19 will declare higher turnovers than they recorded in 2019 and 2022.
However, when examining the broader regional context, certain nations with turnovers below US$100 million, including Hungary and Croatia, as well as Ukraine, Georgia, and Armenia, are projected to continue with turnover levels lower than in 2019, before the pandemic.
As we witness the continued effects of the recent economic upheavals on the global economy and society, ESOMAR must remain vigilant and keep a close eye on industry developments. Nevertheless, we may be honoured to represent a global industry with a production volume exceeding US$141 billion next year!
Want to learn more about the state of the Insights Industry? Get your copy of the Global Market Research report today.
Market Intelligence Analyst at ESOMAR
Lilas is Italian with Syrian origins and studied Economics and Finance in Padova and did an internship next to her studies at Generali. She was, amongst other activities, responsible for qualitative and quantitative data research, its visualisation, simulation models, and preparing data for presentations to internal and external stakeholders. 
She got married and immediately after moved to the Netherlands in December 2021, and worked as Strategy Analyst at Varian for 6 months.
She joined ESOMAR in March 2023, where since then, she has been responsible for developing the different reports and studies regularly published by ESOMAR's Intelligence Unit and aggregating materials (such as bundles of academic articles, case studies and videos), internal and/or external, that support the role of ESOMAR as a thought leader that represents the data, analytics and insights industry.