The role of humour in effective leadership
Learn about the importance of humour when it comes to leadership and decision making.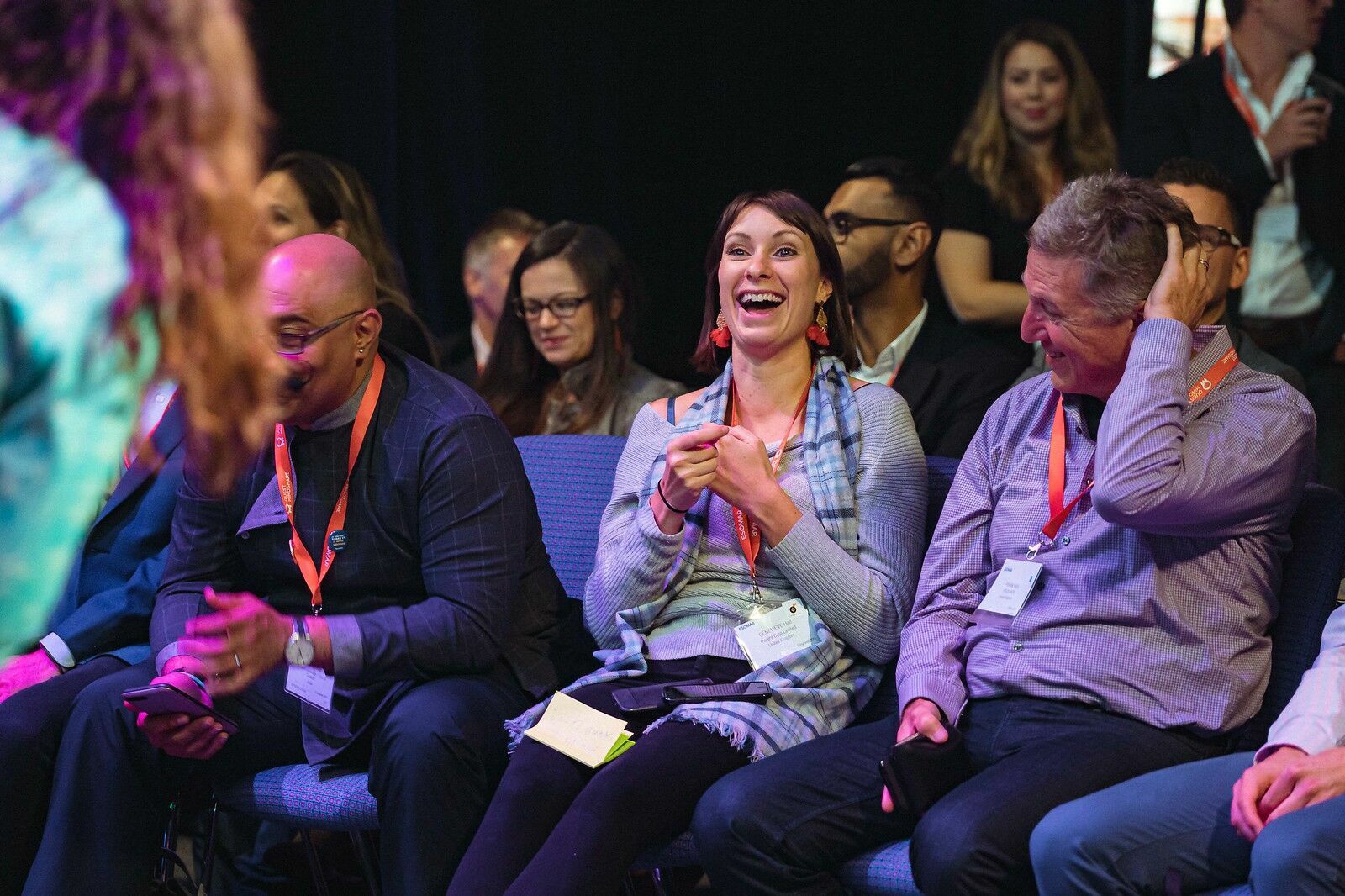 Article series
The role of humour in effective leadership
The Insight250 spotlights and celebrates 250 of the world's premier leaders and innovators in market research, consumer insights and data-driven marketing. The inaugural list was revealed this April and created renewed excitement across the industry whilst strengthening the connectivity of the market research community. 
With so many exceptional professionals named to the Insight250 it seems fitting to tap into their expertise and unique perspectives across an array of topics. This weekly series does just that; inquiring about the expert perspectives of many of these individuals in a series of short topical features.  
This edition features the UK's Alex Batchelor, the CFO of Behaviorally and Australia's Lexi Airey, Chief Executive Officer of Gateway Bank, Ltd and covers a slightly different topic.  I spoke to Lexi and Alex about the importance of humour when it comes to leadership and decision making and hope you enjoy their views (and Alex's one-liner!) as much as I did.
Why do you feel a sense of humour is so important in great leadership?
"It has a number of benefits. On a day-to-day basis, demonstrating a sense of humour can make you more approachable. I know a number of CEOs that have taken improv and stand-up comedy courses. I did both when I first took on this role.  The idea was to put myself in a position of having to think very quickly on my feet. It was a scary but great learning experience. In actuality, improv teaches you a lot more about listening than responding."

Lexi Airey

"Steve Radcliffe wrote a brilliant book about leadership based on a very simple, Future, Engage, Deliver model. What is the future you are trying to create; how do you engage people in that (and the more people you need to deliver that future then the more people you need to engage); and how do you show progress against delivering that future so that people don't lose heart and give up (most futures have some asymmetrical delivery and some hard yards).  It has become clear to me that humour is an essential ingredient to each of those stages – because it makes things accessible (if you don't get the joke then it isn't humour!) and memorable.  Humour also bears a lot of repetition – as anyone who has a running joke at work or at home will agree – even if my children might feel it can wear out!"

Alex Batchelor
Lexi, what differences do you see in the Australian sense of humour compared to the United Kingdom?
"Unlike when living in the USA, where I learnt very quickly not to use deadpan or irony, I don't see a great deal of difference. Both countries are self-deprecating and like a good dad joke. The UK is probably a little quirkier. I don't think any other country would have Mr Bean at the Olympics. I did learn the hard way when I moved here that certain phrases mean something completely different, so I was unintentionally funny."

Lexi Airey
Alex, you have sat on a multitude of boards - what differences do you see when humour is brought into the presentation?
"I have been in a board meeting that was a quiz, one where we had to come back fastest with a piece of information, one where we had to sort and tidy a shared locker of equipment, and I have even used a water pistol. I am not sure it is always about humour per se – but anything that makes a presentation more engaging and memorable is a good thing."

"We should all remember that, while the consequences of something are serious, that does not always mean that the best or only way to discuss that thing is in a serious manner. Everything from cancer to the pandemic has often benefited from finding a different lens to look at things – and humour is one of the best alternative lenses that can allow an open discussion of difficult topics."

Alex Batchelor
Can comedy make presentations more engaging and more memorable - how would you advise researchers to use these techniques?
"Know your audience and choose your moment. Some of the best TED talks have a serious message but are amusing and more memorable for it. Ken Robinson on "Do schools kill creativity?" is a great example of this."

Lexi Airey

"I am not suggesting stand-up routines as a replacement for the serious work that happens in companies. I am saying that too many research presentations fail to dramatise what is happening – and fail to forge the internal consensus on action that they should."

"I have used (and paid for and licensed) quite a few Tom Fishburne (The Marketoonist) cartoons over the years and suspect they are often remembered more than anything else I said. One of the pinnacles in B2B communication is the smile of recognition (someone who understands the problem I face) – and it remains one of the best paths to the relationships we all need, the ones that actually solve and improve things. Using video to bring to life customers and their experiences is a great tool – and we still have too many presentations of tables/data without clear conclusions and recommendations. The risk you run in using humour is that you can trivialise what's important – but the biggest benefit is that you can actually uncover what is really important – and in a way that will encourage an emotional connection to the outcome."

Alex Batchelor
What's the best one-liner you've heard?
"Two guys walked into a bar. The third one ducked."

Alex Batchelor
HOT TOPIC: Global Warming: Turning to something that's no laughing matter, earlier this year we saw Hurricane Ida hit the US, Australia has been hit by uncontrolled fires and Europe has faced widespread flooding - what more should business be doing in response to this climate emergency?
"This is an area that I feel passionately about. Businesses can look to make their practices more sustainable and use their influence both directly and indirectly. Gateway is actively looking at its own footprint and is certified Climate Active. It has launched the first Australian bank plant based eco-card, instigated ethical investment and lending policies and launched green loans.  As the famous philosopher Kermit the frog once said: it's not easy being green. Our aim is therefore to make it cheaper for people to go green, it shouldn't cost the earth to save the planet."

Lexi Airey

"Some problems are best solved at a system level – changing how we generate electricity is a good example. What we, as voters and as employees or business owners, have to do is only elect those who take these issues seriously – and copy and adopt the behaviours that help alleviate the problems rather than the ones that create them."

"We can only do that if there is a research-led debate about what those choices should be – and it seems that consensus is proving hard to achieve because the debate is skewed by some of the tools we are using to have that debate. Think the research industry could be improving the debate given it is rooted in the science of behaviour!"

Alex Batchelor

Thanks Alex and it would be wrong of me not to mention that Behaviorally in partnership with Opinium, Protobrand and Maru are running a free online conference on sustainability later this month #WeBetterBehave2021 (sign-up free via https://webetterbehave.live/ ). This event has keynotes from previous Insight250 interviewees including Pepsi's Stephan Gans and Boot's Pete Markey. Coming up on 11th November there is also the MRS Sustainability Summit. So lots happening in this space where everyone can get involved.

Crispin Beale
TOP TIPS
"When looking for any partners for any endeavour then always choose enthusiasm over any other characteristic."

Alex Batchelor
"Be yourself, everyone else is already taken."

Lexi Airey
Thanks Alex, thanks Lexi. Some great insights for us all to reflect upon.
Senior Strategic Advisor at mTab, CEO at Insight250, Group President at Behaviorally
Crispin Beale is a marketing, data and customer experience expert. Crispin spent over a decade on the Executive Management Board of Chime Communications as Group CEO of leading brands such as Opinion Leader, Brand Democracy, Facts International and Watermelon. Prior to this Crispin held senior marketing and insight roles at BT, Royal Mail Group and Dixons. Crispin originally qualified as a chartered accountant and moved into management consultancy with Coopers & Lybrand (PwC). Crispin has been a Board Director (and Chairman) of the MRS for c15 years and UK ESOMAR Representative for c10 years. As well as being CEO of Insight250, Crispin is currently Group President of Behaviorally with responsibility for the client and commercial teams globally and the Senior Strategic Advisor at mTab.
Article series
The role of humour in effective leadership