Marketing Insights Event, first day's impressions
Earlier this week, on Tuesday, 9 May, I attended my first market research event, MIE'23. Many insightful companies stood in the hall, ready to display their potential during program sessions.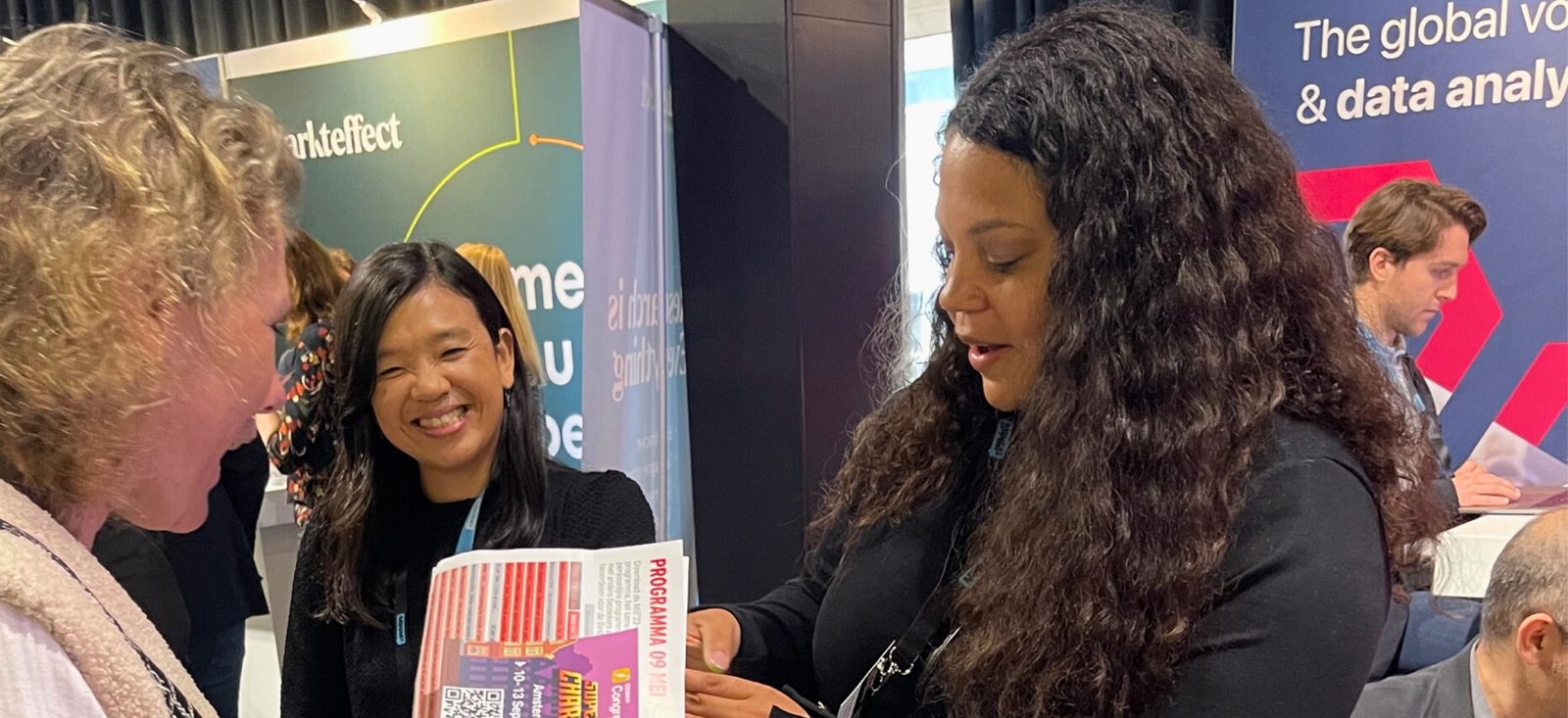 Article series
ESOMAR on the Road: MIE'23
Marketing Insights Event, first day's impressions
1st Mid Programme
My first step upon arrival was attending Charida Dorder's presentation, "The Power of ChatGPT: opportunities and pitfalls revealed!" In this session, she highlighted how ChatGPT has the potential to revolutionize the way we collect insights from various types of data and how this could drastically change the way we do business. Due to my work in market research, I found this session particularly relevant. As a result, ChatGPT could make data collection more efficient and accurate by streamlining the process. However, it is essential to consider the potential risks and implications associated with the use of such technologies, such as data privacy and data ownership.
The session was followed by a tour of the companies' stands, where I got a better understanding of the industry and the opportunity to be connected with some people on LinkedIn.
At 11:00, Toluna's presentation focused on the Outlook for Global Consumers in 2023, where it highlighted the rising costs of living and instability across the globe. The presenter shared results from 21 waves conducted in 18 markets, with a recent deep dive into the Netherlands. I found the description of people's sentiments towards economic instability and consumer attitudes particularly important. Specifically, the last 10 minutes were dedicated to how many consumers are willing to buy products respecting ESG criteria and the reasons behind them, resulting in Dutch consumers being proportionately less likely to buy these products versus global consumers.
However, I felt that the presenters could have focused throughout the session in giving more context and explanations since this would have provided a more comprehensive understanding of the data and would have helped us interpret the results more accurately.

The morning culminated with a fireside chat about the Future of Market Research with Agile, AI, and Privacy. Four leading corporate managers (FrieslandCampina, Gall & Gall, Just Eat Takeaway, Air France – KLM) shared their views on their cost-saving strategies and how they gained valuable insights for their decision-making. It was a pleasant conversation highlighting, in particular, the different views on AI evolution, with some affirming it will completely replace the market research way of working, while others stated that the human factor is still crucial for the storytelling and interpretation of data.
Finally, time for lunch: enjoying the atmosphere with my ESOMAR colleagues and observing the high number of people waiting for the second part of the program!
2nd Mid Programme
One of the presentations that caught my attention was Nordic's, which focused on how to find and engage hard-to-reach target groups, such as those based on different religions, sexuality, disabilities, and unemployed people. The presenters shared some creative tricks to enlarge the sample, which could help researchers reach certain segments of the population.
Later in the day, I had the chance to attend a presentation by Cint, a company that helps agencies, brands, and researchers strengthen their first-party data strategy. With a funny introduction singing Let it Be music under "Privacy" words, the presentation focused on evolving privacy standards and restrictions on third-party cookies, which are changing the way customer and consumer data is collected. While I found a large part of the presentation to be quite salesy, the insights into how different generations perceive data protection were particularly interesting.
Finally, the day concluded with a Formula E session, presented by Matt Roberts and moderated by the Senior Manager of the ESOMAR Intelligence Unit - Xabier Palacio. I learned about how the sport as well has revamped its reporting and data/research infrastructure to drive fandom and grow commercial revenue. The different methodologies used in collecting data were particularly fascinating, and it was impressive to see how data and insights drive all sports decisions.
Overall, attending this market research event was an enriching experience. It provided me with valuable insights into the latest market research trends and technologies, as well as consumer attitudes and behaviours. My only personal wish would be for presenters to provide more industry insights at future events to make them even more informative and interesting. Having attended the event, it will be a pleasure to participate in similar events in the future, enabling me to remain on top of the latest developments in this field.
I thoroughly enjoyed my experience at MIE'23 and am looking forward to the next time ESOMAR rejoins the insights community, this time in Austin, Texas, for IIEX North America and ESOMAR's partner event Future of Insights Summit in Toronto, Canada. If you're interested in seeing more about what ESOMAR is getting up to and where you can meet us, check out our events. Tune in for tomorrow's piece on the second day of MIE'23!
Market Intelligence Analyst at ESOMAR
Lilas is Italian with Syrian origins and studied Economics and Finance in Padova and did an internship next to her studies at Generali. She was, amongst other activities, responsible for qualitative and quantitative data research, its visualisation, simulation models, and preparing data for presentations to internal and external stakeholders. 
She got married and immediately after moved to the Netherlands in December 2021, and worked as Strategy Analyst at Varian for 6 months.
She joined ESOMAR in March 2023, where since then, she has been responsible for developing the different reports and studies regularly published by ESOMAR's Intelligence Unit and aggregating materials (such as bundles of academic articles, case studies and videos), internal and/or external, that support the role of ESOMAR as a thought leader that represents the data, analytics and insights industry.
Article series
ESOMAR on the Road: MIE'23
Marketing Insights Event, first day's impressions