The importance of disruption in innovation and leadership
Sir Martin Sorrell, Executive Chairman, S4 Capital Scott Spirit, Chief Growth Officer, S4 Capital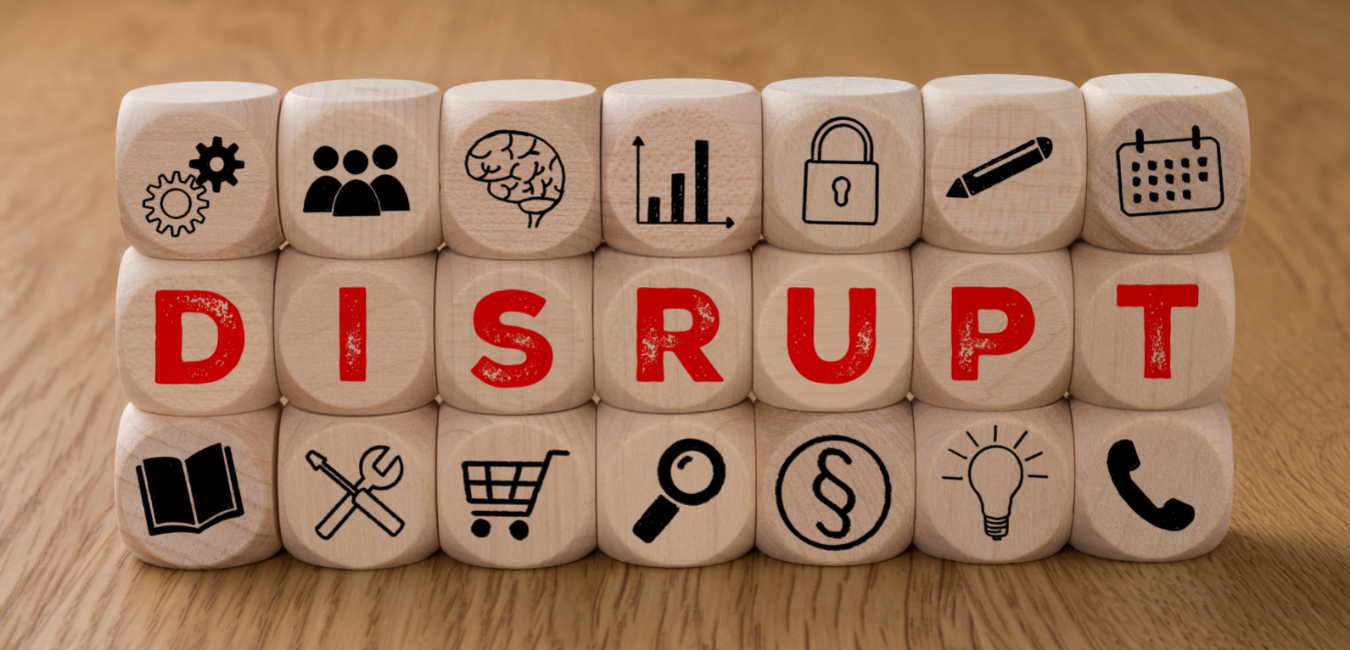 Article series
The importance of disruption in innovation and leadership
The Insight250 spotlights and celebrates 250 of the world's premier leaders and innovators in market research, consumer insights and data-driven marketing. The inaugural list was revealed this April and created renewed excitement across the industry whilst strengthening the connectivity of the market research community. 
With so many exceptional professionals named to the Insight250 it seems fitting to tap into their expertise and unique perspectives across an array of topics. This weekly series does just that; inquiring about the expert perspectives of many of these individuals in a series of short topical features.   
This edition features two individuals who are disrupting the creative advertising space through insight and innovation. Sir Martin Sorrell is the Executive Chairman of S4 Capital and Scott Spirit is its Chief Growth Officer. I had the unique opportunity to sit down with both of them together to discuss the advantages and challenges a focused strategy on disruption delivers. The conversation was so in-depth and insightful that I am breaking it into two parts so watch out for a continuation next week.  
Sir Martin and Scott provide their unique perspectives on the importance, pace and need for disruption and how the approach by some is significantly impacting and dramatically shaping industries and markets. 
Why do you believe disruption is so important in business?
 "Having suffered at the hands of disruptors, I thought it would be good to try to dish out some of the punishment. What is it, bite or bit?"

Sir Martin Sorrell

"I'd say disruption clearly drives innovation; drives better products and consumer experiences and drives new strategies and approaches to doing business. I think the industry we are in hasn't been particularly disruptive since the 60s or 70s or even the 50s when the holding companies were put together. So I think it's pretty ripe for disruption, and it's also quite good fun to be a disruptor as well."

Scott Spirit 

"It is 70 years since IPG was started and McKinsey says that a company lasts for about 17 years and now the S&P says it's down to 12 years. So the holding companies should have been out 50 years ago. They are stumbling along and clients are reviewing their business so there is increasing pressure on them. Plus, they continue to hire from one another at ever-increasing prices. So, there is compression on the top line and upward movement on the bottom line since they are competing for labour."

Sir Martin Sorrell
Do you think the pace of disruption is increasing?
"I don't think I can work much harder, so I think the pace is pretty intense as it is. As a disruptor you feel the pace is intense. It feels like you are running quicker since you are naturally smaller with less resources, less structure and less overhead, so there is more to do. But you are driven by adrenaline."

Scott Spirit

"I think the pandemic speeded it up, it speeded up the transformation at a consumer level, media level and enterprise level, which we always talk about. I think the acid test is going to be in 2023, because all the noise from the monetary stimulus which stimulated GDP growth in 2021 and will do in 2022 will disappear. You're already starting to see tax increases and interest rate hikes, so the rubber really hits the road in 2023 when they have no tail wind from GDP growth. Conversely, we have two tailwinds, GDP growth and digital transformation, and digital transformation will blow harder in 2023 as the economy settles back. The need to grow will intensify."

Sir Martin Sorrell 
S4 Capital has been unbelievably successful, it's the first unicorn business in the space. What would you say are the key ingredients to this success and what role has disruption played? 
"Martin is too modest to say himself, but to be fair he did start the company as a man on a mission with a passion to do it. He is someone who has access to capital and clients and a real desire to disrupt. But I think a lot of it is around building disruption around our culture and building a management team to almost be the pirates to get out there and change things. That is really important."

Scott Spirit

"I think the establishment is really worried. I was just reading an article which talked about the importance of storytelling and how JWT had been eclipsed. The writer forgets that JWT is part of WPP and you have to look at the whole of WPP. I think when you start to look at stories you see that the importance of storytelling and not in an old fashioned way. The way you tell stories in a digital world is totally different from the way you told them in the old world, in the world of Don Draper.

"We had a creative director from a client - regarded as one of the most creative individuals in both a digital and traditional sense in the industry - tell us that we are doing the most important thing, you're making the product, producing the advertising content and building up from there. I think the best indicator of how we're doing is the level of fear you sense from the establishment. I think that level of fear is growing because clients are engaging more with our model. I think the disruption has been interesting to map out and follow."

Sir Martin Sorrell
How would you classify S4 Capital? 
"We're not a technology company, we don't own technology. We're a services, advisory and consulting company. We see ourselves very firmly as an agency business in terms of our business model. We work with MarTech, AdTech or whatever tech companies. We represent the client." 

Scott Spirit

"We don't want to be exposed to technological change. We want to be agnostic and evaluate technology for our clients. You can't help but be skewed to the big platforms when you look at the numbers because they are the ones that are generating all the ad revenues; it's Google and Facebook and Amazon and Alibaba and Tik Tok. It's also Pinterest, Twitter and SnapChat, but they are smaller. We're also focussed on Adobe, SalesForce, Oracle, Apple and Microsoft. Those are the key ones."

Sir Martin Sorrell 
How do you identify the companies that embrace the disruption mindset of S4 as acquisition targets? 
"We work very hard to find the right companies to merge into S4, so we try to be proactive as possible to meet and understand companies. Our deal structure is quite specific; when you merge with S4 we pay half cash and half stock. We talk about it as a buying into S4 rather than a sale. We're not looking for entrepreneurs who are looking to exit their business. We're looking for entrepreneurs who believe in what we are building at S4 and want to be part of it and want to take that risk. That is a special type of person. We get a lot of companies coming to us and also rely heavily on our partners like Google, Facebook, Adobe, Amazon and SalesForce have all recommended companies to us that we've ended up doing mergers with. 

"Our people too see lots of agencies and who is doing well and who isn't. It is also with regard to the capabilities we want, the geographies we want and the clients we want. It comes down to the entrepreneur's desires and ambitions and if they are bought into S4." 

Scott Spirit

"A key question we ask is if they want to sell out or go elsewhere. If you want to buy-in and be a disruptor join us. These people are taking a leap of faith with S4 and Media Monks. You give up your brand, you become part of Media Monks with no silos. You're only realising half the value in cash and the rest depends on conversion at scale and if the model wins. So, we're looking for people who are like-minded and don't want to sell out." 

Sir Martin Sorrell
As markets become increasingly saturated with copycat products and strategies, those that emerge embracing the risks associated with innovation often end up disrupting the traditional players with new approaches and unique solutions. This is where S4 Capital stands under the leadership of Sir Martin Sorrell and Scott Spirit. In next week's segment of the interview we discuss dimensions of disruption around challenges, advancements and the road ahead, as well as top tips the duo provides for aspiring disruptive entrepreneurs.

… next week's article explores how you can continue to disrupt, the challenges for 2022, disruption as a culture and "Better, Faster, Cheaper". I also got Sir Martin and Scott's views on diversity and sustainability but for this week I'll leave you with their Top-Tips: 
TOP TIP 
"Take back control. I think marketers have surrendered too much control." 

Sir Martin Sorrell

"If you want to be disruptive there are lots of opportunities out there and I would encourage people to give it a go." 

Scott Spirit
Thank you Sir Martin, thank you Scott – fascinating insights.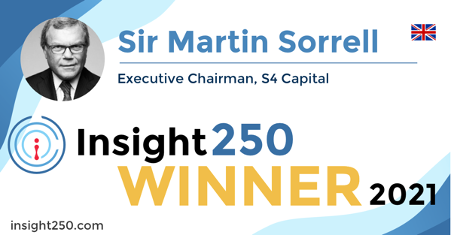 Sir Martin Sorrell is the Executive Chairman for S4 Capital, a tech-led, new era advertising company he established in 2018. He is also the Senior Monk for MediaMonks, a creative digital production company that produces websites, games and films for advertising agencies. Previously he was the Chief Executive for WPP for 33 years.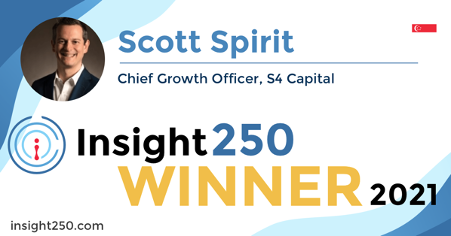 Scott is the Chief Growth Officer for S4 Capital and has extensive experience in management consulting, advertising, artificial intelligence, venture capital and media. He has served in an array of enterprise capacities with a focus on the Asia Pacific markets. He previously served strategic roles with WPP, Deloitte and Associated Newspapers.
Senior Strategic Advisor at mTab, CEO at Insight250, Group President at Behaviorally
Crispin Beale is a marketing, data and customer experience expert. Crispin spent over a decade on the Executive Management Board of Chime Communications as Group CEO of leading brands such as Opinion Leader, Brand Democracy, Facts International and Watermelon. Prior to this Crispin held senior marketing and insight roles at BT, Royal Mail Group and Dixons. Crispin originally qualified as a chartered accountant and moved into management consultancy with Coopers & Lybrand (PwC). Crispin has been a Board Director (and Chairman) of the MRS for c15 years and UK ESOMAR Representative for c10 years. As well as being CEO of Insight250, Crispin is currently Group President of Behaviorally with responsibility for the client and commercial teams globally and the Senior Strategic Advisor at mTab.
Article series
The importance of disruption in innovation and leadership