Domestic clients, key to insights pandemic recovery in 2021
Unveiling the power of domestic clients: witness the remarkable pandemic recovery driven by domestic demand as clients shape success and budgets while exploring regional variations and shifting trends in major sectors of the market research landscape.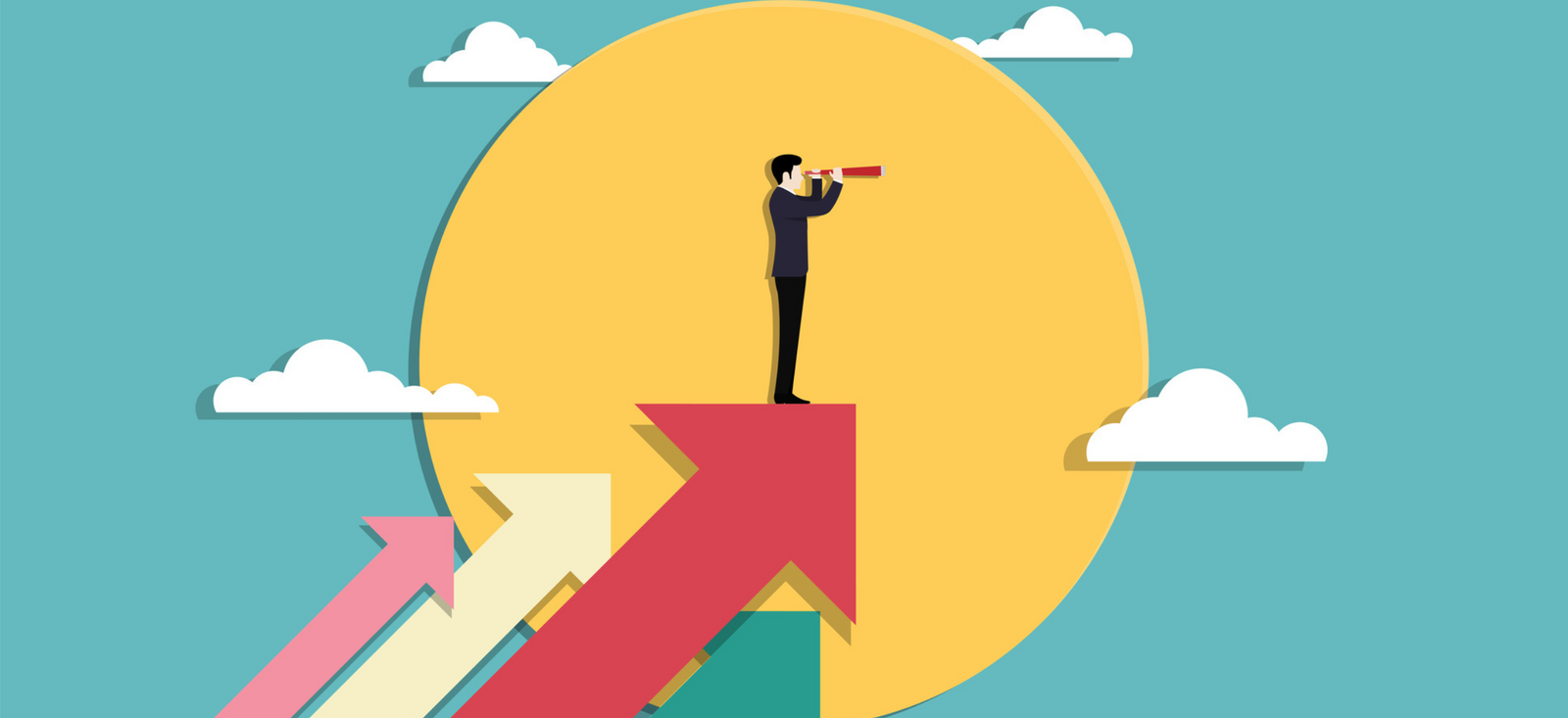 Domestic demand behind recovery from the pandemic
Clients decide the success and the fate of their providers. Their requests and requirements dictate which tools will be utilised for a given task. And their available budgets become the industry's turnover. But in a globalised world, the origin of clients may shed light on the volume of international flows of capital.
As was the case for every other aspect of the industry, the pandemic brought to a halt a large part of the research activity during 2020. Closure of international borders, lockdowns and inability to travel depressed international presence in the countries. The share of research commissioned by international clients fell by 9 percentage points to 15% and has remained flat ever since.
It is clear that a big push to bring the levels of activity back to pre-pandemic levels came from domestic players. The fact that their share remained equal in 2021 as it was in 2020 (85%) while the overall industry grew by more than 10% in net terms shows that most of the value generated – more than US$ 10 billion – was, in fact domestic.
Not all regions observed an increase in the demand from domestic clients, though. Asia Pacific is an example of a region with a reversed impact and a substantial growth in commissioned research by international clients from 12% in 2019 to 23% in 2020, a trend which remained stable over 2021. Latin America follows a similar trend, with the share of international clients growing from 13% in 2019 to 15% in 2020 and retaining that level in 2021.
A speculative reason why this may be the case is the presence of larger native clients in Europe and North America with a wide international presence which may have retained the ability to sustain demand over time thanks to the unequal spread of the disease globally. Smaller clients in other countries as can be the case in Asia Pacific and Latin America, however, may not have had the chance to divert funds and would have felt the impact at once. In these cases, international players would have been in a prime position to stimulate demand in the country, increasing their share ahead of local clients without the availability of resources.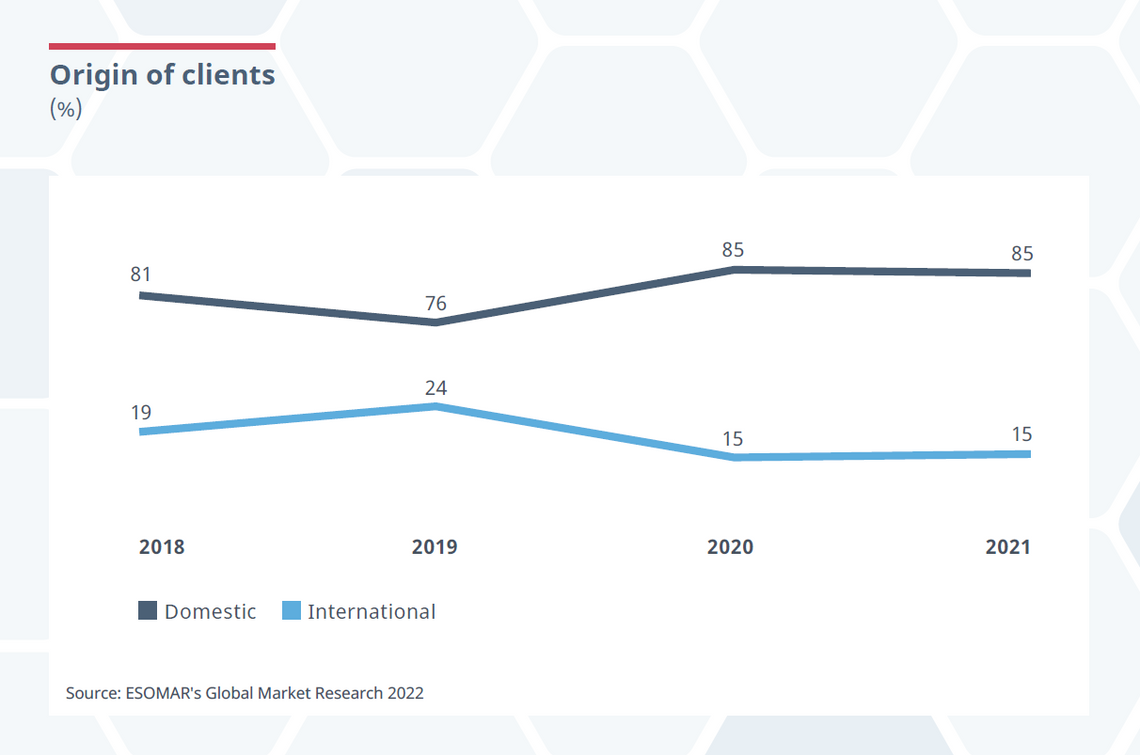 Regional differences for main clients
The largest client sectors worldwide are heavily influenced by the peculiarities of the USA, a market dominated by the pharmaceutical industry (the only region in the world where this is the largest client) and Media and Broadcasting. In all other regions of the world, the main client sector is consumer non-durables (FMCG), ranging from 18% in Asia Pacific, around 30% in Europe and Latin America, and even higher in Africa and the Middle East.
Other manufacturing sectors, such as consumer durables, are prominent in Latin America (particularly due to the weight of Mexico) with a share of 17%. It is smallest in Europe (2.9%) and Asia Pacific (4.9%), where it lost ground steadily over the past 4 years, presumably due to a shift in data providers to media agencies and increased non-established methods of data collection. The public sector also remains an important client in Asia Pacific with a share of 14%, thanks to the prominent role it plays in China (20%), Australia (25%), South Korea (44%) and New Zealand (22%). Lastly, not-for-profit and other international organisations are particularly important in Africa and the Middle East, with a share of 24% and 16%, respectively. The non-profit sector is particularly large in Nigeria (25%), Lebanon (80%), and Iraq (50%).
At a global level, though, the consumer non-durables sector seems to be losing ground in relative terms, even though its yearly expenditure increased from US$ 13 to US$ 15 billion between 2018 and 2021. Reasons for this shift could be attributed to two trends playing out simultaneously.
Firstly, the industry experienced a surge in research from other sectors such as IT and telecommunications (which grew from 5% in 2018 to 8% in 2021) which challenged the hegemony of research commissioned by consumer non-durables clients. Their combination with growing, and new types of research projects such as consumer/user experience and CRM systems helps explain this trend further.
Secondly, we find other emergent trends such as the increased usage of in-house research through platforms and self-acquired data, or a sense of caution in expenditure after the pandemic, particularly for a sector with relatively low margins for profit.
As a result, the information and communication super-sector (which includes advertising, telecommunications and ICT, and media and broadcasting) briefly became the largest global client in 2020 with 29%, only to be surpassed by the manufacturing super-sector (consumer durables, pharmaceutical, and automotive) in 2021, both at 28%.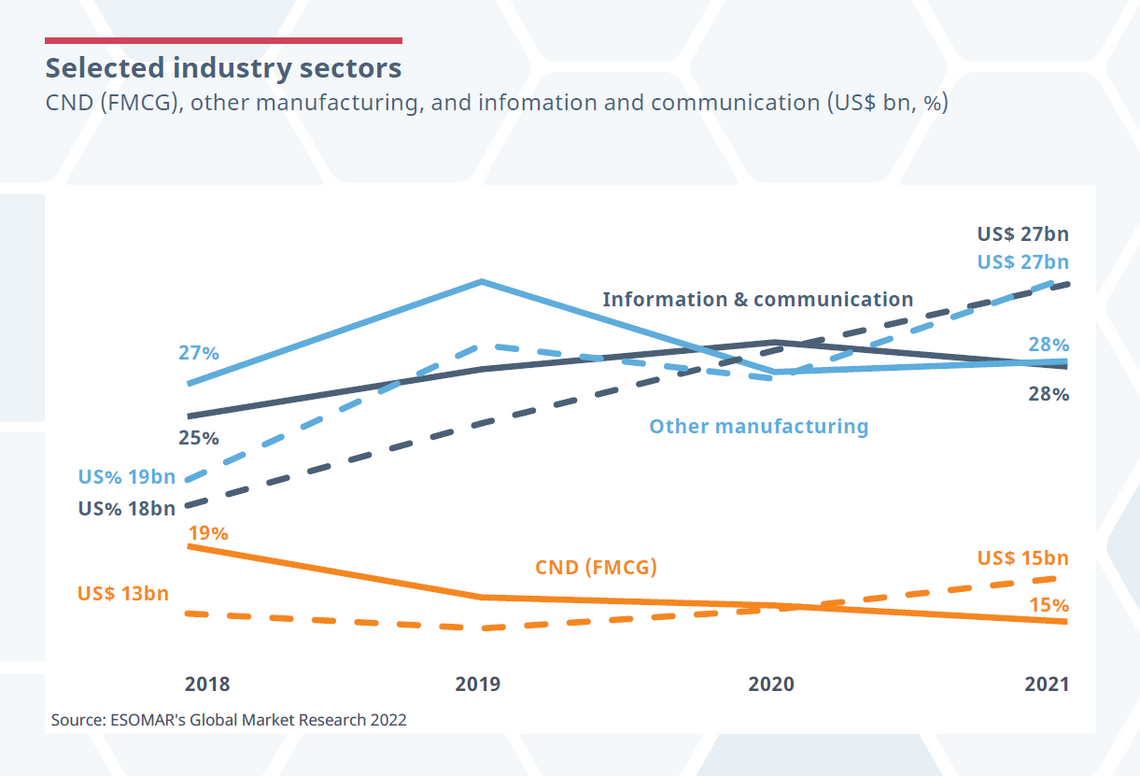 Long-term trends of consumer non-durables
The pattern of research spending in the consumer non-durables sector has been shifting substantially over the years. The entire segment moved from a global share of 23% in 2006 down to 22% in 2011, 20% in 2016, and finally 15% globally in 2021. While each region has unique industries and peculiarities, the downward trend of consumer non-durables as a client over the years is undeniable.
Changes in consumption patterns explain, at least partially, some of the trends observed in this segment. The share of tobacco and cigarettes, for instance, all but disappeared in 2021, having seen a consistent downward trend in the last 15 years from 3% in 2006 to just 0.25% in 2021. Limitations in advertising or downright bans in the marketing of these harmful products have downsized the expenditure of this industry to a record low. The only countries with significant demand from this type of client are Pakistan (20%), Iran (17%), Romania (15%) and Sri Lanka (14%).
Food, beverages, and confectionery, saw a drop in share of up to 50% in the past 15 years. The question is whether the budgets of these clients have shrunk, whether the types of research they commission have remained largely the same or, perhaps most likely, whether they have developed their own in-house research departments and solutions and are increasingly internalising the insights function. This segment represented up to 14% of total spending in 2006, declined to 12% in 2011, and further to 10% in 2016 before settling at less than 7% in 2021.
This article is an extract of the original one published in ESOMAR's Global Market Research 2022.
Senior Manager at ESOMAR's Intelligence Unit at ESOMAR
Xabier is Senior Manager at ESOMAR's Intelligence Unit and coordinates the production of reports, such as ESOMAR's flagship Global Market Research besides analysing global trends within market research, improving established publications and producing new ones to increase the value for our members and the industry.
Originally from Spain, Xabier has been living in the Netherlands for a number of years, where he studied a Master in International Economics followed by a Master in Marketing at the Erasmus University of Rotterdam. He is fluent in Spanish and English, has a decent command of Dutch, and loves music about as much as analysis.