Maximising the potential of data
An expert perspective on the impact of data on engaging audiences and driving customer and employee experiences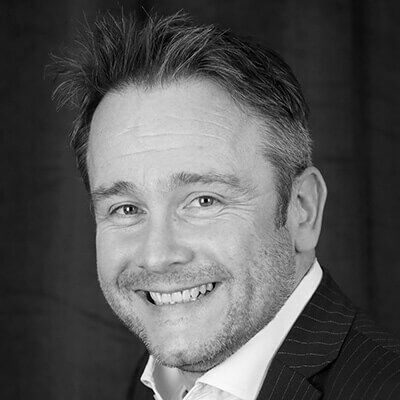 Article series
Maximising the potential of data
The Insight250 spotlights and celebrates 250 of the world's premier leaders and innovators in market research, consumer insights and data-driven marketing. The inaugural list was revealed in April and created renewed excitement across the industry whilst strengthening the connectivity of the market research community. 
With so many exceptional professionals named to the Insight250 it seems fitting to tap into their expertise and unique perspectives across an array of topics. This weekly series does just that; inquiring about the expert perspectives of many of these individuals in a series of short topical features.  
This edition features insight from an expert on the effective extraction and expanded use of data to understand and motivate target audiences. Darren Henry serves as Head of Insight & MI for ATOS, a global leader in digital transformation. Darren provides his unique perspective on the impact of data on engaging audiences and driving customer and employee experiences. 
You speak a lot about maximising the true potential of data when trying to understand customer and employee experience. When you talk about this what do you mean? 
"When we speak to clients about experience, we typically see three key themes emerge. The first is around understanding more about the person who is providing the feedback. Specifically, we always look to pull in operational and behavioural data relating to the experience to provide additional context around the experience.

"We find that this data is invaluable to understanding what is driving the feedback we are receiving. Examples of such data are contact centre call length/wait time, clickstream data, historical interactions, and past feedback (where applicable) on the channel data on the channel and customer profiling information."

Darren Henry
Building on this, I know you like using statistical modeling. Tell me more …?
"Statistical analytics isn't new. I can recall back in my research agency days looking at key driver models. We do a lot of work with clients overlaying predictive advocacy, experience, and behavioural segmentation models onto the overall customer/employee databases. We then use these predictive overlays for various uses such as behavioural nudging, communication strategy, and assessment on whether the feedback given is in line with how we expect the customer to answer."

Darren Henry
What's your view on how well you think closing the loop with customers is delivered?
"Like the above, closing the loop has been about for a while but it isn't always delivered well (if at all in some cases). I feel that for all types of experience feedback, if customers have expressed dissatisfaction, the feedback should be actioned or "closed out". What has prevented this from happening in the past is the cost of driving action and effectively closing the loop.

"To address this, we are now delivering more leading edge closed loop programs using conversational AI bots and subsequently tracking what actions were required as a result of feedback. Not only improve resolution for our customers/employees but we also feed the actions noted into the insight agenda for the organisation."

Darren Henry
What benefits have you seen from implementing the above?
"Quite simple really. We have better data, feedback and understanding that drives tactical and strategic improvement. Most importantly, we see improvement in top and bottom-line performance which can be easily measured therefore presenting easier return on investment assessments."

Darren Henry
How have you seen research & insight evolve over the last 10 years and more importantly, where do you see it going?
"It's fair to say we have come a long way in the last decade so where do I start? I'd argue that there is more appreciation of customer & employee experience which is great to see. "At the same time, customers/employees/stakeholders now can have a greater voice; be it through social media or review sites.

"The evolution of self-serve survey/feedback platforms have also given organisations the ability to get feedback, understand social media sentiment and drive action – be it closing the loop or workflows into other systems.

"To this end, we have seen an exponential growth in the volume of data to use. This presents a 'data' paradox for the insight community, and this is where I see future focus should be concentrated. The paradox is due to the fact we now have even more data available to us but are we using it effectively?"

Darren Henry
Are there any call outs you have for agency/consultancy and client-side researchers?
"Yes, it's around some of the basic mechanics of surveys/feedback requests. There is some amazing work being done, but not consistently. I do see areas that could be improved, for example we could all think more about:

Surveys not having a compelling call to action to motivate respondents to complete.

Using language that aligns with the way in which the respondent thinks and feels. Specifically, the question content & language needs to improve.

Survey lengths: I still see questionnaires that are too long. This could be because of survey design but also the lack of end-users not leveraging data to its fullest. This impacts my next point below.

Response rates: when working with clients, I still see surveys where response rates, and specifically non-response can bias results.

Closing the loop. Where applicable, we need to close the loop. Over the years when we speak to customers about service experiences, their perception is 'why bother giving feedback, you won't do anything with it' which impacts response rates and potentially views of the company. We need to change this perception for the good of the customer & company."

Darren Henry
The future: how do you see our profession evolving?
"Again where do I start on this one? I've seen for well over a decade customer experience being heralded as the next 'battlefield' for companies. I'd argue, given the comments above, that many companies have struggled to address this. In a lot of cases channel, product, brand, and employee insights remain siloed.

"This represents a massive opportunity for insight, analytics, and continuous improvement functions to help organisations by leveraging data & feedback in the right way to help them then focus investment, time, and effort on the right areas.

"Moreover, and specifically within the context of research & insight, I very much believe we will see more targeted & focused questions being asked that are segmented both in terms of their profile and based on their past feedback.

"Essentially, through effective use of data & systems we will be able to get better at:

Asking the right question(s).

In the right way.

At the right time.

"This will ultimately give us better feedback to use."

Darren Henry
What insight technologies are you excited about?
"I'm excited to see how experience management will evolve both in terms of feedback and how these layer into experience management, optimisation, journey orchestration and communication. I do think that these are the turnkeys for delivering amazing experiences in the future."

Darren Henry
Top tips
"Push the boundaries by embracing new technologies, for example (not exclusively) eye tracking/facial coding to drive insights and action.

"Always remember to ask questions in the way people think & feel as it will help improve the volume and depth of feedback provided. In short, the surveys/feedback need to be human centred in their design and delivery."

Darren Henry
Thanks Darren. Fascinating insights. Your comment about asking the right questions, in the right way, at the right time particularly resonated with me … like you I've seen many people over the years collecting data that due to methodological flaws isn't actually telling them what they think it is and/or is delivered after the decision has been taken!
A quick reminder to everyone, nominations for the 2022 Insight250 Awards close this month so do go to www.insight250.com to submit your suggestions for 2022 Winners.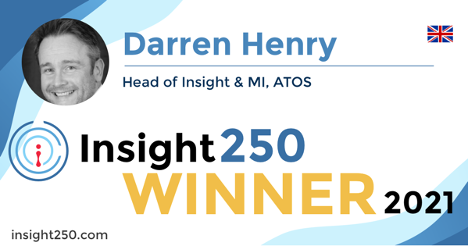 Darren Henry serves as the Head of Insight & MI for ATOS, a global leader in digital transformation including cybersecurity, cloud and high-performance computing. He focuses on in-depth insight across customer behavior and operational delivery. Previously he held positions with RBS, Kantar and Ipsos.
Senior Strategic Advisor at mTab, CEO at Insight250, Group President at Behaviorally
Crispin Beale is a marketing, data and customer experience expert. Crispin spent over a decade on the Executive Management Board of Chime Communications as Group CEO of leading brands such as Opinion Leader, Brand Democracy, Facts International and Watermelon. Prior to this Crispin held senior marketing and insight roles at BT, Royal Mail Group and Dixons. Crispin originally qualified as a chartered accountant and moved into management consultancy with Coopers & Lybrand (PwC). Crispin has been a Board Director (and Chairman) of the MRS for c15 years and UK ESOMAR Representative for c10 years. As well as being CEO of Insight250, Crispin is currently Group President of Behaviorally with responsibility for the client and commercial teams globally and the Senior Strategic Advisor at mTab.
Article series
Maximising the potential of data