Drivers of change in the Insights industry
Excerpt from the Evolution of the Data, Analytics and Insights Industry, a forecast into 2023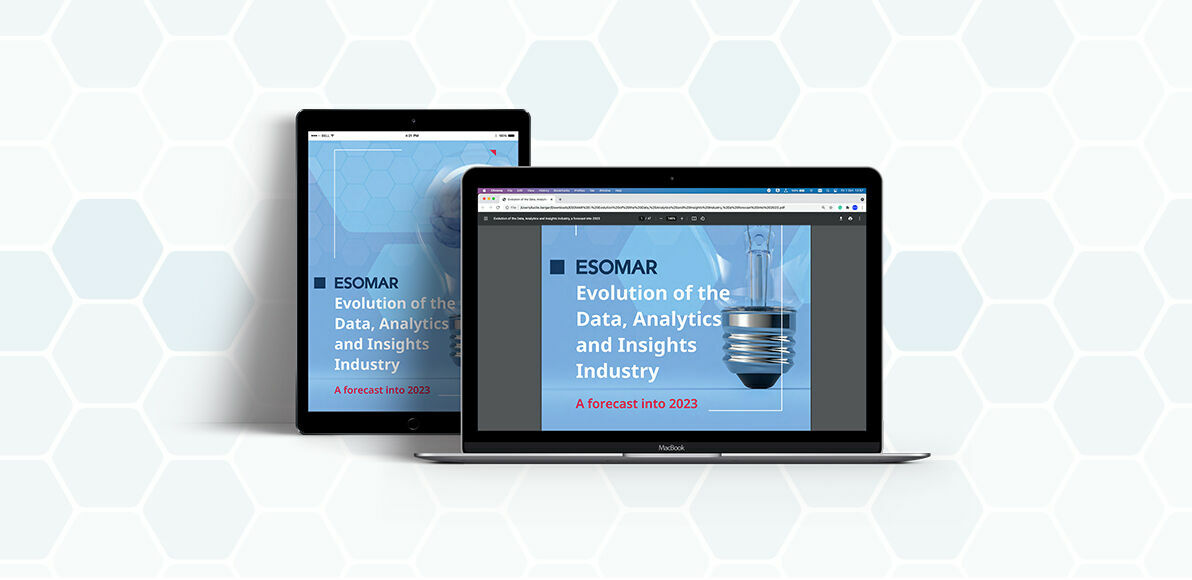 The views presented here, along with those of a host of other industry leaders supported by detailed data on the industry's segments, were included in ESOMAR's Evolution of the Data, Analytics and Insights Industry, forecast into 2023. A look at the past, present and future of the industry, and an essential tool in the management's toolbox.
ESOMAR's collaborator Jackie Rousseau-Anderson interviewed Rodolphe Barrere, co-founder and CEO at Potloc, about what elements are pushing change in the Insights Industry. This interview is part of a dedicated series extracted from the Evolution of the Data, Analytics and Insights Industry, a forecast into 2023. 
Potloc Co-founder and CEO, Rodolphe Barrere, believes the industry is going through necessary growing pains to adopt new methodologies and technologies (like automation and machine learning).  Rodolphe notes, "the sheer volume of data keeps expanding at a neck-breaking pace, and companies need to find ways to get better primary research first (high data quality from the get-go) and then make sense of that data to extract meaningful insights." New technologies like social sampling (which is what Potloc does), for example, are starting to fill the gaps and becoming more ubiquitous in the research landscape.
The pandemic has accelerated the adoption of new ways of conducting research. Rodolphe thinks there is a push from research firms and tech companies who have, until now, been considered complementary research providers or just minor players. "I see more agility and capacity of reaction coming from young, fast, and innovative companies coming into the space with a fresh approach. The pandemic has accelerated the adoption of these new technologies due to increased demand for high cadence, high-frequency studies where the turnaround times are very high. There is tons of room for growth."
The pandemic also accelerated the need to reach consumers and professionals remotely and tap into their collective intelligence in more engaging ways. However, Rodolphe thinks there is a saturation of surveys and research from the respondent's perspective. Just as marketers and businesses swim in oceans of data, they are bombarded with media exposure, pandemic turmoil, news, and entertainment. Finding ways to overcome that obstacle while keeping accuracy and a high standard of data quality is imperative.
The research function needs to move into and occupy the same spaces where consumers are spending their time, and that –in Rodolphe's opinion– is online, in the social channels they trust, the apps they love, and the places where they seek information.
Even with technological advancements in sampling, Rodolphe cautions researchers to think about where their data is coming from. They see people walking blindly into research projects without really asking the hard questions. Who are you surveying, how are you extracting the data, and what insights can you make out of it? According to Potloc's philosophy, being where people are (both for B2C and B2B) is crucial.
Getting respondents through the networks they already trust is essential. Would you launch a marketing campaign today using a newspaper? Chances are you probably wouldn't. The Potloc team believes the same applies to research: It's time for the industry to go where consumers are and, for Potloc, that is in social media.
At Potloc, they believe the future of research is social. Rodolphe provided this perspective: the largest panel out there has about 60 million members. With social media channels, they can reach a respondent pool of more than 4.2 billion people. That is more than half of the world's population, and social channels are where people are spending a large chunk of their time. So being there, in the moments when they are willing to answer a survey about topics they care about, seems like a no-brainer to the company.
Potloc wants to take the research industry where digital marketing went a decade ago. Rodolphe would know, he used to work in marketing for global luxury company LVMH.  Rodolophe pointed out, "Companies use social media to target consumers with their campaigns; we target respondents worldwide similarly, with great speed and success. Traditional research needs to adapt to that reality, and I feel we are making a mark in the research industry by evolving along with consumer behaviour."
Partner at Scalehouse Consulting
Jackie has spent her career at the intersection of data, insights and customer success. From running international research studies to building new products with integrated data sources, or from running commercial teams to integrating first party and 3rd party data, Jackie loves understanding and optimising the entire data value chain.
CEO and Co-Founder at Potloc
Listed on the 2021 Forbes' Under 30 list of leaders to watch in the tech space, Rodolphe Barrere is the CEO and Co-Founder of Potloc, an innovative tech firm focused on new ways to extract consumer insights. As a leader in Consumer Research who collaborates with world-class brands and researchers to help them make better-informed business decisions, Rodolphe is driving a new methodology that uses social networks and geotargeting technology to access the right respondents and extract accurate insights from any consumer group. At Potloc, Rodolphe has raised in excess of US$ 20 million with Canadian and international VCs and manages four offices across Europe and North America. Rodolphe has worked for the LVMH Group in Paris and New York, holds a trilingual BBA in Marketing and Entrepreneurship from HEC Montreal, and is regularly invited as a guest speaker to share his expertise on Consumer Research and Entrepreneurship.