…What now? Pricing insights
Perspectives on pricing for insights and analytics projects with Lisa Wilding-Brown.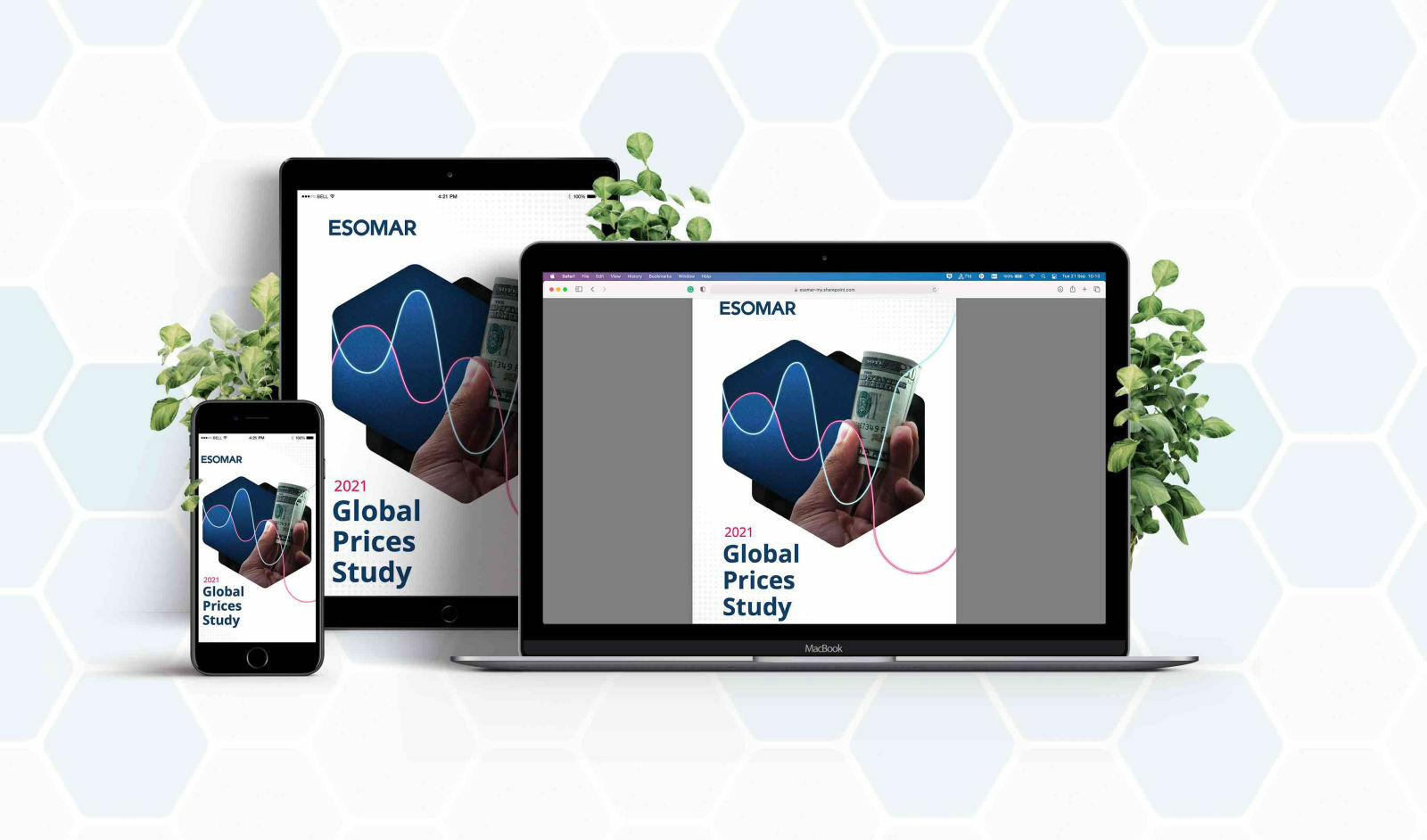 Does anyone else remember riding a roller coaster and being surprised by the ups and downs and not being able to help but wonder, What's next? How long is this going to go on for? The whole frenzy used to last for a couple of minutes that felt like an eternity. Now I cannot help but feel the same sense of uncertainty but it feels like the roller coaster never ends.
To shed some light over the uncertainty, we approached Lisa Wilding-Brown, CEO of InnovateMR. Given her background and her role as a council member of ESOMAR - the global insights, market research and data analytics association - her views on the near future are enlightening and complement the findings of the recent Global Prices Study 2021 report. This edition of the report takes a closer look at pricing issues and provides information on professional rates, the cost of incentives and the evolution in the use of methodologies. All of this is set against the backdrop of global instability in the wake of the pandemic.
The impact of the pandemic 
Throughout the editions of the Global Prices Study there has been a trend towards online approaches and less use of analogue methodologies. With the pandemic, this phenomenon has been enhanced by the restrictions imposed on face-to-face events. In your region, what sort of changes in methodologies have been caused by the pandemic? 
There has been a massive influx of survey inventory as we have continued to face economic uncertainties. Businesses need to keep a close pulse on consumer sentiments as it relates to the COVID-19 pandemic, political polling, and Diversity, Equity, and Inclusion (DEI), all in real time. To keep up with this demand, there has been an uptick in DIY technologies looking to increase speed of insights and research autonomy.  This was further reinforced in ESOMAR's Users & Buyers Global Insights Study. We have even seen clients embracing virtual qual tools to counteract the decline of face-to-face research. Additionally, there has been a much greater focus on DEI in research design and sampling, as we've seen increased attention on the socio-political issues facing our region.  

Lisa Wilding-Brown
However, the question remains whether the effects of the pandemic will be permanent or whether F2F methods will gradually be offered again. About 9% of the agencies surveyed stopped offering F2F methodology after the pandemic but almost none stopped offering online. Do you think the pandemic will have a long-term impact on face-to-face research? 
Absolutely. While face-to-face research is coming back to some extent, I expect that most clients will drastically change the ratio of traditional vs. virtual research in the long term. They are opting to leverage more efficient and cost-effective methodologies that help to expedite and streamline the research process. 

Lisa Wilding-Brown
What impact do you foresee the pandemic will have, on being able to secure (and refresh) panelists, and as a result, cost? 
After the initial shock of the pandemic had dissipated, many companies began working quickly to understand how consumer behaviour was changing. This created a newfound appreciation for data storytelling in a way that we hadn't experienced before; more and more professionals across every department, not just researchers, were beginning to see the value of actionable insights. It ushered in a new type of professional humanity, something that sample companies need to embrace. Companies that find new ways to prioritise participant experience, garner loyalty, and invest in incentives/retention drivers are in a great position for success. 

Lisa Wilding-Brown
 The cost of Incentives
Each edition of the Global Prices Study asks an additional question to explore a relevant aspect of the industry's cost structure. In this 2021 edition, we asked agencies about the cost of incentives they pay to participants in the studies. Evidence shows that incentives for F2F projects are significantly higher than for online as they usually include the commuting expenses. Moreover, the countries that pay the largest incentives exceed by more than five times the amount offered by the countries that pay the fewest. What do you think the longer-term impact on incentives will be, in relation to securing participation generally? 
Incentives continue to be incredibly important. As an industry that relies on the answers of participants, we need to share more of our profits, treat each participant with respect, value them beyond a number on a spreadsheet, and create an experience that they look forward to.  Sampling cannot just be a numbers game. Our industry has experienced strains in supply as our ecosystem continues to evolve, making it even more important to invest in the loyalty of every participant.  

Lisa Wilding-Brown
Representative Projects
One of the most representative projects in the market research industry are focus groups. With the pandemic, there has been a shift from face-to-face focus groups to online and, where face-to-face is possible, the costs have increased, for example keeping people socially distanced, cleaning surfaces, and in some cases using screens to separate people. Do you think the cost of face-to-face focus groups will return to normal, or do you think they will be more expensive in the future? 
Increased costs for face-to-face research are here to stay. COVID-19 has impacted the world in such a significant way that standard operating procedures for in-person work need to permanently adapt. It is important to create an environment that establishes trust and reinforces safety, and these factors produce increased costs. Additionally, a recent C+R research study found that a significant minority of participants, 40% or higher, are no longer willing to participate in in-person research, again substantially driving up the cost per recruit.  

Lisa Wilding-Brown
If you think face-to-face focus groups will be more expensive than in say 2019, what might the percentage of extra cost be? 
Sourcing moderators and recruits will be more expensive due to the pandemic.  I would anticipate a 30% increase (at a minimum) to cover the various elements required for safe, in-person research.

Lisa Wilding-Brown
The Global Prices Study evaluates social media listening projects which captures the price difference between a core data collection project and the value added of secondary analysis. What do you foresee as the future of this discipline? 
Social listening is just one tool in the ever-evolving researcher toolbox.  I think it is important to view this data in context – simply put: the people who comment online are not representative of the general population.  We recently ran a study looking at this dynamic and the results were surprising for many.  While social media has become a primary mode of communicating and connecting, there are some people in the population that simply do not subscribe to these services or behave more passively on these platforms. As such, researchers who employ this methodology should caveat their findings with this in mind and layer in other methods to produce the greatest level of rigour.

Lisa Wilding-Brown
Drivers of costs
Our global ranking or prices of research projects show that the most expensive countries are the 'usual suspects' with Switzerland, Canada, New Zealand, and Hong Kong topping the list. The least expensive countries also come from a diverse range, with Armenia, Croatia, Peru, Turkey and India being the least expensive. When comparing the cost of research across different countries, what are the key things that make some countries more expensive and some countries less expensive? 
As the sample audience targets change, so will the cost. Factor in the incidence of each audience and assess the impact. Imposing the same large-market quotas in substantially smaller geographies is not scalable. Sample providers and clients should work together to scale down audience requirements and analyse audience penetration rates, with a properly-reflected quota design. Additionally, in certain markets the audience target can be especially finite which may require a mix-mode methodology.  When off-line recruitment is needed, expect a significant increase to your budget.

Lisa Wilding-Brown
And one last question based on your practical knowledge of the industry. From a customer needs perspective, where do you see the cost of projects evolving over the next two years in your region? 
The cost of manual ad-hoc studies will only increase as more and more businesses desire expedited and on-demand insights. The key to solving these issues is to leverage emerging technologies; capitalising on easy-to-use DIY platforms can harness the true potential of research spend in efficient ways. In the coming years, there will be more and more questions answered at scale, but less traditional market research. Research processes will continue to slim down and streamline to keep up with shifts in consumerism.  Disintermediation and the democratisation of data will be key themes that will have a significant and material impact in our industry.

Lisa Wilding-Brown
Data & IT Risk Advisor - Center of Expertise Risk at Rabobank
Cristina is an econometrician and quantitative analyst. She is the main analyst for Global Price Study 2021 and supported ESOMAR in the development of data-driven initiatives to increase value for members. Originally from the Canary Islands, Cristina has a background in economics and a Masters in Econometrics and Operations Research from the Vrije Universiteit Amsterdam. She is interested in programming and data science and is passionate about time series modelling. She is fluent in Spanish, English and is still in the process of learning German... yet the best conversations are always over coffee.
Chief Executive Officer at InnovateMR
Lisa Wilding-Brown brings nearly 20 years of industry knowledge to the ESOMAR Council, with extensive experience in sampling, survey design, panel development, research field management, mobile optimization, and data quality.
As an avid ResTech thought leader, Lisa has served on the board for both the MMRA and UTA's Master of Science in Marketing Research, and she is an active contributor to WIRexec, the Women-in-Research mentorship program, the Insightes Association and the Global Research Business Network.
In her role as Chief Executive Officer of InnovateMR, Lisa works with the team to build the industry's most powerful and intuitive research tools, celebrate a culture of inclusivity, and continue the team's uncompromising dedication to delivering high quality insights to amazing clients. She also spear-heads the firm's new insights product collection, the Vision Suite™, working to bring faster and more reliable answers to businesses worldwide.